Vivienne Westwood Opens in Los Angeles on Melrose Ave.
British designer Vivienne Westwood has opened her U.S. flagship boutique in the heart of Los Angeles' Melrose Avenue.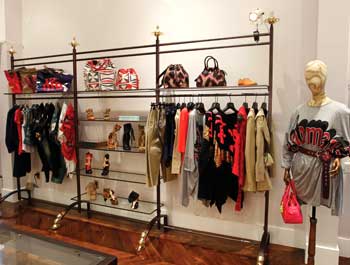 "It's going to be very convenient for people who want to look drop-dead glamorous," says Dame Westwood of the 10,000-square-foot retail store, "and L.A. is full of people who want to dress up." The new boutique embodies the brand's notorious rock 'n' roll- and punk-inspired collections and the glamour of haute couture. The first floor displays Westwood's Gold Label, Red Label, Anglomania and MAN Collection, while the eco-friendly building's third-level rooftop terrace offers an inviting escape. A new jewelry collection designed especially for the L.A. crowd includes coin keyrings, printed and Swarovski crystal-encrusted made-to-order belts and a limited-edition pearl skull winged pendant. 8320 Melrose Ave., L.A., 323.951.0707.