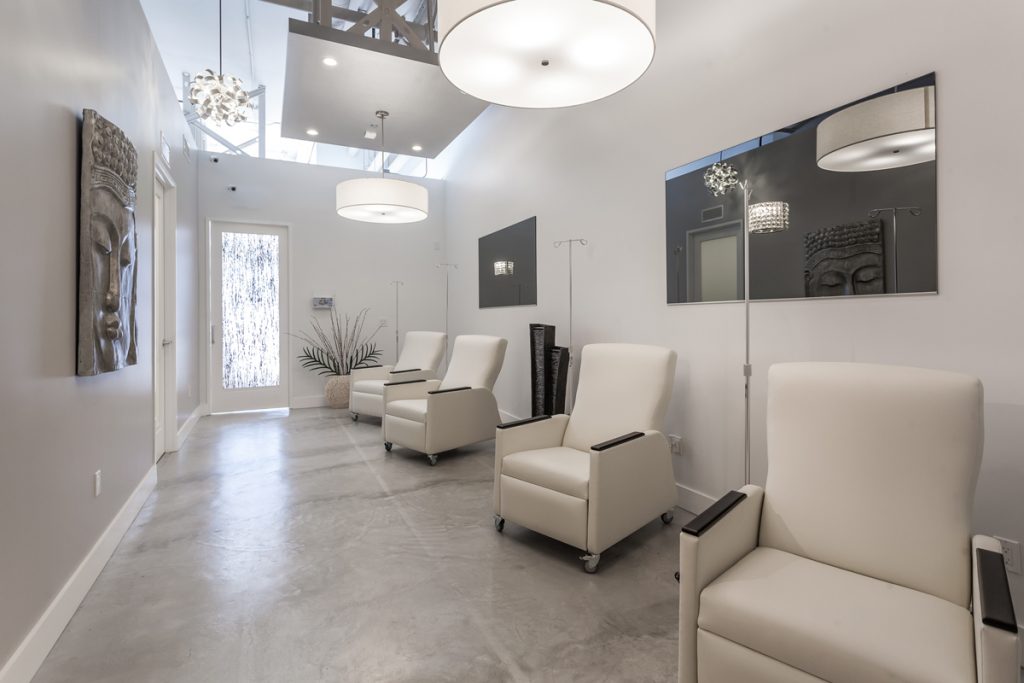 Forget the knife, to get instant health and beauty results go for the drip with IV Vitamin Therapy at Drip Doctors downtown.
By Christina Xenos
It's not a secret that A-listers like Adele, Steve Aoki, Chrissy Teigen and John Legend lead non-stop lives, packing in loaded schedules and public appearances. Yet, that never seems to slow them down or sallow their skin. What's their secret?
Move over fountain of youth and make room for IV Vitamin Therapy—a growing trend health and wellness. The best part about it is that it's not just for celebrities. All you have to do to get the same results is check in at Drip Doctors. The brand new clinic in downtown LA is just one of the providers leading the way in this cutting edge area.
Once you arrive, you're lead into the chic, airy spa-like treatment room (you can also book a private room) to fill out paperwork about your medical background and any allergies you might have. Then the attendant will bring out your specific IV bag and hook you in. Drip Doctors treatments are performed by a trained medical staff of board certified physicians, physician assistants and registered nurses. The process is painless, just a pinch when they first insert the needle. Then, depending on the drip you chose, it takes anywhere from 45 minutes to around an hour or so for your body to absorb the IV treatment.
Drip Doctors offers eight IV drips to keep you at the top of your game. They range from the basic Hydroboost ($89), which hydrates muscles and replenishes electrolytes; to the Limitless ($220), an "all in one" potion that increases performance, neurological function, immune support—all to keep you feeling rejuvenated. They also offer IV drips to support immunity, one especially for beauty and the MVP to support athletes. Had a Vegas trip recently? They formulated their Hangover drip ($150) especially for that; it restores your body's natural balance and alleviates symptoms like headaches, fatigue and nausea.
Jamila Sozahdah is the co-founder of Drip Doctors. She's a board certified physician assistant and was working in the ER when she realized that she wanted to treat people and improve their health, so they wouldn't end up there. She says that IV drips are much more effective than taking oral supplements in administering vitamins into your body. When you receive supplements intravenously, you body can absorb up to 95 percent of the nutrients versus only 20 percent with oral supplements.
You can further hack your health at Drip Doctors with their IV Pushes (adding a little extra oomph to your drip)' for neurological performance, immunity, beauty and detox. They also offer booster shots for everything from vitamin B-12 and vitamin C to one that reduces acne and helps you loose weight. And if you can't make it to their clinic downtown, Drip Doctors also provides medical concierge treatments in the convenience of your home or office.
Drip Doctors, 1119 1/2 S Hope St., downtown, 213.749.DRIP. dripdoctors.com