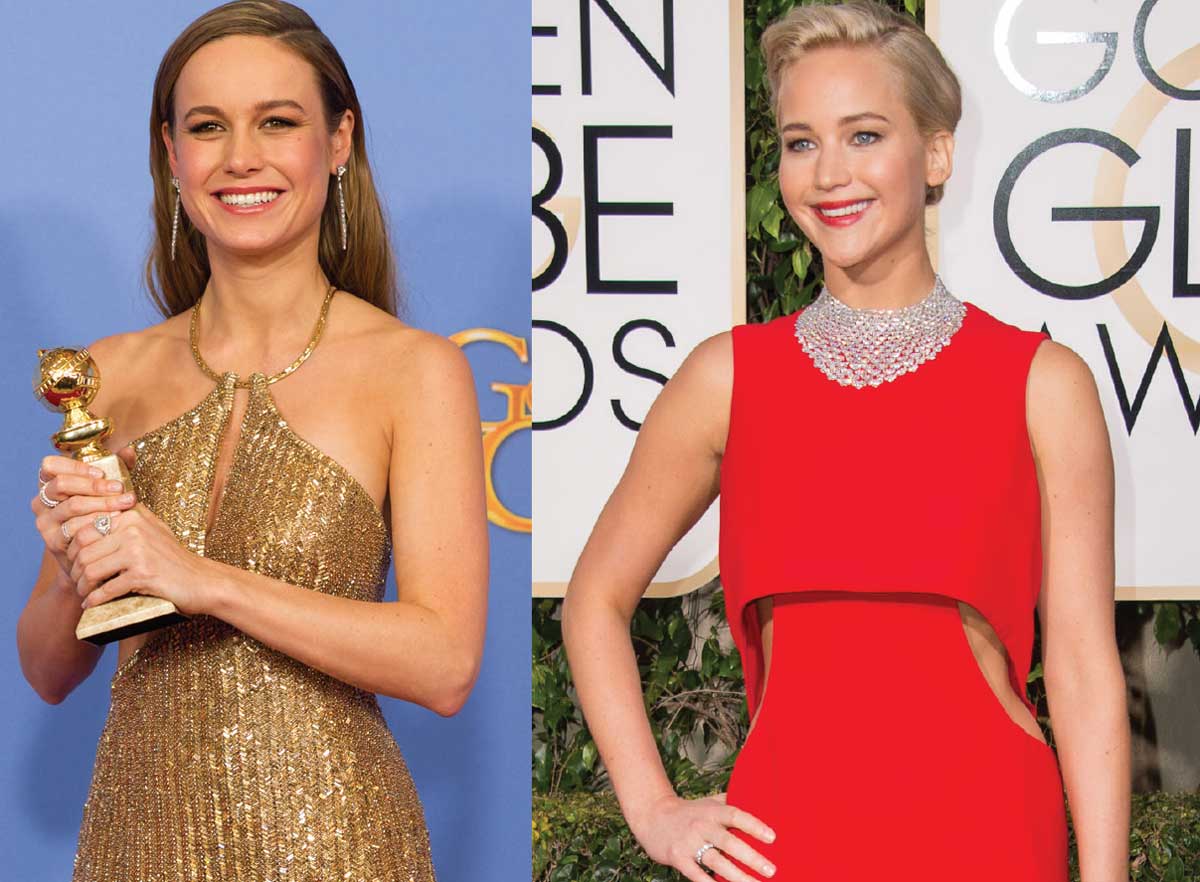 How and where to get treated like a celebrity in Los Angeles.
It's awards season, when the world's most accomplished entertainers get together to paint the town red. Our little black book spills secrets on celebrity hangouts and where to get the star treatment. Plus, we've consulted with industry experts about style trends and beauty tips and tricks that work both on and off the red carpet. Are you ready for the show?
Los Angeles Hair Salons
Sally Hershberger got her big break styling Olivia Newton-John's hair on the singer's "Physical" tour. Since then, she's worked with top models and photographers; lists Meg Ryan, John Mayer and Jane Fonda as loyal clients; and styled Vanity Fair's Hollywood Issue cover (March 2016). The trailblazer and two top stylists from her West Hollywood salon see several hair trends emerging.
Colorist Corey Powell says now is the time for shorter, platinum hair, as seen on Michelle Williams and Jennifer Lawrence. "We're also seeing the presence of golden-apricot blond on Margot Robbie and Adele, as well as deep golden rich browns, warm golden reds and highlights on brunettes in cool golden tones," he adds. Red-carpet looks will include undone updos and wavy "lobs" (long bobs).
For Rapunzel-like locks, celebrity stylist Jonathan Colombini says extensions are popular, thanks to their instant gratification. "Short hair is very in right now, and knowing an extension service is a call away makes change even sweeter," he says. "And let's be honest: Long, thick and flowy hair will always be sexy!"
As for striking a mane pose, on the red carpet or off, Hershberger's advice is to put your back to the camera and then turn your face toward the lens. "Your hair will cascade down the back of your outfit, or the pose will show the intricate design of your updo," she says. "It's all about the hair, and you should show it off!" To transition your style from awards show to party, she suggests pinning loose curls into a low textured bun. "Always keep bobby pins and a couple of elastics close by in case you want to quickly change your look into something more casual." For on-the-go touch-ups: her popular 24K Supreme Stylist Dry Shampoo (mini, $12), available at sephora.com.
Sally Hershberger Los Angeles, 760 N. La Cienega Blvd., West Hollywood, 310.854.4922. Call to make an appointment with Sally, Corey or Jonathan.
Makeup
Bobbi Brown, founder of Bobbi Brown Cosmetics, says strobing—highlighting taken to the next level—is the latest makeup trend among celebrities as well as noncelebs. "It's a lit-from-within glow that focuses on the areas where the light naturally hits your face," she says. To highlight eyes, choose a light shade of shadow that complements your skin tone—try Silver Heather, Opal or Goldstone from her new line of long-wear cream shadows ($26)—and apply a small amount on the brow bone or at the inner corners of the eyes. Magnify eyelashes with Eye Opening Mascara ($30) and pair with a creamy matte lip color to modernize the look.
When it comes to red-carpet-ready makeup essentials, Brown recommends wearing long-wear foundation, eye makeup and brow products and keeping lip color, blotting papers, a blush and under-eye concealer close by for touch-ups.
Bobbi Brown Cosmetics, Saks Fifth Avenue, 9600 Wilshire Blvd., Beverly Hills, 310.275.4211; visit bobbibrowncosmetics.com for more than 40 additional locations in and around L.A.
Los Angeles Restaurants
Star-spotting is at an all-time high during awards season. Bouchon Bistro, chef Thomas Keller's restaurant overlooking Beverly Cañon Gardens, counts Ryan Seacrest and Robert Downey Jr. as investors. Other regulars include Reese Witherspoon, Jennifer Lopez and Kyle MacLachlan, who is in town for the Twin Peaks remake. The bistro hosts an invite-only Billboard 100 Grammy event in February, but downstairs, Bar Bouchon serves an Oscars power breakfast to the public Feb. 14-March 1 from 7-10 am. Nearby, Hollywood magnet Culina has hosted Bradley Cooper, Emma Stone, Lupita Nyong'o and Witherspoon and draws Hollywood agents from WME, UTA and Gersh Agency, who meet over branzino, crudo and spaghetti alla chitarra in the dining-room booths or on the upper patio. (The Sunday brunch is spectacular, too.) And tucked beneath a Century City condo tower is a restaurant serving up top-notch pan-Asian cuisine and celebrity sightings: Hinoki & the Bird. Popular with Hollywood's power players and top talent—Gwyneth Paltrow and Cameron Diaz were recently spotted dining together here—the restaurant is right across the street from CAA. On the menu are confit duck and chili jam, Hokkaido scallop ceviche and miso-marinated salmon with smoked butter beans. Try the delicious Tangerine Caipirissima rum cocktail.
Bouchon Bistro, 235 N. Cañon Drive, Beverly Hills, 310.271.9910
Culina, Four Seasons Hotel Los Angeles at Beverly Hills, 300 S. Doheny Drive, L.A., 310.273.2222
Hinoki & the Bird, 10 W. Century Drive, L.A., 310.552.1200
Los Angeles Spas
Spa treatments help celebs relax and get photo-ready before hitting the red carpet. You, too, can feel like a Pretty Woman at the Spa at Beverly Wilshire, whose Rose Diamond Facial ($395) by Natura Bissé—Beyoncé and Cate Blanchett are fans—combines a three-step deep glycolic cleanse with diamond-infused creams for instant radiance. At the Beverly Hilton, home of the Golden Globe Awards, the Aqua Star Babor Beauty Spa offers a Red Carpet Ready Facial that boosts circulation and tightens facial muscles with microcurrent technology ($195). For skin resurfacing, try the 60-minute iS Clinical Fire & Ice Facial ($215) at Sea Wellness Spa that hydrates with hot and cold masks before a brightening vitamin C-serum treatment. If it works for Halle Berry …
For the finishing touch to your smooth, supple skin, head to the glam Ritz-Carlton Spa, Los Angeles for the Champagne & Shimmer Body Treatment ($230). The treatment starts with a grape-seed exfoliation followed by a buttery massage and a dusting of 24-karat-gold powder—perfect for dazzling at the Grammys, which take place at the nearby Staples Center.
Spa at Beverly Wilshire, Beverly Hills (A Four Seasons Hotel), 9500 Wilshire Blvd., Beverly Hills, 310.275.5200
Aqua Star Babor Beauty Spa at the Beverly Hilton, 9876 Wilshire Blvd., Beverly Hills, 310.274.7777
Sea Wellness Spa at Casa del Mar, 1910 Ocean Way, Santa Monica, 310.581.5533
The Ritz-Carlton Spa, Los Angeles, 900 W. Olympic Blvd., downtown, 213.763.4400
Los Angeles Health + Fitness
Many celebs swear by juice cleanses and plant-based diets to stay looking and feeling fit. Chrissy Teigen, Common and pop star Ellie Goulding (Will and Kate's wedding singer) love Beaming, a superfood café whose multiday cleanses include juices as well as soups, salads and superfood snacks. Moon Juice followers include actress Rooney Mara, music producer Diplo and makeup artist Bobbi Brown. The Goodness Greens and Gingered Lemon juices are mega-detoxifiers that reduce bloat.
For a healthy glow and an endorphin high, though, nothing beats a calorie-torching class at SoulCycle. After a few sessions, you'll be ready to strut down the red carpet à la Selena Gomez—a fellow SoulCycle enthusiast.
Beaming, 1426 Montana Ave., Santa Monica, 310.299.7622; additional locations in Brentwood and West Hollywood
Moon Juice flagship, 507 Rose Ave., Venice, 310.399.2929; additional locations in Silver Lake and downtown
SoulCycle flagship, 8570 Sunset Blvd., West Hollywood, 310.657.7685; find additional locations at soul-cycle.com
Los Angeles Shopping
For winning ensembles, take a cue from this year's Golden Globes red carpet. Award winner Brie Larson stole the show in a gold beaded halter gown by Calvin Klein; Rosie Huntington-Whiteley shimmered in Saint Laurent; and Jennifer Lawrence made a statement with Chopard diamonds. Delicate dresses lent a feminine touch—actress Leslie Mann looked ethereal in a rose Monique Lhuillier gown—and white frocks stood out on stars Taraji P. Henson, Laverne Cox and Alicia Vikander. For men, L.A.-based stylist Julie Ricker (who works with Zac Efron and Joseph Gordon-Levitt) says the current trend calls for monochromatic patterns on solid-color fabrics: "Dolce & Gabbana offer a wide range of subtle pattern on same-color two- and three-piece suits." English actor David
Oyelowo brought his A-game to the Globes red carpet in a printed mauve tuxedo designed by the Italian duo.
L.A. is also a top spot for picking up off-duty looks. Ricker says her clients love luxury cashmere brand the Elder Statesman and adds that the newly opened Rick Owens boutique is another client favorite.
Calvin Klein Collection, available at Opening Ceremony, 451 N. La Cienega Blvd., West Hollywood, 310.652.1120
Saint Laurent, Beverly Center, 8500 Beverly Blvd., Suite 746, L.A., 310.657.4019
Monique Lhuillier flagship, 8485 Melrose Place, L.A., 323.655.1088
Dolce & Gabbana Men's Boutique, 314 N. Rodeo Drive, Beverly Hills, 310.888.8701
The Elder Statesman, 607 Huntley Drive, West Hollywood, 424.288.4221
Rick Owens, 819 N. La Brea Ave., L.A., 323.931.4960