Your Guide to the 2014 Tournament of Roses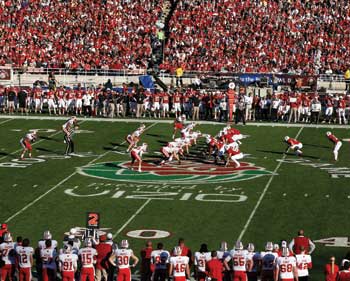 Nearly a million locals and visitors flock to Los Angeles for the annual Tournament of Roses, which includes the Rose Parade and Rose Bowl football game. When it comes to ideas for fun in LA, football is one of our most favorite iconic pastimes. Check out how to navigate one of the best things to do in Los Angeles in our guide.
The 125-year-old Tournament of Roses, which comprises the Rose Parade (Jan. 1, 8 am) and the Rose Bowl football game (Jan. 1, 1:30 pm), isn't just an opportunity to broadcast evidence of our awesome winter weather and flourishing flora to the world. These Pasadena festivities are some of L.A. County's most popular annual events; they shouldn't be missed. However, know that up to 1 million of your closest friends will descend upon Pasadena at the same time—so, plan accordingly, using this cheat sheet to make your tournament-going experience a cinch.
Getting to the Tournament of Roses
The Metro, MTA and Big Blue Bus are the public transportation venues that will save you from going batty in the heinous traffic to and from the events. The super-efficient Metro Gold Line light rail (see map on page 119) goes through Pasadena, as do MTA buses. From the Santa Monica area, try the eco-friendly Big Blue Bus.
Driving? Be warned: In addition to traffic, there are many street closures to contend with. However, the official ticket vendor of the events, Sharp Seating Co., also offers parking passes, $30, for lots along the parade route.
Taking a cab, like driving, is a risky move. If you have to cab it, L.A. Yellow Cab is a reliable option. You can book via text message by simply sending your location to 571.309.5358. You might also consider car-service app Uber.
For the game, there is limited stacked parking at Rose Bowl Stadium, but departure is time-consuming. Make a quicker exit by paying a nominal fee to park at Parsons Corp. and take the free Vizio shuttle. The shuttle runs continuously from 10 am until two hours after the end of the game.
Scoring a Spot at the Rose Parade
Purchasing grandstand tickets is the only way to guarantee yourself a spot on the sidelines. The best seats are at Orange Grove and Colorado boulevards, where TV crews line up to capture the floats' gyrating mechanized parts and marching bands showing off complex formations.
Want to take your chances with curbside viewing? A few hints: Spots are first-come, first-served, and can be staked out as early as noon the day before the parade. Bring pillows and blankets if you plan to sleep overnight; tents are not permitted. Side streets don't close until shortly before the parade, so if you're feeling lucky, you can try snagging a spot the morning of the event; go no later than 5 am. Call the Pasadena Police Department for regulations on curbside viewing.
Other Tournament of Roses Events
There's a lot of action leading up to the parade and the game as well as afterward.
Dec. 27–31, numerous float teams apply natural materials, seeds and fresh blooms to the floats. If you want in on the action, call float-building companies such as Fiesta Parade Floats to sign up.
Equestfest, Dec. 29 at Burbank's Los Angeles Equestrian Center, allows you to meet the parade's four-legged stars, tour their stables and watch horses and riders perform drills and dances.
Pasadena City College hosts Bandfest, Dec. 29–30, featuring performances by the parade's top-notch marching bands.
If you don't catch the parade, you can still see the main attractions before they wilt. Post-parade float viewing goes Jan. 1–2 on the streets adjacent to Victory Park. Floats wind up on Sierra Madre Boulevard and Washington Street.
After the Tournament of Roses
If you plan on returning next year, book a room before you leave your hotel. After all, it's never too early to initiate preparations for the year's biggest blowout. ­
DETAILS
Big Blue Bus 310.451.5444, bigbluebus.com
Fiesta Parade Floats 626.610.0974, fiestaparadefloats.com
L.A. Yellow Cab 877.733.3305, layellowcab.com
Los Angeles Equestrian Center 480 Riverside Drive, Burbank
MTA 323.466.3876, metro.net
Parsons Corp. 100 W. Walnut St., Pasadena, 626.440.2844
Pasadena City College 1570 E. Colorado Blvd., Pasadena, 626.585.7123
Pasadena Police Department 626.744.4598
Sharp Seating Co. 626.795.4171, sharpseating.com
Uber uber.com
Victory Park 2575 Paloma St., Pasadena, 626.744.7500