Top Spots for Whiskey In Los Angeles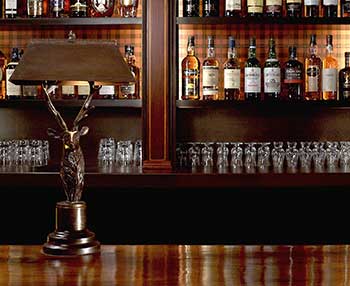 The best whiskeys can be as complex and nuanced as a great Bordeaux, or as straightforward and unfussy as a steak dinner. Either way, a glass of this spirit is a timeless comfort. Find out where to indulge on whiskey in Los Angeles.
Adapted from Whiskey Awakening by Roger Grody
Whiskey may be experiencing a boom in popularity, but don't call it a fad: The spirit has survived every drinking craze from '70s Harvey Wallbangers to yesterday's flavored martinis. Today, L.A. offers ample opportunities to explore diverse offerings from around the globe.
£10
Hidden in the Montage Beverly Hills, occupying an intimate mezzanine above Scarpetta, is £10, a bar that celebrates one of the world's most renowned single-malt Scotches, The Macallan. Everything is world-class here, from Lalique crystal glassware to water imported from the Scottish Highlands. This posh bar, itself a rare find in a casual city that often disses tradition, is reserved for deep-pocketed lovers of Scotch whisky.
At £10, you can score a shot of 62-year-old The Macallan Scotch whisky for $3,360, and curry-roasted pecans, aged Gouda and house-smoked bacon take the place of peanuts or pretzels. Purists can sip some of the world's finest spirits in true luxury while snacking on bison tartare or jamón ibérico from a small-plates menu, or enjoy a seat on the terrace with a pre-embargo Cuban cigar.
Bigfoot West
In contrast, Bigfoot West—a bar with lodge-like ambiance enhanced with timbered walls, antlered chandeliers and a rough-hewn wooden bar—isn't the place you'd expect gentlemen in tails to be sipping Macallan 1962. But this place features an awesome list of whiskeys from both sides of the Atlantic, as well as the far side of the Pacific. Bigfoot West's version of the Penicillin—"This amazing cocktail is just what you need to begin your love of whiskey," reads the menu—contains The Famous Grouse blended Scotch whisky, fresh-pressed lemon juice, honey reduction, house-made ginger syrup and a spritz of smoky Laphroaig Scotch whisky. At Bigfoot Lodge, its sister bar in Los Feliz, there's even a dessert cocktail called the Cookie Duster: Leopold Bros. small-batch Colorado whiskey, chocolate liqueur and cream, with a mustache of cocoa powder added for a final flourish.
The Blind Donkey
At The Blind Donkey in Pasadena and Long Beach, whiskey takes center stage, whether it's from Scotland, America or Japan—you'll even see whiskeys from France and Belgium. The Donkey also offers a wide selection of whiskey cocktails, such as the Nick of Thyme, which features Buffalo Trace bourbon, honey-thyme syrup, lemon and Cock 'n Bull ginger beer. Sustenance includes burgers and poutine-inspired fries topped with the makings of a carne asada taco or Reuben sandwich.
Seven Grand
Downtown's Seven Grand offers a 17-page list of whiskeys that includes rare Scotches, iconic American labels and less-familiar single malts from India and Australia. General Manager Andrew Abrahamson traces whiskey's ascent in L.A. to the mid-2000s, when classic pre-Prohibition cocktails arrived on the scene and shows like Mad Men began fueling retro trends. "People were getting back to drinking for flavor, not masking flavor, and the spirit that partners naturally with that is whiskey," he says, adding that spirits like vodka are simply vehicles for other flavors.
With more than 700 whiskeys on hand, prices at Seven Grand range from less than $10 to about $400 per glass. The last bottle of Macallan 55 ($1,200 per pour) was emptied last year, and prices have escalated so rapidly that Abrahamson decided not to restock, focusing instead on less-familiar but equally impressive labels. The bar turns out many variations of the classic Old Fashioned, as well as cocktails unique to Seven Grand.
Bar Jackalope
In a back room at Seven Grand, inspired by the intimate whiskey sipping rooms in Japan, is Bar Jackalope, which stocks about 140 labels, including every Japanese bottle Abrahamson can get his hands on. It's one of the few places in the country to find Yamazaki 25 ($389 per pour), whose total U.S. allocation was just 100 bottles. Jackalope regulars can rent lockers to store their valuable hooch, and carts stocked with glasses and accoutrements are provided when they drop by. "When you look at the breadth and range—from American bourbon to a Japanese blended whiskey—it's unbelievable these are all in the same family of spirits," says Abrahamson, who marvels at the incredible diversity in the world of whiskeys.
Grain
When Brooke Williamson and Nick Roberts, the wife-and-husband team responsible for endearing gastropubs The Triple and Hudson House, developed their ambitious concept for Playa Provisions, a whiskey bar was part of the deal. Grain, a woodsy lounge whose design was inspired by the inside of a whiskey cask, coexists with a seafood dining room called Dockside, an ice cream counter named Small Batch and a casual market dubbed King Beach. "Whiskey is something that both of us have a soft spot for," reports Williamson, and adds, "A whiskey bar was something we had been talking about for a long time, and Playa just seemed like the perfect fit."
In addition to selected labels from Scotland, Ireland and Japan, Grain features a list of whiskeys that's particularly deep in American bourbons. As the four components of Playa Provisions are unified by classic American traditions, Williamson explains, "Aside from simply loving bourbon, we felt the emphasis in the whiskey bar should be on its domestic roots and history." Cocktails such as the Whiskey Smash, Kentucky Maid and Manhattan incorporate various whiskeys and can be paired with alluring bar foods: scotch eggs, duck confit poutine and chicken-fried quail served in a waffle bowl with greens and a maple-bacon-bourbon vinaigrette that honors the theme.
Brilliantshine
Julian Cox and Josh Goldman have created many of L.A.'s best cocktail programs, and Goldman, a seasoned sommelier, knows how to assemble a formidable wine list. Individually or through their company, Soigné Group, Cox and Goldman have elevated the bar scenes at restaurants including Comme Ça, Rivera, Picca, Petty Cash and Acabar. This past summer, they debuted their own bar/restaurant in Santa Monica called Brilliantshine, a homey place with an inviting patio. It's not all booze there, as chef Richie Lopez, a protégé of Peruvian pioneer Ricardo Zarate, turns out a bar menu—think Maine lobster risotto crowned with sea urchin or Peruvian-spiced duck leg—that's a sharp departure from sliders and nachos. Chicken wings are on the menu, but they're spiked with exotic Korean gochujang.
Cox observes that the current rediscovery of whiskey is a global trend, with Americans being reintroduced to small-batch bourbons and Japanese whiskeys rivaling Europe's finest. With competition from several fronts, Cox doesn't see all venerable Scottish producers resting on their laurels, either. "Brands like The Balvenie and Bruichladdich value their history while also using different, innovative techniques that appeal to new consumers," he says.
"Irish whiskey is easier to drink but more interesting and a little less '90s than a shot of vodka," says Cox, who suggests that the infused vodka trend is fading and echoes Abrahamson's observation that hit shows like Mad Men and Boardwalk Empire have helped romanticize whiskey. The list that he and Goldman assembled at Brilliantshine is not intended to be encyclopedic. "We feel if we keep a small list of well-curated whiskeys we'll have something for everyone," says Cox.
The acclaimed barsmith also reports that rye whiskeys, essential to making a good Manhattan, Old Fashioned or Sazerac, have contributed to the current cocktail renaissance. One of Brilliantshine's signature cocktails is a Cobbler, a favorite in pre-Prohibition America. Here it consists of Amontillado sherry, Buffalo Trace bourbon, cane syrup, glögg (Scandinavian cinnamon-spiced liquor), crushed ice and seasonal garnishes. "Bartenders and sommeliers have been trying to prove sherry isn't just for old English grandmothers," quips Cox.
The Pikey
Despite the presence of the Union Jack, British ales on tap and a kitchen that turns out fish and chips and Welsh rarebit, Hollywood's The Pikey is a quintessentially L.A. kind of pub. Bar snacks like potted chicken liver pâté and crispy pig's ear salad share a menu with larger plates emphasizing seasonal, organic ingredients. In addition to the de rigueur beers, the bar offers premium whiskeys, including hard-to-find bottles. Partner Jared Meisler, an avid collector, assembled a reserve list at The Pikey when his home bar began overflowing with elusive vintages.
The reserve list concentrates on whiskeys that have earned critical acclaim, but Meisler reports a weakness for rare finds. "I love the idea of drinking the last bottle of 1941 J&B in L.A.!" The veteran bar owner/restaurateur believes diversity is spiking the current whiskey craze. "There are so many types of whiskey, from sweet bourbons to smoky Scotch. …There's really something for everybody and once you open the door, it's a never-ending journey," says Meisler. Among his current faves is a Wild Turkey 8 Year, 101 proof, circa 1963. "It's got some classic bourbon notes like vanilla and wood, but also an earthy, leathery thing I really like."
Bourbon Steak
Currently, the hottest trend in the world of whiskey is the emergence of premium whiskeys from Japan. Although the island nation's industry is barely a century old and serious exports have been occurring for only about 30 years, Japanese distilleries have gained a reputation for excellence. In 2012, a 25-year-old Yamazaki beat out 300 other single-malt whiskeys in a blind tasting that involved many of Scotland's most famous brands.
Seven Grand's Abrahamson, who has a fondness for both Scotch and American whiskeys, notes Japanese distillers chase perfection through constant experimentation, rather than stubbornly adhere to tradition like many of their Scottish counterparts. "They never overpower you but always intrigue you. Their layers of flavor and balance are unprecedented," he says.
Japanese whiskeys are showcased at Bourbon Steak, prolific chef/restaurateur Michael Mina's contemporary American steakhouse. For its tableside Japanese whiskey ceremony, 2 ounces of a selected Japanese whiskey are poured into a Bordeaux glass that has first been "smoked" with aromatics, such as molasses-macerated strawberries or charred peaches, enhanced with a globe of ice made from pure Japanese mineral water. Daniel Grajewski, beverage director for the Mina Group, says, "Japanese whiskeys cater to both sides of the Atlantic, having the smoky qualities of Scotch and the sweet notes of bourbon."
These whiskeys also have the reputation of being more food-friendly than those from Scotland or America, and Japanese tradition requires these beverages sustain themselves through an entire meal. Dave Broom, author of The World Atlas of Whisky and one of the leading authorities on the spirit, says a good Japanese whiskey can even be paired with sushi without overwhelming it. "These whiskeys can have a similar aroma as a sauvignon blanc or the delicate, fruity notes of a sake," says this native of Scotland who acknowledges that the Hibiki 17 is "as close to perfection as you can find."
Plan Check Kitchen + Bar
Japanese whiskeys are also featured at Plan Check Kitchen + Bar, a growing minichain famous for its innovative comfort food. Chef Ernesto Uchimura, who values his Japanese heritage, not only enjoys their nuanced qualities but likes the way they complement his contemporary takes on American classics (e.g. the acclaimed Plan Check Burger and its many variations). General Manager Christopher Brian, who oversees the innovative bar program, states, "We buy almost every Japanese whiskey available on the U.S. market, and our purveyors often reach out to us first." He says that because Japanese distilleries don't sell barrels to other producers (a common practice in Scotland), the resulting whiskeys are as pure as single malts can get.