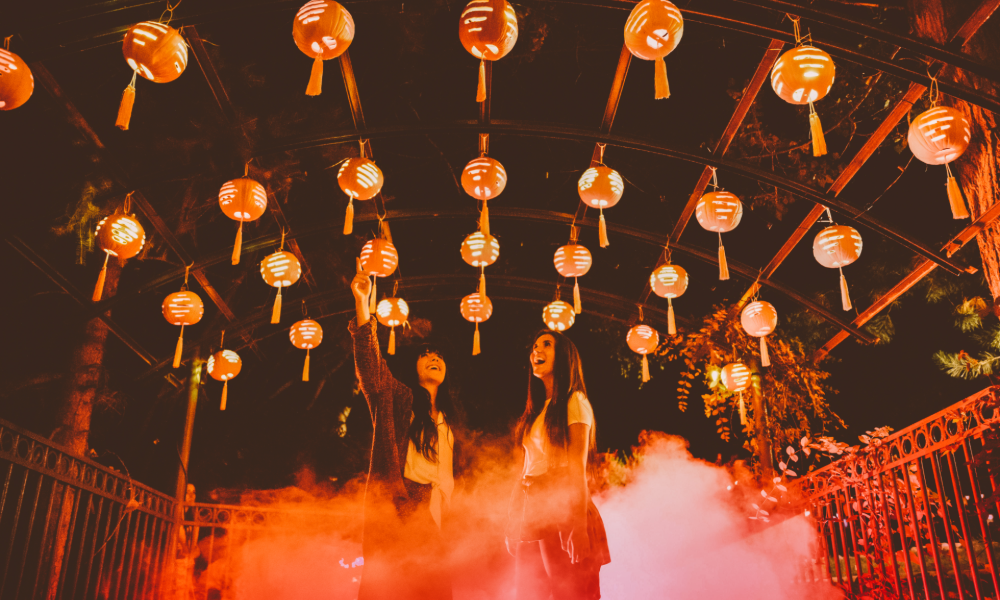 This October, Los Angeles brings you fall festivals, Halloween celebrations, new theatrical performances and more. See our list of 30+ top things to do in L.A. this month.
Edited by Alicia Luchak.
Haunted Little Tokyo
Oct. 1-31. For the Halloween season, Little Tokyo will be celebrating by hosting activities that range from family-friendly to seriously spooky with a pumpkin patch, "haunted" halloween walking tours, "frightfully fun" block party, Free horror movie screenings and more. Visit website for full schedule. golittletokyo.com
All Star Chef Classic Strolling Events
Oct. 4-5. Coming soon to the Chef's Tasting Arena at L.A. Live are series of truly unique culinary experiences that showcase world renowned chefs in a stadium setting. While Carneval (Friday the 4th) focuses on everything meat, the Grill & Chill (Saturday the 5th) is centered around seafood, no matter if they're grilled or prepared chilled. 800 Olympic Blvd., downtown. lalive.com
Oktoberfest
Oct. 4-27 L.A.'s oldest Oktoberfest turns 51 this year and is celebrating with a "bier-hall" style throwback event. The German marketplace provides traditional Bavarian fun including Germany's Haderlumpen band, dancing and traditional food and beer. F-Sa 21+, Su all ages. F-Sa 6 pm-midnight; Su 1-6 pm. $10-$20. Alpine Village, 833 W. Torrance Blvd., Torrance, 310.327.4384, alpinevillagecenter.com
Street Food Cinema
Oct. 5, 12, 19-20, 26. This outdoor film series hosts screenings at various locations across L.A., including Los Angeles State Historic Park and Will Rogers State Historic Park. This month's spooky lineup includes Ghostbusters and Beetlejuice. Also enjoy live music and food trucks. See website for a full schedule and start times. $6-$23, under 6 free. 323.254.5068, streetfoodcinema.com
Veuve Clicquot Polo Classic 
Oct. 5. Picnic, sip Champagne and see professional polo led by world-renowned Argentine polo player Nacho Figueras at the 10th annual L.A. edition of this sporting event, which regularly attracts A-listers. Event is 21+. 11 am-5 pm; match starts at 2 pm. $90-$500. Ticket purchase includes shuttle transportation between check-in lot and event grounds. All tickets must be purchased through Eventbrite. Will Rogers State Historic Park, 1501 Will Rogers State Park Road, Pacific Palisades, vcpoloclassic.com
Blue Man Group
Through Oct. 6. The world-renowned bald and blue trio is making its L.A. debut with a show featuring new and original compositions, acts and instruments alongside iconic Blue Man Group moments. Hollywood Pantages Theatre, 6233 Hollywood Blvd., Hollywood, 323.468.1770 Tickets
Ciclavia—Heart of L.A. Celebration UCLA 100 
Oct. 6. During this eco-friendly event, several miles of L.A.'s normally congested streets turn into a car-free park for a walk and bike tour of the city's most celebrated attractions. October's route, which celebrates UCLA's centennial, travels through Westlake, Chinatown, Little Tokyo, Boyle Heights and DTLA (where UCLA originally began as a teachers college). See website for route details. 9 am-4 pm. Free. 213.355.8500, ciclavia.org
Sunday Funday
Starts Oct. 6. Wrap up the weekend with family-friendly creative workshops. With activities like a dance lessons in a variety of styles, kid-centric sketch comedy, music programs and more. Also, it's all completely free! See website  for full schedule. The Wallis Annenberg Center for Performing Arts, 9390 N. Santa Monica Blvd.
Beverly Hills thewallis.org
Anastasia 
Oct. 8-27. This new musical inspired by beloved films about Anastasia is from the Tony-winning creators of Broadway classic Ragtime. This month, the lost Russian grand duchess's "journey to the past" journeys to L.A. for the first time. Hollywood Pantages Theatre, 6233 Hollywood Blvd., Hollywood, 323.468.1770 Tickets
Pumpkin Nights
Opening Oct. 10. For family-friendly Halloween fun, check out Pumpkin Nights, an interactive, multi-sensory experience at the Fairplex in Pomona that boasts over 3,000 hand-carved real and synthetic pumpkins created by master artists. First, enter the Pumpkin Passage—a tunnel lined with 600 jack-o'-lanterns—then continue on a magical quest through seven enchanting Pumpkin Lands. You'll also find seasonal treats, a pumpkin patch, a fire show and other attractions. pumpkinnights.com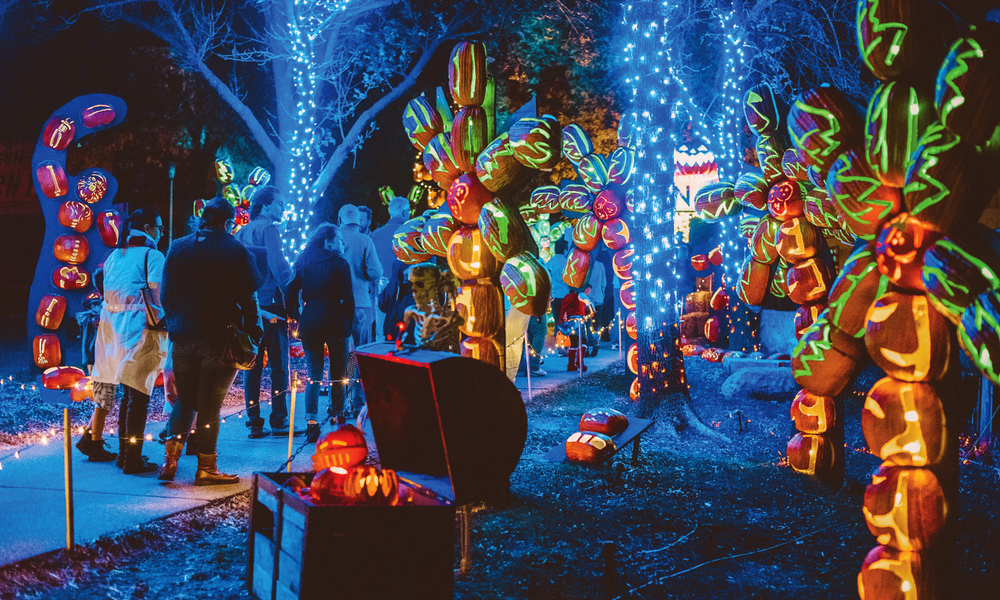 House of Spirits: A Haunted Cocktail Soiree
Opening Oct. 11. Stroll and sip cocktails while exploring an eerie mansion. The immersive experience is based on the final days of Spanish painter Francisco Goya. houseofspiritsla.com
Fall Festival 
Oct. 12-13. The Original Farmers Market's oldest annual tradition is back with seasonal fun, live music, a petting zoo and a pie-eating contest. 6333 W. 3rd St., L.A., 323.933.9211 farmersmarketla.com
Skintight
Through Oct. 12. Joshua Harmon's new comedy is a neurotic family drama about how to age gracefully. Tony winner Idina Menzel plays Jodi, a woman who retreats to her dad's Manhattan townhouse after her ex-husband gets engaged to a much younger woman—only to find her dad's new 20-year-old live-in boyfriend. Gil Cates Theater, Geffen Playhouse, 10886 Le Conte Ave., L.A., 310.208.5454 Tickets
A Play is a Poem
Through Oct. 13 This new collection of one-acts by celebrated playwright and filmmaker Ethan Coen takes an eccentric look at life across America—traveling from a gazebo in Mississippi to the executive suites of Hollywood. Mark Taper Forum, 135 N. Grand Ave., downtown, 213.628.2772 Tickets
Sisters in Law
Through Oct. 13. This work, having its West Coast premiere here, explores the friendship between the U.S. Supreme Court's first two female justices, Ruth Bader Ginsburg and Sandra Day O'Connor. Wallis Annenberg Center for the Performing Arts, 9390 N. Santa Monica Blvd., Beverly Hills, 310.746.4000 Tickets
Rocketman: Live in Concert
Oct. 17. Rocketman live at the Greek Theatre features a special performance by Elton John and Taron Egerton with the Hollywood Symphony Orchestra. 2700 N. Vermont Ave., Griffith Park. 323.665.5857 Tickets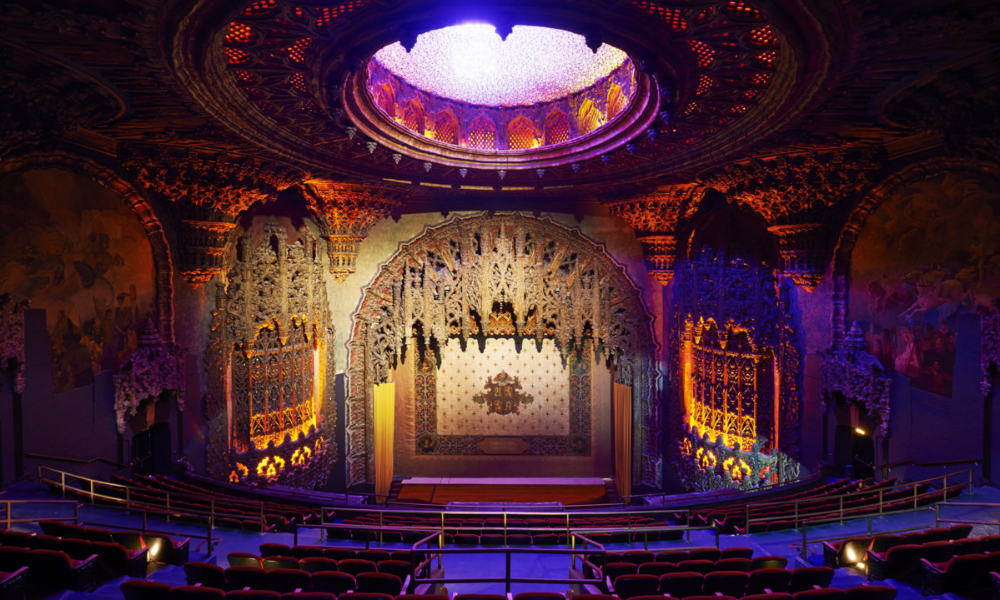 Ace Hotel 20th Anniversary
Oct. 18. Celebrate 20 years of the Iconic Ace Hotel's Theatre with a solid lineup of musicians and artists. Enjoy performances from legends such as Japanese composer Ryuichi Sakamoto, Brooklyn-based performance artist "serpentwithfeet" and experimental artists Zola Jesus. After party to follow. 8 p.m. $20-150. 929 S. Broadway, downtown Tickets
Beverly Hills Artshow 
Oct. 19-20. This long-running outdoor art showcase displays artwork from over 245 exhibitors twice a year. Wine and beer gardens and food trucks are also on-site. Check website for times. Free. Beverly Gardens Park, along Santa Monica Boulevard from Rodeo to Rexford drives, Beverly Hills, 310.285.6830, beverlyhills.org
Cinespia 
Oct. 19, 27. Watch films projected on a mausoleum wall during this popular Amazon Studios-sponsored film series at Hollywood Forever Cemetery, which continues into October with scary screenings of The Sixth Sense and The Texas Chainsaw Massacre. See website for full schedule and door and movie times. $18-$20. Parking $12-$20. 6000 Santa Monica Blvd., L.A., cinespia.org
Latin History for Morons
Through Oct. 20. After a critically acclaimed Broadway run, Tony and Emmy winner John Leguizamo brings his smart and hilarious one-man show to L.A., shedding light on America's unsung heroes. Ahmanson Theatre, 135 N. Grand Ave., downtown, 213.628.2772 Tickets
Little Shop of Horrors
Through Oct. 20. This production of the classic sci-fi musical comedy features some devious new twists and stars George Salazar (Be More Chill), Mj Rodriguez (Pose) and Amber Riley (Glee). Pasadena Playhouse, 39 S. El Molino Ave., Pasadena, 626.356.7529 Tickets
The Thanksgiving Play
Opening Oct. 22. In Larissa FastHorse's biting satire, three "woke" white thespians struggle with the task of helming an elementary-school pageant about the first Thanksgiving. Audrey Skirball Kenis Theater, Geffen Playhouse, 10886 Le Conte Ave., L.A., 310.208.5454 Tickets
The New One
Opening Oct. 23. Comedian Mike Birbiglia (Sleepwalk With Me) takes the stage at the Ahmanson to tell a new story in a new way— and Lin-Manuel Miranda and John Mulaney are already raving about it. Ahmanson Theatre, 135 N. Grand Ave., downtown, 213.628.2772 Tickets
 Psycho—Live With Orchestra 
Oct. 25-27, 30-31. The L.A. Opera Orchestra plays Bernard Herrmann's score live to film at the Theatre at Ace Hotel. On Oct. 26, stay late for a Hitchcock Halloween bash. 929 S. Broadway, downtown, 213.623.3233 Tickets
Brewery Art Walk
Oct. 26-27. This biannual art walk takes place in the world's largest art complex, located in a former Pabst Blue Ribbon brewery. More than 100 participating resident artists who live in the brewery's lofts open up their studios to showcase their work. 11 am-6 pm. Free. 2100 N. Main St., L.A., 323.638.9382, breweryartwalk.com
On Beckett
Through Oct. 27. Master clown and Tony-winning actor Bill Irwin explores a performer's relationship to Samuel Beckett's language during this intimate, 90-minute evening. Kirk Douglas Theatre, 9820 Washington Blvd., Culver City, 213.628.2772 Tickets
Jesus Christ Superstar 
Opening Oct. 29. Andrew Lloyd Webber and Tim Rice's iconic musical about the final weeks in the life of Jesus Christ is reborn in this 50th anniversary, Olivier Award-winning production. Hollywood Pantages Theatre, 6233 Hollywood Blvd., Hollywood, 323.468.1770 Tickets
Halloween Organ & Film
Oct. 31. Organist Clark Wilson provides a live soundtrack to 1923's The Hunchback of Notre Dame at Walt Disney Concert Hall. 111 S. Grand Ave., downtown, 323.850.2000 Tickets
West Hollywood Halloween Carnaval 
Oct. 31. Hundreds of thousands hit the streets of West Hollywood for its incomparable annual costume bash. Expect live music, DJs, dancing, local eats and parties along the route. Not recommended for kids. 6-10:30 pm. Free. Santa Monica Boulevard between North Doheny Drive and La Cienega Boulevard, 323.848.6400, visitwesthollywood.com
Halloween Horror Nights
All month. At Universal Studios' mega-popular attraction, step inside the worlds of Stranger Things, Us and other scary shows and movies. 100 Universal City Plaza, Universal City, 800.864.8377 Tickets
Haus of Creep 
All month. This year's edition of A-list favorite Creep is a clever "Instagram playground of terror" with shocking scenes and intimate scares at Row DTLA. 777 S Alameda St., downtown. creepla.com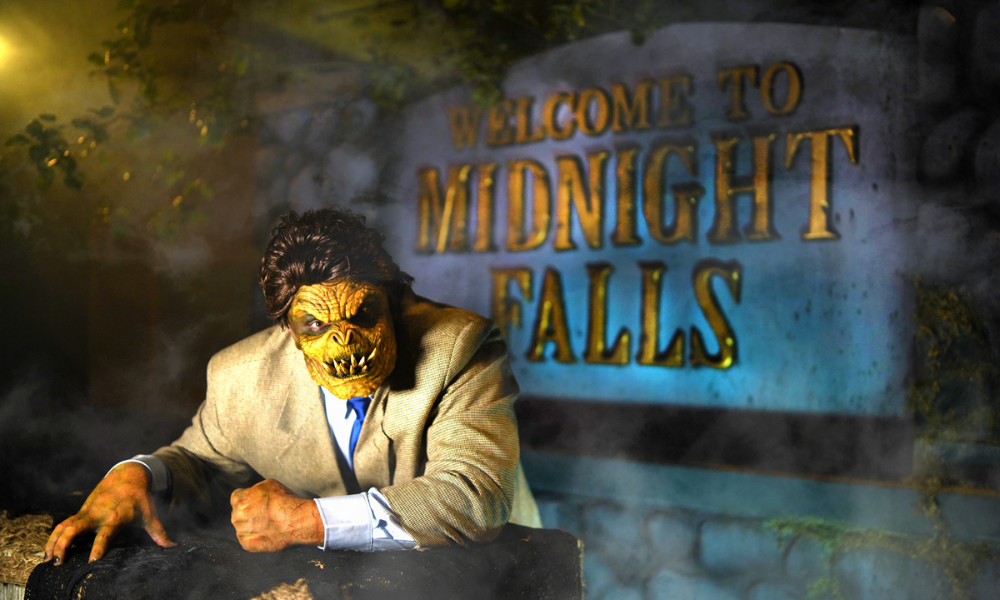 Los Angeles Haunted Hayride
All month. This popular Griffith Park attraction takes thrill-seekers on a ride on the back of a tractor through the Old Zoo, where they'll enter Midnight Falls—an eerie and mysterious fictitious town set in 1985 where time stands still and it's always Halloween. Every attraction has been entirely redesigned this year; new draws include escape rooms, additional mazes and a haunted house. Check website for dates and times. $34.99-$109. 4730 Crystal Springs Ave., Griffith Park, L.A., losangeleshauntedhayride.com
Melrose Rooftop Theatre
All month. For October, this alfresco film series is screening a mix of scary movies Sunday through Thursday nights on the rooftop of hot spot E.P. & L.P. Enjoy food, specialty cocktails and views of the Hollywood Hills. Come in costume for the Oct. 31 screening of Hocus Pocus. VIP Dinner & a Movie package offers a three-course modern Asian meal at E.P. Dinner & a Movie 6:30 pm; theater opens 7:30 pm; movie 8:30 pm. $27.50-$65. E.P. & L.P., 603 N. La Cienega Blvd., West Hollywood, 310.855.9955, melroserooftoptheatre.com
Murder Mystery
Ongoing. There's nothing like a murder mystery party to get you into the spooky spirit.Whether you're hoping to throw a themed social event or Halloween celebration, you're sure to give your guests an immersive experience that is to die for. From a '50s sock hop or midnight masquerade, there is no shortage of exciting scenarios to choose from. No need to leave home, they'll bring the party to you! murdermysteryco.com
The Queen Mary's 10th Dark Harbor 
All month. The historic, haunted ocean liner becomes a playground of terrifying mazes, monsters, rides, live entertainment and secret bars. 1126 Queens Hwy., Long Beach, 877.342.0738 queenmary.com
Rooftop Cinema Club
All month. The U.K.'s "Number One Outdoor Cinema Series" returns to the rooftops of Hollywood's private NeueHouse and downtown's Level for its fifth season in L.A. Fill up on street food and drinks while you take in views and enjoy horror flicks (including Poltergeist and Midsommar) and family-friendly Halloween films this month. See website for full lineup and schedule. Ages 18+. $17-$25. 6121 Sunset Blvd., L.A.; 888 S. Olive St., downtown, rooftopcinemaclub.com
Photos: Pumpkin Nights courtesy Pumpkin Nights. Veuve Clicquot Polo Classic courtesy @VeuveCliquot.USA/Facebook. Little Shop of Horrors by Jeff Lorch. Los Angeles Haunted Hayride courtesy Thirteenth Floor Entertainment.