Top 10 Los Angeles Chefs Under 30
Jordan Kahn
Red Medicine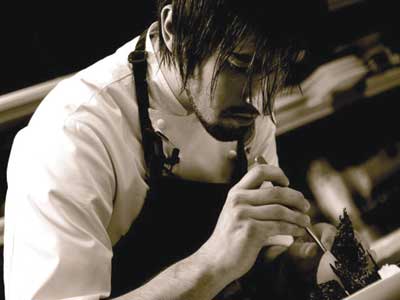 Graduating from culinary school at just 17, pastry chef Jordan Kahn immediately landed a job at Thomas Keller's the French Laundry—the youngest chef ever to work at the temple of gastronomy—and then assisted his boss in opening Per Se in New York. At revolutionary chef Grant Achatz's Alinea in Chicago, he perfected his intricate, highly aesthetic style.
Moving from sweets to savory dishes was surprisingly effortless for Kahn, and today the chef, now 28, turns out an artistic, stylish Vietnamese-inspired cuisine at Red Medicine in Beverly Hills. With the unique presentation of dishes such as Alaskan halibut with charred mustard leaf, boiled peanuts, wild garlic and burnt onion syrup, it's no wonder former New York Times restaurant critic Frank Bruni once compared Kahn's artistry to Jackson Pollock's.
Red Medicine, 8400 Wilshire Blvd., Beverly Hills, 323.651.5500.