Top 10 Los Angeles Chefs Under 30
Christina Olufson
Luques, AOC, Tavern, The Larder at Maple Drive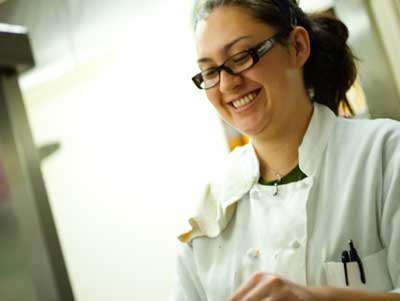 Suzanne Goin, a protégé of California Cuisine pioneer Alice Waters, ushered in a wave of female chefs in L.A. and continues to pay it forward by retaining top talent from a new generation. Her executive pastry chef at Lucques, AOC, Tavern and The Larder at Maple Drive is Christina Olufson, 29.
Olufson once believed she was best suited for life in an intimate bakery, but her attitudes changed when she arrived at Lucques as an intern before her 23rd birthday. "The kitchen was magical in a way I've never seen before and really opened my eyes to more than just baking," says the pastry chef. Representative Olufson desserts include Meyer lemon panna cotta with blueberries, pistachios and candied orange, a fromage tart with fennel, strawberries and mint, and a contemporary take on the Snickers candy bar. Gourmet versions of nostalgic desserts are one of Olfuson's signatures, but they're handcrafted, like everything else at Lucques and Tavern.
AOC, 8022 W. 3rd St., L.A., 323.653.6359.
Lucques, 8474 Melrose Ave., West Hollywood, 323.655.6277.
The Larder at Maple Drive, 345 N. Maple Drive, Beverly Hills, 310.248.3779.
Tavern, 11648 San Vicente Blvd., Brentwood, 310.806.6464.