Top 10 Los Angeles Chefs Under 30
Josh Graves
Ray's & Stark Bar, C+M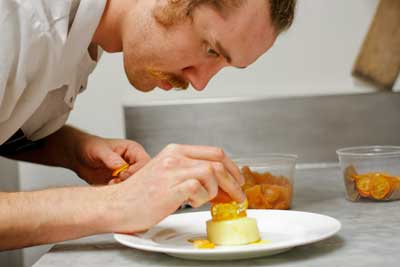 Content with his role as pastry chef is Josh Graves, who offers up some sophisticated finales at Ray's & Stark Bar, the sleek Renzo Piano–designed eatery at the Los Angeles County Museum of Art. Graves, only 26, says, "Being successful at a young age pressures you to keep pushing forward and keep getting better." Graves has worked with Ray's & Stark Bar's executive chef, Kris Morningstar—himself still in his early 30s—for most of his career and credits him as an influential mentor. "Kris has taught me a lot about getting the most out of fresh ingredients and enhancing flavor combinations," says Graves, who closely collaborates with Morningstar to offer a seamless transition from savory dishes to sweet.
"My philosophy is simple and natural," says Graves. "I try to keep the flavors in my dishes focused and use the best, most natural ingredients." The pastry chef's study in chocolate might entail a bittersweet mousse layered over a praline crust, topped with milk chocolate–infused whipped cream and dark chocolate sorbet, attractively plated with a black cocoa tuile or hazelnut brittle. Graves has also mastered a killer artisanal interpretation of the iconic Oreo cookie.
Ray's & Stark Bar, Los Angeles County, Museum of Art, 5905 Wilshire Blvd., L.A., 323.857.6180
C+M at LACMA, 5905 Wilshire Blvd., L.A., 323.857.6180.