Top 10 Los Angeles Chefs Under 30
Giselle Wellman
Petrossian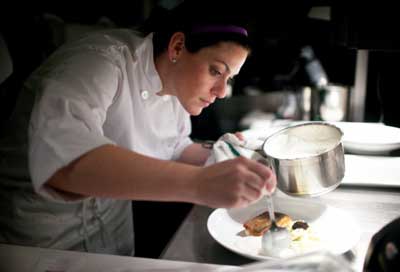 One of the top female chefs in town is 28-year-old Giselle Wellman, who has transformed Petrossian Boutique & Restaurant into a place for serious dining. Naturally, the menu is generously laced with sustainable caviar, but it's hardly one-dimensional. Working for heavyweights Jean-Georges Vongerichten and Mario Batali in New York, and Thomas Keller in Beverly Hills, Wellman developed a finesse beyond her years. It shows in dishes such as Dungeness crab–sweet corn soup and citrus bread-crumb-crusted striped bass with caviar powder and lemon foam. "I owe a lot of my success to the amazing mentors I had along the way … the chefs who took their time to demonstrate and guide me," she says.
Despite being a chef at the L.A. branch of a legendary Parisian caviar purveyor, Wellman has a cooking philosophy that is surprisingly down-to-earth. "I feel responsible to make sure the farmers' hard work shines through in every dish," she says, mindful of the sourcing of each ingredient. "I love honoring the hard-working people who provide sustainable products."
Petrossian Boutique Restaurant, 321 N. Robertson Blvd., West Hollywood, 310.271.0576.