Top 10 Los Angeles Chefs Under 30
Adam Horton
Raphael
<<prev 10 of 10 beginning>>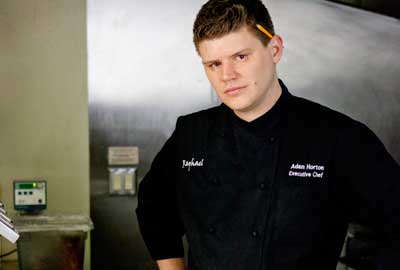 Former Saddle Peak Lodge chef Adam Horton, just 29, turns out some exceptional cooking at Raphael, an intimate restaurant in the San Fernando Valley that has the sleek good looks of anyplace on the "other side of the hill." His market-driven menu offers aesthetically pleasing dishes such as Thai-spiced albacore tartare, bay scallops with uni, English peas and black garlic, and a rib steak cooked sous-vide for 48 hours with bacon-infused onions and crispy blue cheese.
Horton, who balances classic technique with doses of molecular gastronomy at the Studio City restaurant, says, "I think my age group is fortunate to be hitting a crossroads in food science and what is now considered 'modern' technique, things which have been used for years but are only recently hitting the mainstream restaurant scene.
"I feel like my age gives me the humility to understand I haven't been doing this that long and lets me look at things with very open eyes."
Raphael, 11616 Ventura Blvd., Studio City, 818.505.3337.