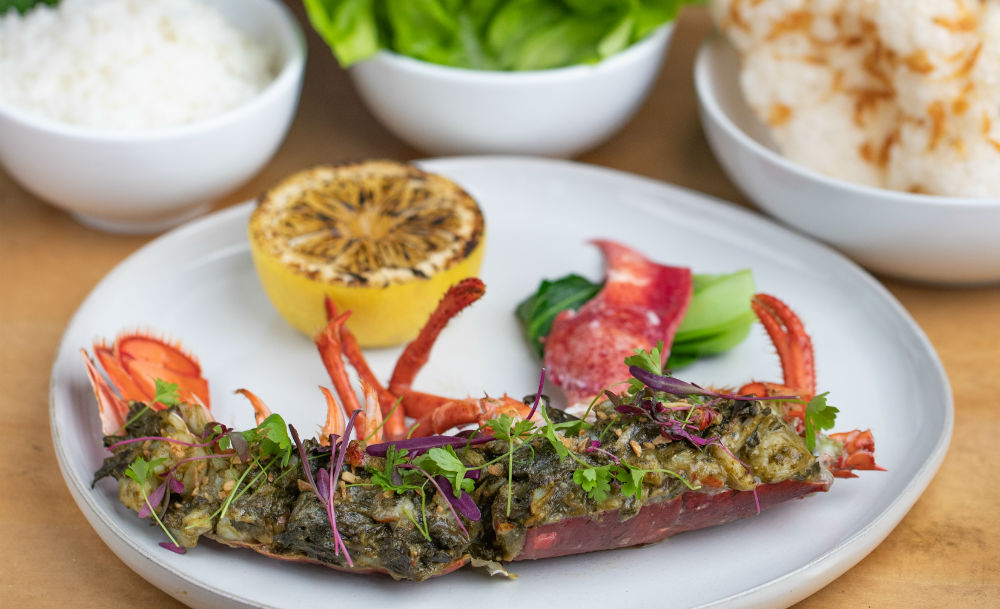 Can we finally just agree that Los Angeles is the most exciting food city in the country right now? Thanks to a year of huge new restaurant openings (as well as some trusty family-run spots), L.A. is the place for the hungry soul.
By Wilder Shaw.
Setting Trends in the Arts District
The section of downtown Los Angeles known as the Arts District has exploded over the last few years. What started as a collection of warehouses and old vineyard spaces has given way to quite possibly the best place to dine in the entire city.
Simone
Throughout the Arts District, a lot of places look grandiose and flashy—not Simone, though. You might even miss it if you weren't looking for it, which makes the stunning interior all the more surprising. Past the bar and through the glass windows of the open kitchen where James Beard Award-winning chef Jessica Largey works her magic, you'll find a beautiful dining room with a small chef's table. At first glance, the menu doesn't seem that different from most new American-style restaurants, but once you taste dishes like grilled cabbage as savory as a steak, or beef tartare full of Thai shallots and kaffir lime, it becomes clear that Largey is doing something special. D (Tu-Su). 449 S. Hewitt St., downtown, 424.433.3000. simoneartsdistrict.com
Bavel
Ori Menashe, the wizard behind Bestia, has done it again with the Middle Eastern grand slam that is Bavel. From start to finish, the menu is a powerhouse, and Menashe's cooking is truly off the charts. Start off with the best pita you'll eat this year, use it to sop up the best hummus you'll eat this year, and you'll start to get the idea. The perfectly cooked lamb-neck shawarma is nothing short of superb, but the biggest surprise hit is the oyster-mushroom kebab. It's cooked, spiced and served like chicken shawarma; believe us when we say you may not notice the difference at first. D (nightly). 500 Mateo St., downtown, 213.232.4966. baveldtla.com
Guerrilla Tacos
The tacos from chef Wes Avila that began in one of L.A.'s most lauded trucks have finally earned themselves a brick-and-mortar in the Arts District. Guerrilla is the product of Avila's creative vision and love for Mexican cooking, and you can taste the difference in the sweet-potato tacos, hamachi tostadas and everything else he touches. The Jonathan Gold mural on the wall doesn't hurt, either. L, D (daily). 2000 E. 7th St., downtown, 213.375.3300. guerrillatacos.com
NYC Imports
It seems like more and more New York City establishments show up in Los Angeles every single year. Keep 'em coming.
Employees Only L.A.
Anybody who's had the privilege of drinking in one of the most impressive bars in New York City knows just how lucky we are to finally have Employees Only here in Los Angeles. The original is often called one of the best cocktail bars in the world, and after you step inside the speakeasy through a psychic's doors, you'll instantly fall in love with the drinks. Don't let that stop you from eating, though; the hand-cut steak tartare from chef Sascha Lyon is one of our favorites in town. D (nightly). 7953 Santa Monica Blvd., West Hollywood, 323.536.9045. employeesonlyla.com
Apotheke
New cocktail bar Apotheke is a vibrant addition to Chinatown, an area laden with empty spaces and warehouses. The space itself is gorgeous—it just won Time Out Los Angeles' Most Stylish Bar Award—and the outdoor patio might just be one of L.A.'s best places to drink in the sunshine. Of course, none of that is as important as the quality of the cocktails, but Apotheke nails those, too. You'll find drinks with eucalyptus-infused tequila mixed with habanero bitters and garnished with honeydew, or charcoal-infused vodka mixed with cucumber, aloe vera, lime and Champagne. The sky's the limit at Apotheke. 1746 N. Spring St., downtown, 323.844.0717. apothekela.com
Roberta's
After a long run as a pop-up in Culver City's Platform, this Brooklyn pizza titan has made the complex its permanent home. In addition to the pizza that's been acclaimed countrywide, Roberta's is serving up salads, pastas and a ton of other goodies. It'd be hard to choose the wrong thing, but the true star is the "Bee Sting," a pie covered in sopressata, mozzarella with chili oil, and honey—a true paradigm of sweet and savory cooking. L, D (daily). 8810 Washington Blvd., Culver City. robertasla.com
Places to Share
Dining in L.A. is a true more-the-merrier situation. Bring friends and eat well at these incredible new restaurants.
Hippo
Hidden (at least, it was at first) behind Triple Beam Pizza you'll find Hippo, a surprisingly affordable Italian-ish restaurant from Matt Molina. As a James Beard Award-winning chef who's done time at Osteria Mozza, Molina hits all the right notes here. From the tart and slightly spicy wax-bean salad to the buttery corn pasta, every inch of the menu just feels right. Bring a group. You need to try as many things as possible. D (Tu- Su). 5916 1/2 N. Figueroa St., L.A., 323.545.3536. hipporestaurant.com
Ma'am Sir
Filipino food has (finally) made its mark in L.A., thanks in no small part to Charles Olalia's Ma'am Sir. After the success of his smaller, much more casual spot Rice Bar, Ma'am Sir is the sit-down restaurant that the Filipino food world desperately needed. For dinner, you'll find serious dishes like the roasty, garlicky chicken adobo; for brunch, expect more playful dishes like coconut and rice pancakes. No matter what time you go, Ma'am Sir is the right move. D (W-M), Br (Sa-Su). 4330 Sunset Blvd., L.A., 323.741.8371. maamsirla.com
Slab
Is there a type of food more conducive to sharing than barbecue? Slab is the brainchild of Burt Bakman, the brisket savant behind Trudy's Underground Barbecue, which he ran through Instagram and served from the driveway of his Studio City house. Now at Slab's brick-and-mortar, you can order the perfectly smoky, already legendary brisket. You'll want to get there early; it sells out quick. L, D (Tu-Su). 8136 W. 3rd St., L.A., 310.855.7184. slabbarbecue.com
Family-Run Joints
Though these restaurants aren't new, they perfectly exemplify why L.A. is such a great food town. Taste the love at these family-run institutions.
Mini Kabob
There aren't a lot of places that define L.A.'s dining scene better than Mini Kabob, a family-run operation running a master class in grilled meats. The 200-square-foot, cash-only space is tiny, but that doesn't stop crowds from rushing in for some of the best Armenian hummus, falafel and meats (including chicken thighs and New Zealand lamb chops) that you can find anywhere. L, D (daily). 313 1/2 W. Vine St., Glendale, 818.244.1343. mini-kabob.com
Wax Paper
There's absolutely nothing not to love about Wax Paper, a sandwich shop tucked into a shipping container along the river in Frogtown. The establishment has the feel of a small-town business; husband-and-wife duo Peter and Lauren Lemos know practically every customer by name. Selling out of delicious sandwiches (all named after NPR hosts) practically every single day has cemented Wax Paper as the beating heart of the neighborhood. You won't go wrong anywhere on the menu, but the real reason you're here is the "Ira Glass"—the single best veggie sandwich in Los Angeles. And there will soon be a second, larger Wax Paper in Chinatown. L (M-Sa). 2902 Knox Ave., L.A., 323.284.8857. waxpaperco.com
Sonoratown
Northern Mexican-style flour tortillas have had a bit of renaissance in Los Angeles, and it's hard to find a place that makes them better than Sonoratown. The small downtown taqueria just expanded its size by taking over the space next door, which is great news, considering the everpresent line that spills down the street. Though you're here for the tortillas, the quality of the grilled meats shines through—and at $2 a taco, it's one of L.A.'s best values, too. L, D (Tu-Sa). 208 E. 8th St., downtown, 213.628.3710. sonoratown.com