While we all love Los Angeles for its warm climate, diversity, and close proximity to the lives of Hollywood's elite, it's easy to get caught up in the whirlwind of local urban activities and forget about the multitude of adventures that lie just outside of LA's city limits. Whether you need to take a moment to breathe in the seaside air or you'd prefer to be whisked away to an entirely different land (of the Disney variety, that is), Champion Charter Bus would like to share a few of their favorite LA day trip destinations.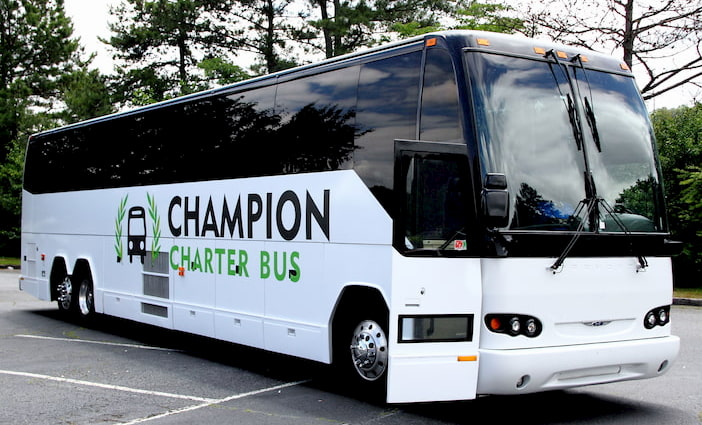 These nearby hotspots are perfect for casual family trips, school group outings, corporate team-building afternoons, or simple weekend getaways to escape the hustle and bustle of the city. Plus, with a private bus rental from Champion Charter Bus, your group will be able to travel on your own time with the services of a professional driver. You can enjoy on-board entertainment, air conditioning for the California heat, plenty of storage space, and more to make your day trip as comfortable as possible. Their specialists are always prepared to find you the perfect bus modelbased on your unique needs and requests.
Ready to hit the road? Consider these destinations the next time you need a break from the city:
Joshua Tree National Park
Distance from Los Angeles: 128 miles; about two hours' drive
For casual outdoor enthusiasts and experienced climbers alike, Joshua Tree National Park provides a stunningly beautiful escape from LA's dense urban landscape. Take advantage of multiple photo opportunities among the unique, twisted Joshua trees; or, challenge yourself on a hike of the park's Boy Scout Trail, Lost Horse Loop, or Warren Peak.
Before your visit, be sure to determine which area of the park you'd like to explore, and decide if you'd prefer to be dropped off at the West, North, or South Entrance. Your charter bus driver will ensure that you're dropped off in a timely manner for your day of exploring Joshua Tree!
Disneyland
Distance from Los Angeles: 26 miles; about an hour's drive
Whether you've got just a few hours to whiz through your favorite rides or you'll be spending the day exploring every magical nook and cranny, Disneyland is always sure to deliver a magical experience to guests of all ages. Get the classic Disney experience at Disneyland Park, explore multiple themed areas at California Adventure, or step into another galaxy at the new Star Wars-themed "Galaxy's Edge."
Once you've arrived on park property, your charter bus driver will drop off your group at either the Downtown Disney District or Harbor Boulevard. When you're ready to move on, your bus driver will be waiting to pick you up and take you away to your next Los Angeles adventure!
Santa Barbara
Distance from Los Angeles: 108 miles; about two hours' drive
Craving a beachy day away from the city? Santa Barbara offers white-sand beaches, mountain trails, and upscale boutiques and restaurants housed in charming Mediterranean-style stucco buildings. The city's charm, along with its variety of things to do, make it a perfect day-trip destination away from the busy streets of downtown LA. Take a winery tour, splurge at local restaurants of various cuisine themes, visit the Santa Barbara Zoo, cruise down the Cabrillo bike path, or practice the art of doing absolutely nothing at Leadbetter Beach. Whichever you choose, your personal minibus driver will ensure that your group enjoys a safe trip to and from this charming coastal town.
Laguna Beach
Distance from Los Angeles: 50 miles; about an hour's drive
Though it's perhaps most recognized thanks to its namesake reality show Laguna Beach: The Real Orange County,this carefree SoCal town offers plenty of sunshine, shoreline, and surf for the outdoor lovers in your group. Lounge on the sand or practice your surfing skills on the waves; if you're lucky, you might even spot a dolphin or two in the water! If you've had enough sun, Laguna Beach is also home to the JoAnne Artman Gallery and the Laguna Art Museum, which offer plenty of art for viewing as well as regular cultural events.
San Diego
Distance from Los Angeles: 120 miles; about two hours' drive
This classic Southern California town offers perfect weather year-round, white-sand beaches, and a thriving culinary scene influenced by a unique mix of cultures. Not only is San Diegoa great destination on its own, but the drive from LA to San Diego also offers plenty of opportunities to take in the beautiful coastal scenery or make a pit stop at numerous exciting locations, including Legoland California, Mission San Juan Capistrano, and La Jolla Coves. For the best scenery, Champion Charter Bus recommends skipping the 5 for the Pacific Coast Highway.
Along your road trip, you'll stay comfortable with reclining bus seats, keep aisles free of clutter with overhead storage space, and relax in safety knowing that a professional is at the wheel.
Book Your Transportation with Champion Charter Bus
No matter where your Los Angeles day trip takes you, you can rely on Champion Charter Bus for all of your group travel needs up and down the west coast. Their 24-hour reservation specialists are always happy to help you pick the perfect bus for your group and ensure that your transportation is squared away for your peace of mind. To learn more and to receive your free charter bus quote, call today at 310-295-9547. They are always happy to help.