Take a Baking Class With Star Chef Richard Ruskell
"Best Cake Artist in America," Richard Ruskell teaches "Yes You Can Desserts" series at the Montage Beverly Hills.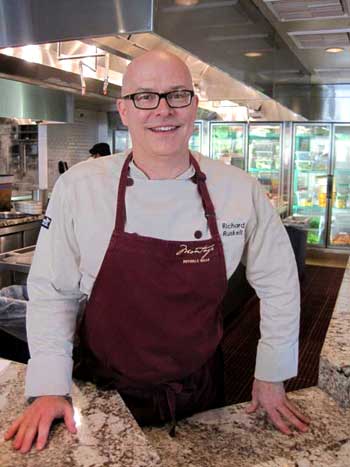 Chef Richard Ruskell knows his cakes, the Executive Pastry Chef at the Montage Beverly Hills most recently won the $100,000 grand prize and title of "Best Cake Artist in America" on The Food Network's Last Cake Standing, and has earned the culinary repertoire to distinguish himself as one of the few pastry chefs who can truly do it all.
Now you can follow in his footsteps with his pastry demonstration series, "Yes You Can Desserts." Ruskell teaches the class—each with only 15-20 students learning a specific technique each month. Ruskell will divulge all his baking tips like which chips he likes best, and why you shouldn't overwork your baking flour. All the while his goal being that you will walk away knowing how to make what he just demonstrated—recipes included. After you've learned all it is you need to know about baking on that particular subject, you'll get to taste what was made in class.
Future classes include:
Take the Cake – Wednesday, June 29th
Learn the ins and the outs of making a truly great cake from "The Best Cake Artist in America." In this class we will focus specifically on Black Out Cake. The best. Chocolate. Cake….Ever.
Buttercream: Be not Afraid! – Wednesday, July 27th
Buttercream. We love to eat it, but shy away from baking with it. Why? Take away the mystery in this class where you'll learn what buttercream is, how to use it best and how to eliminate the fear.
Chocolate- Without the Fear! – Wednesday, August 31st
Milk chocolate. Dark chocolate. Bitter and sweet. Cocoa and chips, they're all good to eat. Learn how to work with the various types of chocolate so when the moment strikes, you'll be ready.
The Secrets of Mousse – Wednesday, September 28th
Lesson one: It's mousse. Not moose. Not mouse. Lesson two: It's chocolate, what more needs to be said? Learn the secrets behind making the perfect mousse at home.
No Tricks, Just Treats – Wednesday, October 26th
Preparing for a Halloween party should be just as much fun as the party itself. Here are some tips for planning for the Scariest Day of your Life! And we'll all have fun doing it!
Gingerbread House – Wednesday, November 30th
Just in time for the holidays! Learn how to make an authentic gingerbread house from the ground up from the "Best Cake Artist in America."
Last Wednesday of the month from 9:30-10:30 a.m. $50. Montage Beverly Hills, 225 N. Canon Dr., Beverly Hills. Reservations: 310.860.7940. www.montagebeverlyhills.com
Check out Richard Ruskell in action:
[nggallery id=44]