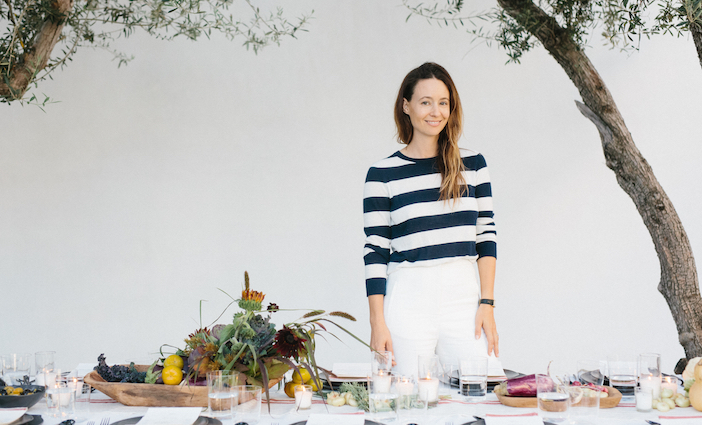 By Suzanne Ennis, Where Los Angeles magazine
If you have d'Orsay flats or mule slides in your closet, you can probably thank Jenni Kayne. The L.A. native's signature shoes are staples in chic wardrobes everywhere, managing to be at once timeless and au courant, easy and elegant and luxurious and accessible—basically, the epitome of the Jenni Kayne brand.
In addition to five namesake stores, which carry her clothing and shoe collections along with a pitch-perfect selection of accessories, home wares and apothecary items, Kayne maintains an inspiring blog, Rip & Tan, filled with recipes, entertaining tips, interviews and more. We asked her to share a few L.A.-insider picks with Where, and, unsurprisingly, each one is a gem. Kayne may call herself boring, but we call her sublime.
What's your style philosophy?
I like to wear pieces that are comfortable, effortless and timeless while still feeling special. Practical, functional items done in luxurious fabric or finished with a special design detail are a big focus for my collection as well as my personal wardrobe. And good shoes are key: made in Italy, comfortable but chic and done in a luxe material that elevates your outfit.
What makes your stores a destination for visitors to L.A.?
My stores are beautiful and well-curated. I approach designing my collection from a distinctly Californian perspective, and we carry a lot of local designers you don't find in a lot of places. In that sense, my stores are a great place to take in the West Coast spirit and to get to know the makers out here.
Aside from your own stores, where do you shop locally?  
Midland, Céline, General Store and The Row are my go-to spots for fashion in L.A.
What's on your fall shopping list?
Velvet, plaid and cozy knits. There are a lot of these elements in my fall collection. I am also coveting the Row's Ascot small velvet tote right now.
Where do you like to eat in your neighborhood, and what do you order?
Gjusta; the mushroom bowl and their sourdough toast. Croft Alley; the vermicelli. Farmshop; pretty much anything on the brunch menu. Gjelina; any of their veggies.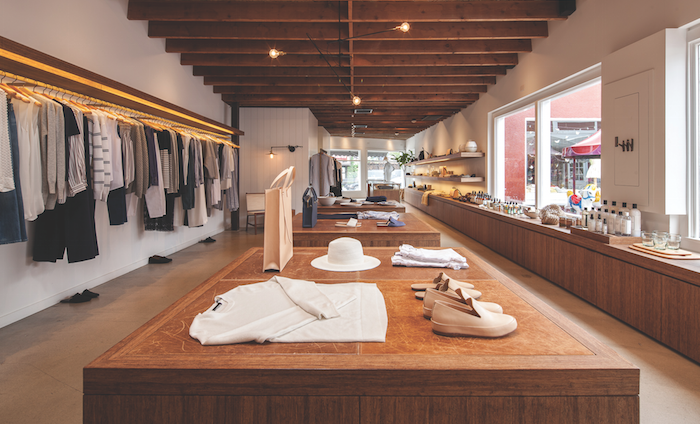 Which local spas and salons do you frequent?
I love Andy Lecompte Salon behind my store. They have the best stylists. For a mani-pedi I love MiniLuxe; they just opened in Brentwood near my house and do a great job. For a facial, Terri Lawton in West Hollywood is the best. I like Elysia Life Care in Santa Monica for acupuncture on the Westside. Striiike in Beverly Hills for brows; they do the best job for thick, natural brows.
You often feature local makers on your blog, Rip & Tan. Which L.A. artisans and designers have recently caught your eye?
I love Mt. Washington Pottery, which we just started carrying. Beth Katz is the ceramic artist behind the line and is so talented. I love the textures she carves into her pieces and her talisman wall hangings. Garrett Leight is another one of our new brands and someone we interviewed on Rip & Tan recently. He is the son of Larry Leight, who founded Oliver Peoples, so eyewear sort of runs in his blood. I love his understated, somewhat masculine frames, and the quality is amazing.
The blog is named after your children, Ripley and Tanner. Where do you shop for them?
I love Bonton, Bonpoint, Nico Nico, J. Crew and Trico Field.
When you travel, what are your must-bring items, and what's your luggage of choice?  
It depends on where I am going, but I usually bring at least one really great sweater, a wide-brim hat, my favorite high-waist jeans and at least two basic cotton tops. I buy all of my favorite natural beauty products in smaller sizes when I can so that I feel at home no matter where I'm going. For luggage, I use Filson or Rimowa.
What's always in your carry-on bag?   
Moon Juice almonds and other healthy snacks. A book, an iPod, hand sanitizer and wipes,
essential oils and too many small bags and pouches to count.
What kinds of souvenirs do you seek out when you travel?
I always get something for my kids and then whatever locally made items I stumble across. You can find great gifts when you're traveling, or little odds and ends for the home like pottery, spices, candles, etc.
Which L.A. destinations should every tourist visit?
LACMA. A day or night spent eating and exploring Venice or Malibu. A hike in the Santa Monica Mountains. An architectural tour of one of the city's many historical homes. I love Schindler House in West Hollywood.
How would you spend a perfect day in L.A.?
Breakfast or brunch with my kids at Gjusta, horseback riding with my daughter, lunch at Malibu Farm and then take the kids to the beach or a hike up West Ridge. Maybe dinner at Giorgio Baldi with my husband. I'm pretty boring!
Jenni Kayne feature photo courtesy of Nicki Sebastian. Brentwood Country Mart photo courtesy of Jenni Kayne.