Strand House Culinary Masters Series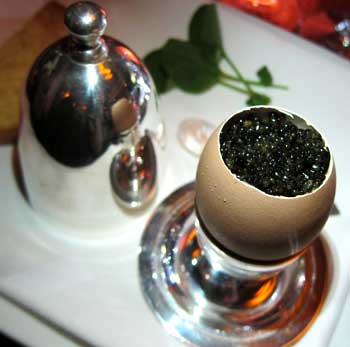 The Strand House Culinary Masters Series teams a rotating roster of top culinary talent with chefs Greg Hozinsky and Neal Fraser for evenings celebrating cuisine and wine.
Story and photos by Christina Xenos
I have several "happy place" scenarios. They range from facials involving meteorite powder, diamond and ruby dust, to week-long stays in the Presidential Suite at Hotel Bel Air (hello, private pool). The set-ups filed under "culinary" are too numerous to name, but a recent edition of the Strand House Culinary Masters Series definitely ranked.
The Culinary Masters Series is a monthly collaboration among the chefs at Strand House, a featured chef and collection of winemakers and distributors featuring their wines. March's dinner featured chef Alain Giraud (Maison Giraud), Petrossian Caviar, Perrier-Jouët Champagne and Strand House chefs Greg Hozinsky and Neal Fraser.
The evening commenced with a cocktail party in Strand House's lower bar in the midst of sweeping views of the Manhattan Beach Pier and Pacific Ocean, over Mumm Cordon Rouge and caviar gougères with caviar and creme fraiche.
Once summoned upstairs to dinner, we sat down to a presentation of four types of Petrossian Caviars paired with four vintages of Perrier-Jouët Champagne. The caviars and champagnes ranged from delightful—Perrier-Jouët "Grand" Brut, NV, FR; paired with Petrossian "Royal Transmontanus" caviar—to indulgent—Perrier-Jouët "Fleur de Champagne Belle Epoque", 2004, FR; paired with Petrossian "Royal Kaluga," which are little glossy grey grains that shimmer with golden highlights and have a mellow, rich buttery flavor.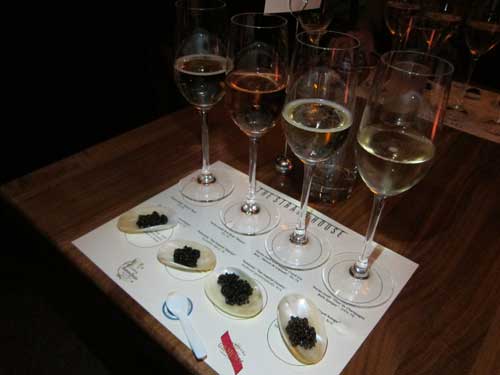 That was leisurely followed by a first course of Giraud's artfully presented egg and caviar, served with egg custard, savory chantilly, brioche toast, and crowed with Petrossian caviar, and paired with a 2009 Trimbach Pinot Blanc, Alsace, FR.
The second course offered a duo of lobster crepe with lobster hollandaise, accompanied by a Petrossian caviar egg in a frame, served with a 2010 Chateau La Nerthe Blanc, FR.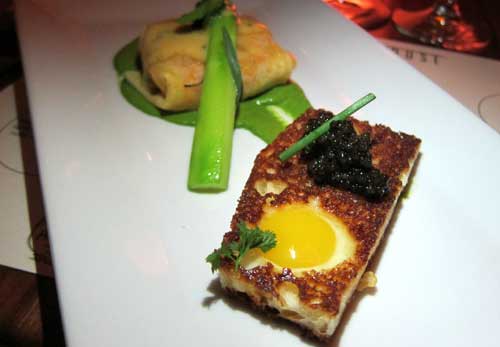 Quinault River steelhead trout arrived as the main course and was accompanied by a sunchoke puree, braised endive, lardons, beurre rouge, Petrossian smoked trout roe and served with a 2010 Shatter, Grenache, Rhone Valley, FR.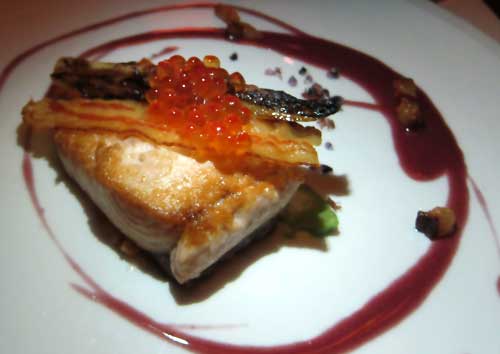 A tasting of artisan cheeses from the Cheese Store of Beverly Hills topped off the evening, and was teamed with Petrossian fruit caviar and paired with 2008 Chateau De Cosse 'by Rothschild', Sauternes, FR.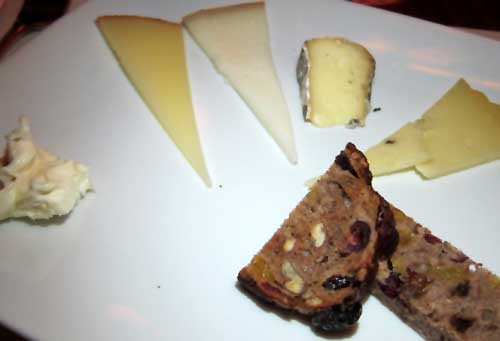 Although these sought after events are one-night-only, you can have your own experience at two upcoming Culinary Masters Series evenings.
April 29
The nest round of the Culinary Masters Series features Michelin-rated chef Douglas Keane formerly of the much beloved Cyrus in Healdsburg, CA. The five-course menu includes selections such as Cauliflower, Uni and Caviar Parfait; Seared Scallop with Morel and Ramp Fondue with Sauce Billi Bi; Soba wrapped ocean trout with Buckwheat Groats, Ginger-Shiso Dashi; A-5 Wagyu Striploin of Beef accompanied by Sweet Corn, Roasted Daikon, Ponzu; and Black Sesame Panna Cotta served with Shatterd White Miso Custard, Ginger Plums and Matcha Rice Flakes for dessert. Featured winemakers Heidi Barrett of La Sirena Vineyards, Michael Silacci of Opus One, Ted Seghesio of Seghesio Vineyards, and Jonathan Nagy of Byron Winery will be onsite for this intimate dinner guiding diners through the flavor profiles of each selection and answering questions from expert and novice wine enthusiasts alike. Cocktails 7 p.m., dinner 7:30 p.m. $100/pp, $50 for wine pairings; price excludes tax and gratuity.
May 20
James Beard award-winning chef Timothy Hollingsworth makes his first appearance in a kitchen since his departure from Thomas Keller's renowned restaurant The French Laundry in early April. Hollingsworth lead the legendary Napa Valley restaurant during the last three years and now brings his seasonally-inspired French menus to Manhattan Beach. Joining Hollingsworth for the intimate five course dinner will be owner Brion Wise and head winemaker Massimo Monticelli from B Wise Vineyards, located in Sonoma Valley, who will be onsite to guide patrons through the flavor profiles of varietals from the region.
Reservations required for all dinners. Strand House, 117 Manhattan Beach Blvd., Manhattan Beach, 310.545.7470. thestrandhousemb.com