Summer Citrus Detox at the Spa at Four Seasons Hotel Los Angeles at Beverly Hills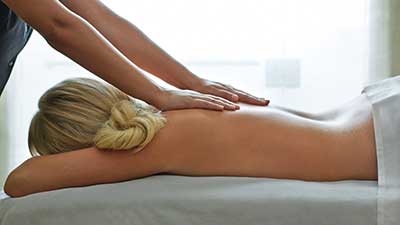 Get your skin in shape for summer with the Summer Citrus Detox at the Spa at Four Seasons Hotel Los Angeles at Beverly Hills.
By Christina Xenos
Despite the June gloom there is no denying that summer is in full swing in Los Angeles. What's one of the best way to make sure your body is ready for its big reveal? The Summer Citrus Detox is the newest treatment at the Spa at Four Seasons Hotel Los Angeles at Beverly Hills, and it aims to detoxify your body and make it shine.
The relaxing and invigorating experience beings as soon as you step foot into your treatment room. I was met with gorgeous mosaic-tiled walls, calming lighting and tranquil music. My attendant described the detox treatment to me as the spa version of cupping. For those not familiar with the ancient therapy, cups are fastened to the skin with suction and through that they are believed to aid blood flow and promote healing. With the Summer Citrus Detox, beauty massage cups are used in combination with refreshing pure Pino orange lemongrass oil, which is infused with coconut, jojoba, and non-GMO soy and plant extracts to leave skin soft and silky.
The hour-long treatment is a combination of detoxifying massage techniques and the usage of silicone cups that are strategically placed and moved around specific points on your body to promote lymphatic drainage and detoxification. My massage began with my attendant focusing on my back, then neck and then my legs. Throughout the hour I was calmed by aroma of the orange lemongrass oil and my muscles were relaxed with the massage. The intensity of the treatment can be as high or light as you are comfortable with, and a lot of that has to do with the size of the cups that your attendant uses. Communicate to them what intensity you are comfortable with at the beginning of your treatment.
In addition to the detoxification benefit the oils have on the body to promote revitalization and elasticity of the skin, their aromatherapy effects cause a transformation of body and mind that allows blockages within the body to be released so energy can flow freely once again.
Post-massage my skin was glowing as I sipped orange-lemon-basil water in the spa's relaxation lounge and nibbled on the peanut butter chocolate—the sweetest end to a decadent afternoon.
The Summer Citrus Detox is an hour-long experience for $180.
300 South Doheny Dr., L.A., 310.786.2229. fourseasons.com