Indulge in Natural Beauty Treatments at these Los Angeles Spas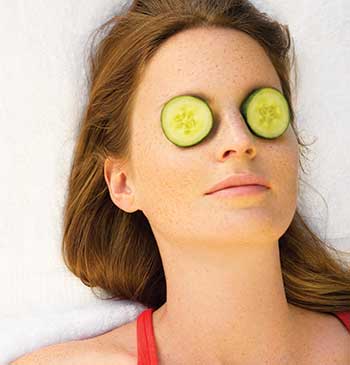 Los Angeles spas and salons embrace treatments and products that incorporate natural elements from both land and sea. Check out where to find them. Discover why the spa can be a perfect day of escape for the LA tourist!
Spring is in the air, inspiring thoughts of cleansing and renewal. What better time to treat yourself to expert primping and pampering that leave you pretty and refreshed from head to toe? Across Los Angeles, spas and salons embrace the spirit and the bounty of the season with treatments and products that eschew harmful ingredients and incorporate natural elements from both land and sea. We rounded up a bevy of the best to try right now. Spring has sprung—now it's time to let your beauty bloom.
By Suzanne Ennis
Spas
Spa Montage | The Spa at Terranea | Beverly Hot Springs
Seekers of respite from Beverly Hills' bustle find their bliss at Spa Montage. You could while away hours enjoying amenities including a co-ed mineral pool, but the spa's naturally luxurious treatments are not to miss. During the Seasonal Renewal, you'll enjoy a full-body exfoliation, then a massage with Kerstin Florian certified organic ginger oil and warm healing stones. A wrap and simultaneous pressure-point scalp massage top off the transformative experience. For natural beauty in all senses of the phrase, visit the Spa at Terranea, poised on a bluff in Rancho Palos Verdes overlooking the ocean. There, spend a day enjoying the expansive indoor-outdoor facilities and finish with the Ocean Prelude: a service that includes the application of a highly pure, nourishing seaweed wrap, a soak in the spa's signature copper tub and, finally, a long-stroke massage in rhythm with the waves. For a less pricey (though much less luxe) experience, dip into the mineral salt-rich, artesian well-fed Beverly Hot Springs, which calls itself L.A.'s only "100% Natural Hot Springs Spa."
Spa Montage, Seasonal Renewal (90 min./$275), Montage Beverly Hills, 225 N. Cañon Drive, Beverly Hills, 310.860.7840. montagebeverlyhills.com
The Spa at Terranea, Ocean Prelude (2 hours/$375), 100 Terranea Way, Rancho Palos Verdes, 310.265.2740. terranea.com
Beverly Hot Springs, (spa access $30-$40), 308 N. Oxford Ave., L.A., 323.734.7000. beverlyhotsprings.com
Body Treatments
Exhale Mind Body Spa
As temperatures rise, attention turns to the skin and waistlines hiding underneath our cool-weather clothes. Get ready for your barely-there sundresses at Exhale Mind Body Spa in Santa Monica and Hollywood, where the Glow Body Scrub brushes, scrubs and moisturizes you to smooth perfection using antioxidant-rich, organics-packed products. Also consider the spa's Acu-Organ Detox, which combines acupuncture targeting the digestive system (customized for your needs) and gentle abdominal massage with warm, plant-based castor oil designed to reduce tummy discomfort and bloating. Three or more of these treatments may even produce a slimming effect, according to the spa—something to consider as bathing-suit season nears. But even one treatment will leave you feeling lighter and more relaxed. That's a beautiful feeling, indeed.
Exhale Mind Body Spa, Glow Body Scrub (60 min./$160), Acu-Organ Detox (60 min./$150), Fairmont Miramar Hotel, 101 Wilshire Blvd., Santa Monica, 310.319.3193; Loews Hotel, 1755 N. Highland Ave., Hollywood, 323.491.1376. exhalespa.com
Face
Caudalíe | Face Haus
Women have relied on natural concoctions to treat their complexions since time immemorial, but today's products often marry cutting-edge research with simple, wholesome ingredients for maximum effect. On Venice's Abbot Kinney Boulevard, the new Caudalíe boutique spa harnesses the antioxidant power of grapes to deliver visible results with its Anti-Oxidant Hydrating Facial. After cleansing the face with the company's signature grape polyphenol-rich products, which researchers and scientists create in French laboratories using grapevine extracts from the family vineyards, aestheticians apply fresh, juicy grapes in a circular motion to smooth and soothe the skin. A luxe sculpting massage with the brand's 100% plant-based concentrate and anti-oxidant mask follow for moisturizing bliss. For a quick (but still green) fix, head to Face Haus in Studio City. The express facial bar (think Drybar for facials), which boasts dermatologist-to-the-stars Dr. Harold Lancer as its exclusive consulting physician, offers the Face Plant facial, incorporating organic and vegan skin care lines including Éminence and Hylunia. The treatment may be quick, but the results are glowing.
Caudalíe, Anti-Oxidant Hydrating Facial (50 min./$105), 1416 Abbot Kinney Blvd., Venice, 310.450.3560. caudalie.com
Face Haus, Face Plant facial (30 min./$40),12332 Ventura Blvd., Studio City, 855.550.4287. thefacehaus.com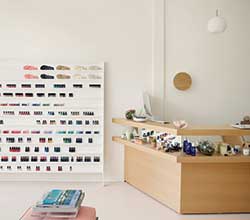 Nails
Olive & June | Kure Spa
Nails can be a nasty business for providers and clients, but increasingly, area salons offer services that avoid some of the most toxic offenders and incorporate nourishing natural elements. One favorite new spot, Olive & June in Beverly Hills, offers The Margot: a deluxe manicure or pedicure that incorporates cult-favorite Odacité products, including an organics-packed ylang-ylang and lemongrass scrub, aloe and shea butter lotion and geranium oil cuticle lotion. For the finale, your perfectly filed nails are topped with a mostly natural or five-free (meaning free of the top five toxins normally found in polish) color from hot brands such as Kure or RGB. Even the soaking bowls and foot baths are cleaned with ecofriendly products in this bright and friendly salon. In Silver Lake, cool newcomer Kure Spa offers Nature's Kure, which includes a house-made sugar scrub, a massage and a tea soak made with muscle-relaxing Epsom salt, a mixture of botanical flowers and your choice of essential oil. Here, too, you can find three- and five-free polishes from brands such as NCLA and Zoya in a rainbow of shades. We were tempted by the season's hot corals and shimmery nudes, but our ultimate color choice? Green, naturally.
Olive & June, The Margot (manicure $35/pedicure $45), 430 N. Cañon Drive, Beverly Hills, 310.247.0500. olivejune.com
Kure Spa, Nature's Kure (manicure $30/pedicure $40), 2378 Glendale Blvd., L.A., 323.668.1234. kurespa.com
Hair & Brows
Nelson j Salon | Kelley Baker Brows
Like nail salons, hair salons typically are full of potentially harmful chemicals, but at Nelson j Salon in Beverly Hills, Nelson Chan, whose clients include Heather Graham and Alicia Silverstone, keeps his salon as healthy and green as possible, offering formaldehyde-free straightening services and hair color with minimal ammonia. He even developed his own argan oil-based shampoos and conditioners that are free of sulfates and parabens. But Chan's merits go beyond being green: The pro has won top local awards for his straightening and color prowess, and we can attest that he executes a flattering wash-and-go cut. Once your hair is in shape, visit Kelley Baker Brows for another easy chemical-free update.Baker meticulously waxes and plucks until arches look neat and, paradoxically, full. With your new 'do and brows, you'll look like you—just better.
Nelson j Salon, (cut $95-$200), 350 N. Bedford Drive, Beverly Hills, 310.274.1553. nelsonjsalon.com
Kelley Baker Brows, (shaping $45-$60), 1636-38 Abbot Kinney Blvd., 2nd floor,Venice, 310.314.2769; Lasky Clinic, 201 S. Lasky Drive, Beverly Hills, 310.461.3839. kelleybakerbrows.com
Scents
Strange Invisible Perfumes
"Botanical perfumery" is a term that may sound redundant, but just because your scent says it's floral doesn't mean that it contains actual flower essences. At Strange Invisible
Perfumes, perfumer Alexandra Balahoutis goes the natural route to craft her fragrances, avoiding synthetic chemicals altogether. Instead, she uses organic, wildcrafted, biodynamic and hydrodistilled essences sourced both locally and from around the world, which are hand-blended, set into an Esprit de Cognac base made from non-genetically modified, pesticide-free grapes, aged for at least six months, then decanted and bottled in a natural fragrance house near her chic Venice boutique. Even the perfumes' paper packaging is manufactured using biofuel with pulp from sustainably managed forests. The scents that result from this artful blending of essences from plants, flowers, seeds, wood and resin are sexy, sophisticated, subtle and nuanced, 100% naturally.
Strange Invisible Perfumes, 1138 Abbot Kinney Blvd. Venice, 310.314.1505. siperfumes.com