Spa del Rey At The Ritz-Carlton Marina del Rey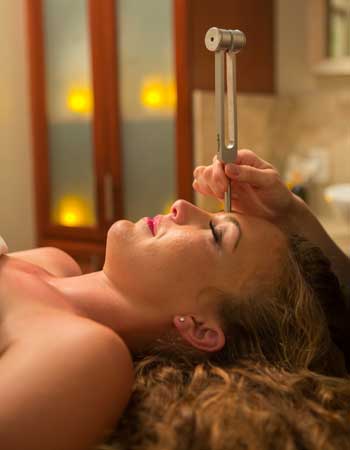 Relax under an array of luxury organic and vegan treatments with a harbor-front at Spa del Rey in Marina del Rey. As any local knows, a day at the spa is one of the best ways to treat yourself right in Los Angeles!
Ritz Carlton Spa, located at the Ritz-Carlton, Marina del Rey, is just months old, and is already drawing praise for its picturesque harbor-front location and array of luxury organic and vegan treatments. But what attracted me most to this spa was a body treatment unlike any I'd ever experienced: the Magnetic Ritual. In this treatment, a Natura Bissé concoction loaded with diamond dust is spread over the skin and removed with a magnetic tool, "helping eliminate effects of pollution or stress," per the description, and leaving a thin veil of shimmer in its place. My curiosity was piqued: Would I sense a magnetic pull? Would I look like a disco ball by the end of the treatment? Either way, this definitely counts as one of the best things I've ever done in LA!
The application of the magnetic material by my massage therapist, Aden Wallace, felt a bit like a scrub application, and the removal with the magnetic tool felt like little more than a light scrape across my skin. I confess I felt no immediate energy impact, or even the buzzing that some have reported, though the light touch did put me in a tranquil state. The massage that followed, however, was immediately transformative. Wallace's smooth, long strokes and perfect pressure—a "teaser" of a deep-tissue massage, he explained—made me so relaxed I nearly fell asleep on the table. After I peeled myself off, dressed and stepped outside in the sunshine, I saw I was covered with a subtle, tasteful diamond shimmer. I ask you: Does it get any more L.A. than that?
Ritz-Carlton Marina del Rey, 4375 Admiralty Way, Marina del Rey, 310.574.4356. spa-delrey.com