Sip Cocktails with an International Flair Around Los Angeles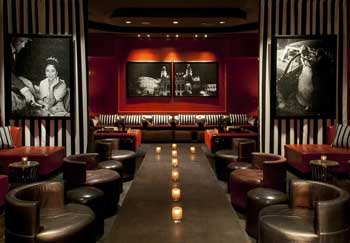 Around the world in 80 … drinks? Los Angeles nightlife takes inspiration from far-flung locales. If you're looking for creative activities in Los Angeles, these spots take the nightclub scene to a whole new level!
By Katie McCarthy
For the unacquainted, L.A.—with its palm trees, skyscrapers and neon—is plenty exotic. Yet its newest spate of bars, clubs and lounges seem to take inspiration from anything but their surrounding environs. Here, night-crawlers can hop from a Texas border-town speakeasy to a Glasgow gastropub to a Cape Cod cocktail bar in a single evening. Drink in the globally inspired nightlife trend by touring these 10 hangouts.
Deep in the Heart of Texas
If everything is bigger in Texas, then Ebanos Crossing downtown is destined to be huge. Named after the Lone Star State's Los Ebanos border crossing, which smugglers in the Prohibition era used to transport liquor from Mexico to the United States, this speakeasy represents the region in Southwest-inspired tipples and eats. Beverage director Philip Ward, hailing from NYC's Mayahuel, created such concoctions as the Ebanos Old Fashioned with bacon-infused bourbon, mezcal, agave nectar and bitters as well as the Bear Flag Revolt (rye whiskey, mezcal, vermouth, Bénédictine and mole bitters). Bar bites on the menu might include a fried chicken sandwich with pickled jalapeño slaw and chipotle aïoli. Ebanos Crossing's interior design scheme isn't straight out of the Old West, but the decor hints at a bygone era with antique chandeliers and a handcrafted glass bar.
Southern Hospitality
Think a ramshackle Georgia townhouse isn't a sexy setting for a lounge? See Sassafras, one of the most romantic and glamorous watering holes to hit Hollywood in recent memory. A genuine disassembled Savannah townhouse was reconstructed on storied Vine Street and given new life as a craft cocktail bar, thanks to the 1933 Group, known for such mainstay nightspots as Bigfoot Lodge. Decorated with antique portraits and cozy armchairs, with bits of Spanish moss clinging to the ceiling, Sassafras telegraphs a hip Southern Gothic vibe reinforced by regional libation and food menus. Pair your Peach Moonshine Crusta (house-infused peach moonshine sweetened with brown sugar and lemon) or a barrel-aged cocktail, of which there are seven varieties, with a shrimp po'boy or bowl of good old-fashioned jambalaya.
French Toasts
Can the Sofitel hotel re-create the French Riviera just outside West Hollywood? Sure, they Cannes! Formerly Stone Rose Lounge, the renamed and totally revamped Riviera 31 was inspired by the Cote d'Azur's legendary party scene. Black-and-white-striped upholstery and splashes of red convey Gallic glamour, as does the chic outdoor patio with wingback chairs shaded by canopies. As you listen to a pianist play classics from Edith Piaf and Jacques Brel, imbibe cocktails crafted by mixologist Matthew Biancaniello (we like the Riviera Sunset Martini with pisco, elderflower liqueur, rosemary syrup, and fresh lime and grapefruit juices) while enjoying nibbles such as gougères filled with Fourme d'Ambert blue cheese or a Provençale-inspired flatbread.
East Coast Expressions
The coastline along Santa Monica State Beach is one of the most picturesque in the world, but the oceanside Shorebar, just off Santa Monica's Pacific Coast Highway, was designed with Nantucket, Mass., in mind. Here, John Terzian, Brian Toll and Markus Molinari of the tastemaking H.wood.group, with partner Adam Koral, make nautical Americana ever so chic. The entrance to the bar resembles a ship's mast; inside, the Cape Cod-style bungalow is studded with decorative portholes and displays vintage photographs of beachy locales, its ceiling painted in seersucker- like navy and white stripes. Mixologist Vincenzo Marianella of Copa d'Oro offers libations including the 1000 Julys with mezcal, pear and lime juices, sage and simple syrup—an eternal summer in a glass.
Moroccan Spice
Hollywood nightspots are inclined to over-the-top decor, but Acabár is on another level of sumptuousness. Executed by Keith Greco of Greco Decor, Acabár's ornate design is based on that of a traditional Moroccan home, replete with tile mosaics and hand-carved columns, modernized with touches such as tufted velvet banquettes and a zinc bar and splashed in shades of gray. Mixologists Josh Goldman and Julian Cox designed a beverage menu that has little to do with Moroccan flavors—they utilize "historically accurate" American recipes from the 18th century to modern times—but chef Octavio Becerra shaped the food menu to reflect North African dishes plus other cuisines found along the "spice trail." The shareable dishes include basturma with Turkish cured salmon, caraway potato latkes and shaved Persian cucumbers.
New York State of Mind
Love Broadway musicals? Then the entertainers at West Hollywood piano bar Don't Tell Mama will tickle your fancy as they tickle the ivories and belt out classic showtunes. The second chapter of a 31-year-old supper club in New York City's theater district, Don't Tell Mama hosts nightly piano entertainment as well as cabaret acts, singer-songwriters and all that jazz. While the food and beverages aren't particularly innovative, you can get a taste of the Big Apple by ordering some spaghetti and meatballs or a slice of New York cheesecake with your A Chorus Lime Martini. And if you harbor fantasies of Broadway—or Hollywood—stardom, then take the stage during the nightly open mic and do your best to get discovered.
Great Scot
The gastropub trend is going strong in L.A., but these joints have tended to take inspiration from British or California cuisine and culture. Enter The Morrison, a rare ode to Scotland opened in Atwater Village by the KLK Restaurant Group, the partners behind the Stout burger-and-beer bars. Named for Agnes Morrison, the Scottish matriarch of KLK partner Charles Lew, the Morrison is a slick Hollywood version of a traditional Scottish pub; think mounted crests, tartan wallpaper, tufted banquettes and a pressed tin ceiling. The beverage selection is focused on draft and bottled beers and themed beer cocktails such as the Chocolate Crayon (espresso, chambord, cacao and Scottish black stout). Eats include Shepherd's pie, cod 'n' chips and a platter of cured Scottish salmon.
London Calling
Brits might put down a cocky, upper-crust gent by calling him a Hooray Henry. If you could assign emotions to a nightclub, then West Hollywood-adjacent Hooray Henry's would wear the term with pride. The H.wood.group was inspired by "old London hotels" to imbue their newest lounge with old-school British elegance and a heaping spoonful of swagger. John Sofio of Built, responsible for the designs of Shorebar and the Pink Taco restaurants, looked to classic cars for aesthetic inspo: The Rolls-Royce Silver Shadow influenced the design of the booths, while the dark blue hue on the walls and ceiling was color-matched to a vintage Jaguar. Other touches include equestrian lamps, tartan carpets and vintage British trophies. The beverage offerings are focused on specialty cocktails such as the East End and Oxford Lad and—naturally, love—bottle service.
Midnight in Paris
In a matter of three years, twin brothers Mark and Jonnie Houston of Houston Hospitality have opened a half-dozen superstylish cocktail bars in L.A., including the Cuban rum bar La Descarga and the Piano Bar in Hollywood. But if you're a Francophile, then Pour Vous, styled as a 1920s Parisian champagne salon, is "for you." Patrons must observe a strict upscale dress code—it's detailed on Pour Vous' website—but they're treated to such a spectacle that the proprieters' bossiness is easily forgiven. Burlesque dancers descend from the ceiling in a cage while patrons gawk and toast each other with cocktails created by mix master Devon Espinosa. There are several bubbly cocktails—consider the Moulin Rouge with scotch, watermelon and lemon juices, evaporated cane juice, mint and Crémant Rosé—as well as a host of other skillfully crafted imbibes.
Dinner in Deutschland
Tapping into the L.A. crazes for gourmet sausage and street food, Berlin Currywurst opened in Silver Lake in 2011 serving the German specialty currywurst—sausage laden with curry ketchup. Husband-and-wife team Hardeep and Lena Manak, who are Berlin natives, recently opened their second outpost in Hollywood, a fashionably minimalist eatery with 14 European brews on draft and six bottled. The sprawling beer garden, brightened by string lights and a fire pit, is a hot but low-key gathering place on dance-club-filled North Cahuenga Boulevard. The couple offers their version of currywurst with your choice of hormone-, preservative- and antibiotic-free sausage and housemade organic sauces (this is L.A., after all) plus sides including their award-winning fries and sauerkraut salad.