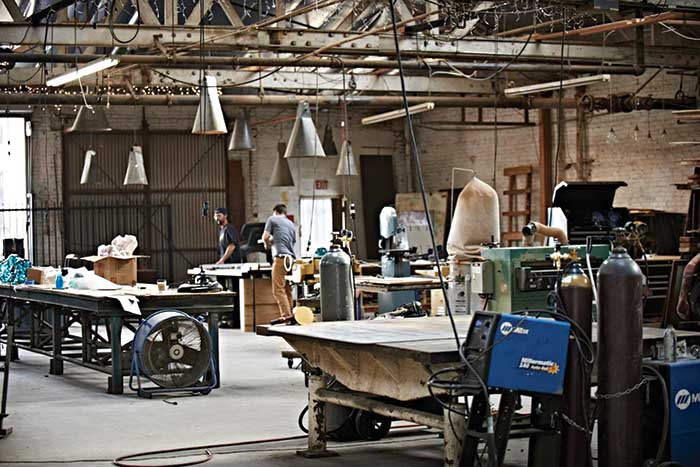 Westin Mitchell manufactures his furniture in a former textile warehouse in downtown L.A.'s Arts District.
By Roger Grody
One frequently hears, whether from contentious politicians or nostalgic old-timers, that nothing is manufactured in California anymore, not even the smartphones designed here. In fact, Los Angeles has become the largest manufacturing center in the nation, and the handcrafted furniture of Westin Mitchell reminds us that it's not all about assembly lines.
Mitchell discovered downtown's Arts District after starting his furniture line in his West Hollywood garage. In 2013, he moved into a 7,000-square-foot studio that is on the edge of the Arts District—but in spirit at the very center of its reimagination. The space is a co-op of sorts, shared by Neptune Glassworks—where Uri Davillier combines training in engineering and fine arts to create exquisite lighting—and Meyghan Hill, a model-turned welder who turns out stunning steel-and-stone furniture.
The studio, a former textile warehouse with skylights and exposed trusses, is laden with artwork by Nicholas Knudson and a plethora of unique chandeliers created by Davillier. A massive antique milling machine by defunct manufacturer Warner & Swasey celebrates the industrial heritage these artisans honor, as does a vintage Toledo scale that Mitchell still uses.
In one corner of the factory is a small glass-ensconced room, protected from the noise and dust of manufacturing, that serves as the Westin Mitchell showroom. It's sleek and modern, but a huge mechanical valve apparatus remains, a raw element juxtaposed against the room's more refined qualities. It also pays homage to Mitchell's own professional evolution: He started out as a strong proponent of industrial-chic design. "Industrial furniture was beginning to saturate the market," says the 28-year-old. "I became inspired by a high-end gentleman's line."
Says Mitchell of his typical customer, "He's a Don Draper type, an elegant businessman, possibly a bachelor, who wants a nice home in which to entertain and show off his style." His work also has a feminine side: "I pay attention to scale and incorporate some delicate curves so it's not too heavy."
The Cast Statement Chair ($5,960) features black leather cushions supported by a cast aluminum frame with walnut accents, and a variation with dark caramel cushions gives the product more warmth. Mitchell also offers a cool black leather club chair whose thin brass legs make it appear to be floating in air. Horizontal tufting creates an interesting effect and greater comfort when leaning back into this stylish seat. Straight from the set of Mad Men might be his leather-and-steel bar cart, ideal in chocolate leather and blackened steel. The open end of the cart features slots for six wine bottles and nine pieces of stemware, and it accommodates a well-stocked supply of liquor.
The Parlor Desk ($7,580) has a slightly retro feel; its slim walnut legs support a single row of shallow drawers topped by a black glass writing surface finished with brass hardware. On either side of the desk are what appear to be glass panels that are in fact a hundred closely set vertical glass rods. A matching walnut vanity top with adjustable mirror is offered, making this piece as adaptable to the master suite as to the office.
With a brushed aluminum base and vertical structure that seems to blend into the surroundings is a sleek side table ($1,270) with ultra-modern styling. It is the table's walnut surfaces—a sleek, curvy support and thin tabletop—that pop out. Beneath it you might place an aluminum magazine rack with black leather sling.
With assistance from Davillier, Mitchell has also delved into lighting. His Tower Lamp is an upright cylinder created by 24 rods of glass on a circular brass base, an expression suggestive of art deco. A pendant fixture features glass chain links surrounding a single Edison bulb ($1,220); 1,400 such links go into a more dramatic and imposing chandelier.
Westin Mitchell and his ambitious suite mates prove the Arts District is more than just a name.
Westin Mitchell, 737 Kohler St., downtown, 213.988.8335. westinmitchell.com