Rancho Beverly Hills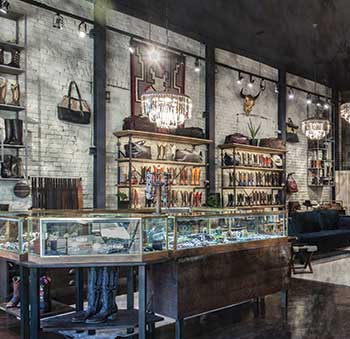 Luxury and Western wear collide at Rancho Beverly Hills.
By Joseph LeMoyne
Beverly Hills, the land of Prada, Gucci and Cartier, is not the first place you'd expect to find a store specializing in Western footwear and accessories, even if some of the cowboy boots carry Jimmy Choo prices. But new West, combining the timeless appeal of the Old West with the sophistication of West L.A., fits right into Beverly Hills' Golden Triangle.
Beyond a sleek, modern facade that reveals little of the merchandise within, West's interior is best described as cowboy chic, an inviting space whose worn-brick walls are lined with Navajo rugs and steer skulls. Contemporary crystal chandeliers hang from soaring ceilings; the polished concrete underfoot has the patina of a well-used saddle. Like the perfume of garlic wafting from the kitchen of an Italian restaurant, one of the first impressions of West is olfactory: the earthy, masculine fragrance of leather.
Nothing speaks to the Western state of mind quite like cowboy boots; West's selection is among the finest you'll find, whether in L.A., Scottsdale or Santa Fe. As owner James Anderton writes in his blog, few pairs of his high-end boots are sold to genuine cowboys, just as few Ferrari owners ever race at Le Mans. Rather, both of those acquisitions represent works of art worth showing off. Citing a clientele of celebrities, studio execs, Fortune 500 CEOs and international tourists, he states, "These customers can shop anywhere in the world, and the Rodeo Drive boutiques are their usual ports of call."
Although it may be the novelty of Western wear in the heart of Beverly Hills that draws some customers, Anderton says, "We're not trying to ride a trend. These are gorgeously crafted products that always have a place in one's closet." Though he does sell online, the retailer insists it's not the kind of merchandise suited to a Google search. "This is stuff you touch, feel, try on and fall in love with."
Made exclusively for West by Old Gringo, a producer of artisanal footwear from León, Mexico, are tall women's boots with a colorful panel of Navajo-inspired fabric ($575) and chocolate-hued leather cowboy boots ($1,995) whose eagle pattern is outlined in Swarovski crystals. Through a collaboration with Canada's Liberty Boot Co., West offers ladies' calf-high leather boots with inlaid pink flowers and green leaves for a distinctly feminine look.
Women are not the only ones receiving the luxe treatment; several pairs of men's boots exceed the splurge of even those Swarovski-studded models. Despite their stratospheric price ($12,995), black alligator boots from El Paso's Lucchese—the brand, favored by everybody from LBJ to Kate Moss, has been around since 1883—are conservative and understated. For somebody who insists on wearing boots with every outfit, these work as well with a tux as with jeans. Comparable quality boots, and pricing, are offered by Stallion, a line by designer Pedro Muñoz.
Jewelry by Niyama, a line from artist Michelle Marocco, includes a knotted leather bracelet with a diamond-encrusted disk ($2,365) and a more approachable leather bracelet with bronze accents ($325). Adonnah Langer's Chili Rose collection, handcrafted in Santa Fe, provides exquisitely beaded bracelets that mimic Native American rug patterns, adding silver hardware.
Other leather goods include a compact crocodile wallet from Moore & Giles, a venerable Virginia tannery that also produces a multipurpose courier bag ($610) handcrafted from supple American bison. A woman's handbag from Campomaggi features circular designs outlined by metal studs in red or black leather; totes from another Italian line called Silent People are crafted from vintage tapestries and leather.
Belt buckles—handcrafted, many qualifying as wearable art—range from flamboyant to discreet. Enjoy attention? From Jeff Deegan Designs comes a coiled sterling-silver crocodile with emerald eyes ($2,445). More understated is the Indianhead design, which includes matching sterling keeper and arrowhead tip. Crafted for West by Nevada's Comstock Heritage is a richly textured floral but masculine buckle of sterling silver and rose and yellow gold ($8,450).
These items are for people who have respect for tradition and a passion for how things are made, Anderton says of his artisanal quality merchandise.
9528 S. Santa Monica Blvd. Beverly Hills, 310.470.9063. westbh.com