Shop Custom Design Pieces at Paul Marra on La Brea Avenue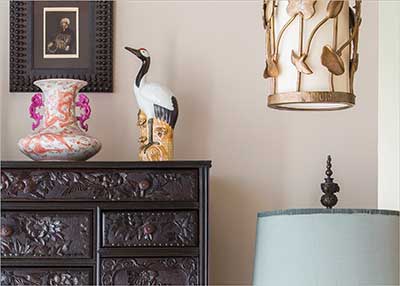 Top interior designer, Paul Marra moves into custom production furniture. See the results at his La Brea Avenue showroom.
By Roger Grody
For years, Paul Marra was considered one of L.A.'s premier interior designers, but he found the custom production of furniture and accessories more rewarding. "Watching everything come together to create a whole room is gratifying, but I felt I wanted more autonomy to express my point of view," Marra explains. The results can be found at his eponymous showroom on La Brea Avenue.
As online sales increased, Marra relocated from more glamorous La Cienega Boulevard to south of La Brea's burgeoning design district, in a Miracle Mile neighborhood that bleeds into Koreatown. A galaxy of chic chandeliers hangs above an eclectic selection of furniture and art; vintage rugs from classic Persians to zebra hides are scattered over raw concrete. Custom designs represent about 60 percent of the inventory.
"The goal of the showroom is to engage the client's eye with an interesting mix of furnishings that hopefully inspires them," says Marra, adding that the emergence of the Internet has profoundly changed his industry. "We are now trying to engage a client with online images rather than the whole physical experience of walking around a showroom."
"Transitional mixologist" is the label Marra applies to his eclectic design style. "My goal is to bring together elements from different periods and styles in a cohesive, interesting way," he says. "It's not just for the sake of mixing. It still needs to have a story—the parts need to relate to each other, even if it's a personal statement."
Marra carries several pieces inspired by the brutalist movement, an offshoot of midcentury modernism known for its raw, honest aesthetic. Among the more tempered examples is a cocktail table whose mosaic tile top is supported by a hammered iron frame. You might also encounter a pair of understated hand-carved art deco bookends ($850) from the 1930s or a sensational midcentury brass-and-crystal chandelier ($25,000) from revered German manufacturer Palwa.
The designer's extreme eclecticism is reflected in the architects and designers he admires. Marra appreciates the classical tradition of David Adler, the influential prewar Chicago architect, but also Adler's less rigid sister, Frances Adler Elkins. Frank Lloyd Wright protégés Antonin and Noemi Raymond are favorites whose breadth of work appeals to different aspects of his aesthetic.
One of Marra's own designs is a negative-space mirror ($2,000) in which a pane of glass appears to be floating within a clean-lined frame, with a dry-brush patina and supporting struts clad in
horsehair-cotton fabric. Another modernist expression is a three-drawer chest of Douglas fir ($3,800), strapped in two inlaid, embossed iron bands that also elevate the piece several inches off the floor. Nearly all production occurs in Los Angeles.
The designer's pieces are intended to work in diverse architectural contexts. "For me, it's about tying together the materials, lines and proportions and is not as much about periods," he says.
Explaining his philosophy, Marra invokes the Harper's Bazaar column of legendary fashion commentator Diana Vreeland, "Why Don't You?" Supporting his passion for eclecticism, he asks, "Why don't you put a Roman bust in your spaceship—if it works?"
Paul Marra, 839 S. La Brea Ave., L.A., 323.931.8190. paulmarradesign.com