The Kooples West Coast Flagship Opens On Robertson Blvd.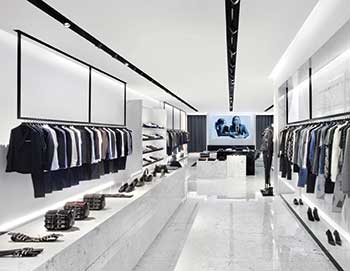 Shop for contemporary mens- and womenswear in a luxe, marble-lined West Coast outpost of The Kooples on Robertson Blvd.
Shopping is the always the daily special on LA's fun menu!
High-end French high street brands are de rigueur in some of L.A.'s swankiest shopping areas, from North Beverly Drive in Beverly Hills (Iro, Maje, Sandro) to One Colorado in Pasadena (Cop. Copine). Not to be outdone, trendy Robertson Boulevard recently said "bonjour" to the West Coast flagship of The Kooples, which offers its contemporary mens- and womenswear in a luxe, marble-lined space. For fall, the brand sets "Punk," "Swinging London" and "Military" moods in its main collection, which it pairs with its slightly more casual The Kooples Sport collection, packed with wardrobe workhorses. The overarching aesthetic is streamlined with a moody palette, and many pieces boast tailoring from Savile Row's Norton + Sons and subtly edgy details such as detachable leather collars or lace that, like a Magic Eye image, reveals itself as tiny skull-and-crossbones under your gaze. Superfans, take note: Of the three West Coast locations planned for the brand's North American rollout, the Robertson store is the only one to offer the complete fall line.
100 S. Robertson Blvd., L.A., 424.335.0041. thekooples.com