Hammer and Spear Downtown Los Angeles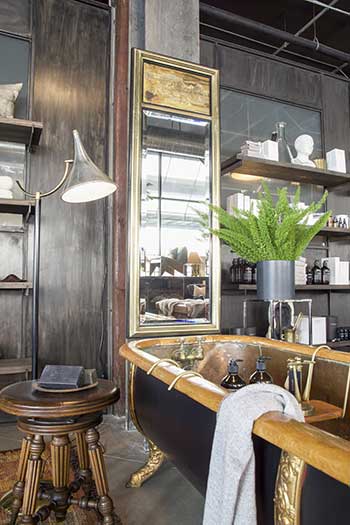 Hammer and Spear, with its vintage and local artisanal furnishings, reflects the downtown's Arts District's new image.
by Roger Grody
Downtown L.A.'s Arts District, once an unlikely name for a collection of crumbling warehouses and factories, continues to come to life with boutiques, galleries and bistros. Even distilleries and high-tech start-ups are moving into buildings whose architectural qualities have been under appreciated. Hammer and Spear, with its vintage and local artisanal furnishings, reflects the district's new image.
Given the store's location—a long-neglected stretch of Santa Fe Avenue near rail yards and the Los Angeles River—one expects a dusty space with flea-market amenities. But times have changed: The One Santa Fe residential development and the Southern California Institute of Architecture (SCI-Arc) share the store's intersection; hip cafés and gastropubs are steps away.
The establishment is owned by TV personality and author Kristan Cunningham with
husband Scott Jarrell; they run an interior-design business in an adjoining space. The couple, residents of the Arts District, aka AD, always planned on opening a vintage store, possibly in Napa Valley. "The energy of our community sparked the desire to do the thing we love now rather than wait," says Cunningham. Adds Jarrell, "Our neighborhood is experiencing a rebirth, and we wanted to be a part of that excitement."
Hammer and Spear's soaring interior has the feel of a chic downtown loft, with meticulously arranged vignettes and shelves lined with unique accessories. High-end vintage rugs from West Hollywood's Woven Accents—Hammer and Spear's shop dog, Bean, might be found curled up on one—add a touch of elegance to concrete floors. "Hearing 'I want to live here!' from a first-time customer as they enter is the greatest compliment," says Cunningham, adding that the space is designed to feel like a welcoming living room.
Some of the store's vintage merchandise is discovered by picking through old farmhouses and factories in the couple's home state of West Virginia. They tend to seek out pieces overlooked by other collectors.
"It's all about context, and seeing things in a new light those items often become the crown jewels in our shop," Cunningham notes. Jarrell reports that an increasing proportion of the showroom's merchandise is dedicated to pieces designed and/or manufactured in the Arts District itself, showcasing the creative spirit of their adopted neighborhood.
Arts District Printing Co. is a collaboration between Hammer and Spear and photographer Jonathan Ventura that results in sumptuous images revealing the rich architecture of the AD. These prints ($40), created with organic inks, include surprisingly sexy shots of the Los Angeles River and Fourth Street Bridge, and a stunning view of Bunker Hill captured from deep in the district.
Vintage furniture includes a handsomely aged Ralph Lauren leather club chair ($3,950) from the 1980s and a sleek 1960s sofa ($8,500) from influential designer Milo Baughman. The latter piece's rosewood finishes and black-leather upholstery hug lines that are quintessentially midcentury-modern.
Not everything at Hammer and Spear is expensive. From Allegheny Treenware, a West Virginia company founded by a couple who met in a coal mine, come cherrywood cooking spoons. For $20, you can open your door with a piece of art from Good Worth & Co.: a key featuring an arrowhead-shaped handle with an inlaid turquoise-esque stone—instead of a piece of metal.
On display is striking furniture from (wh)Ore Haüs Studios, in which artisan Meyghan Hill layers soft industrial tones over classic modern lines. Her striking side table ($1,800) features a black marble slab supported by clean-lined black steel elegantly detailed in brass. Hill, a model-turned welder, shares space with Neptune Glassworks, where Uri Davillier combines training in engineering and fine arts to create exquisite lighting, and Westin Mitchell, whose contemporary furniture reimagines midcentury themes.
The store is a true product of the neighborhood, says Cunningham. "We're so lucky to live among gifted artists and designers who use Hammer and Spear as a platform for their handmade work," he observes. Jarrell, whose enthusiasm for the neighborhood is contagious, says, "The makers in the Arts District are the future leaders in design."
255 S. Santa Fe Ave., downtown, 213.928.0997. hammerandspear.com