Shop for Fragrant Finds at Diptyque on Larchmont Blvd.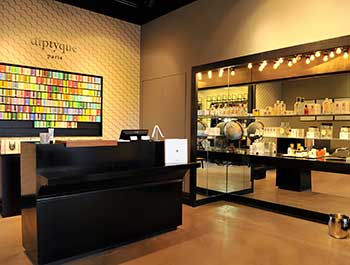 Diptyque offers home fragrances and skin-care products at its first Los Angeles boutique. If you're a new visiting tourist to LA looking for a great place to shop, this place won't disappoint!
What's that intoxicating scent wafting down Larchmont Boulevard lately? It's the perfumed air of French candle- and home fragrance- maker Diptyque, which opened its first L.A. boutique this year. The debut also coincides with the launch of the brand's first skin-care line, L'Art du Soin, which complements its existing body-care products with equally fragrant and natural ingredients found throughout the collection.
202 N. Larchmont Blvd., L.A., 323.962.3622. diptyqueparis.com