AltHouse Is Downtown L.A.'s First Luxe Freestanding Boutique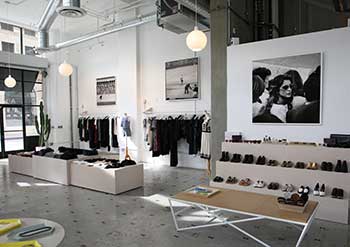 Shop Jennifer Althouse's high-end Fashion District boutique, AltHouse.
By Joseph LeMoyne
The Fashion District downtown has always played an important role in the industry. Bargain-hunting through its streets and alleys is an L.A. tradition; the neighborhood has only recently become trendy. Debuting one of the district's first high-end freestanding boutiques is entrepreneur Jennifer Althouse's eponymous establishment, AltHouse.
"I chose downtown because I wanted to be in an area that was just on the verge.… I wanted to be one of the first high-end curated boutiques to arrive," says Althouse. The 10-year fashion-industry veteran, who began her career at American Rag, found a soaring corner space in a historical building at the intersection of Main and Eighth streets. Upstairs are the Great Republic Lofts, opposite is the National City Bank building, a stately landmark now housing Terroni restaurant.
Visitors are often greeted by Althouse personally, and frequently by an affable corgi-mix shop dog named Willie. Vintage lighting fixtures hang from a 20-foot ceiling; underfoot are the remnants of a penny tile floor installed in the 1920s but hidden for decades. Like many lofts in the neighborhood, pipes and ducts are exposed, and Althouse was wise not to conceal all of the cracks and quirks that give this space its character.
Interior designer Rebecca Jezek created modern furniture that works well with the spare backdrop; Althouse mounted haunting black and white photos from an Argentine bullring, snapped by actor and photographer Charlie Finn, on the whitewashed walls. "I wanted it to have both a vintage look and modern feel but be a space where the clothes stand out, not the furnishings," explains the proprietor.
"I always wanted to open my own boutique but waited until I had the right background, experience and relationships with vendors," says Althouse, who gravitates toward emerging designers from New York and L.A. She also carries such labels as Rachel Comey and SUNO, which are major draws yet available at only a couple locations around town.
SUNO, a socially conscious New York-based brand from designers Max Osterweis and Erin Beatty, utilizes the talent and resources of Kenya, India and Peru. Among its offerings is a three-quarter-sleeve dress ($595) with a flared, pleated skirt and gathered waist that possesses the spirit of a flirty sundress and sophistication of a chic cocktail dress. It pops in a lively contemporary tulip print. Gold Lurex fabric goes into a smart, boxy-cut jacket by Rachel Comey, fully lined with meticulous made-in-New York craftsmanship.
The Prose ankle boot from Rachel Comey ($450), offered in a light slate color, features a graceful tapered look, with a vertical zipper above a polished wood heel; her Boyer flats ($330) have a low-slung design with white tops and black sides, all constructed from quality Peruvian leather. From H by Hudson, the countercultural spinoff of London's premium Hudson Shoes, is a pair of black suede slouch boots that is representative of the line.
Sold exclusively at the boutique is Jennifer Althouse's own L.A.-manufactured label, ALT, which blends approachability and high style. After spending part of her career in the designer-denim world, she confidently presents skinny jeans ($198) that might be paired with an ALT lambskin leather jacket ($850) that's part biker bar, part sorority house.
AltHouse carries the collaborative jewelry line of artist and sculptor Orly Genger and jewelry designer Jaclyn Mayer, whose brightly colored, enamel-coated resin bangles ($185-$205) are stunning. Peppercotton, from the Brooklyn studio of Aurelia Cotton and Patrick Culpepper, is also intriguing, offering bracelets and necklaces crafted from mesh tubing filled with Swarovski copper or silver crystals. Zanzan, a London brand of sunglasses, adds catwalk attitude to traditional concepts, while Grey Ant completely reinvents those styles.
AltHouse attracts a predominantly 30-something clientele that its owner describes as "creative, artsy and eclectic." Many customers work in the Fashion District; others live in downtown lofts. Summarizing their attitude, Jennifer Althouse suggests, "These women have their own sense of style and like to wear something unique … and they don't simply go along with the trends."
AltHouse 761 S. Main St., downtown, 213.488.1374. shopalthouse.com