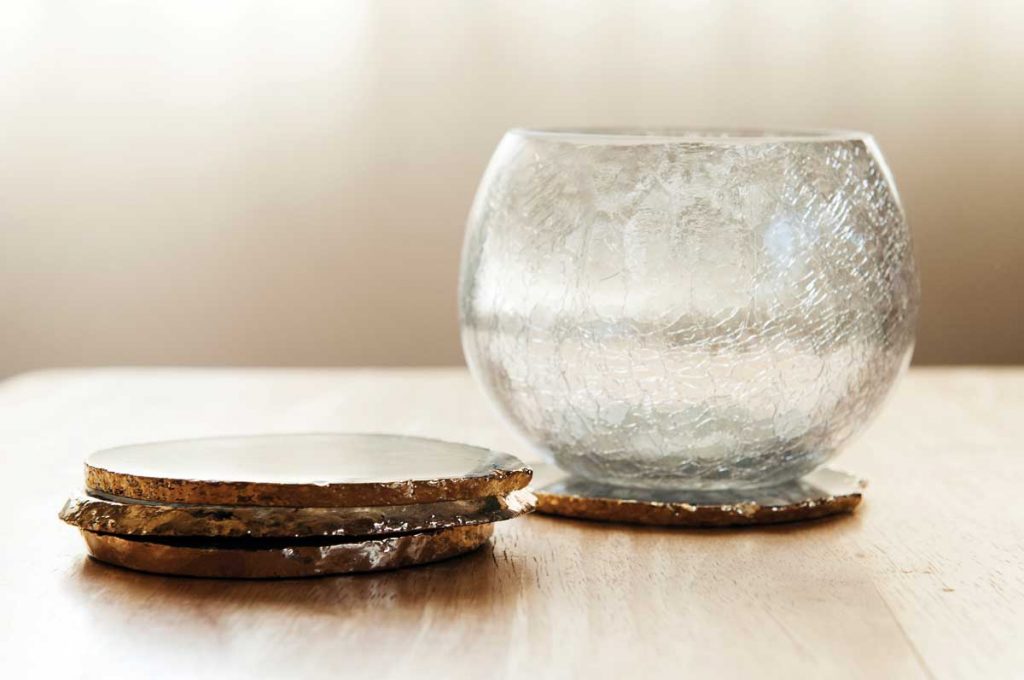 Eric Ruyak highlights the natural qualities of materials he uses with his Hespera Jewelry Co. collection.
By Joseph LeMoyne, adapted from the October 2016 issue of Performances Los Angeles Magazine
Most jewelry designers manipulate and process natural materials to such a degree that the final products, though lustrous and refined, leave the consumer with little appreciation for their raw materials' geologic origins. But the collection of Hespera Jewelry Co. is different: Designer Eric Ruyak showcases rugged crystals and stones that look as if they'd just been chiseled from the side of a mountain.
Ruyak, Hespera's founder and creative director, first dabbled in jewelry design during his idle time as a touring stage actor. "It was a fun way to share my artistic side with people, creating my own gifts," he recalls. He developed a following, and eventually jewelry design became his career and his acting subordinated to an avocation.
Although his first efforts involved manipulating stones into preconceived designs, Ruyak quickly learned to highlight the natural qualities of those materials, rather than polishing the terroir out of them. "I was more inspired by the natural elements, as opposed to forcing those elements into the shapes I envisioned," he explains.
"I'm dedicated to the unique qualities of each stone and to making each piece the most beautiful representation of that stone," says Ruyak, who suggests that the unique nuances, inclusions and fractal points—those very quirks many traditional jewelers view as imperfections—can inspire substantial interest in a piece.
Ruyak traveled the world seeking out the best specimens of semiprecious stones and learned from artisans who crafted them with a natural approach that eschewed artificial dyes. "For instance, I sought out jade suppliers to find out how their culture treats the stone, and try to echo that culture in my work," he says. And the former actor's designs continue to be inspired by the art of storytelling.
Ruyak's collection is deep in necklaces and pendants, and those pieces best reflect his philosophy about jewelry and the women who wear his products. "The necklace is a real statement piece, which engages her persona," the designer explains.
Ironically, he's best known for a ring: The Gemfire Ring, cut entirely from a single piece of stone, is one of Hespera's signature pieces. It not only showcases raw crystals on the top—where a gem would ordinarily be mounted—but also reveals different polished bands of color underneath, where they are typically never seen. The ring's popularity surged after Cersei Lannister, portrayed by actress Lena Headey, wore one during the season six finale of the HBO series Game of Thrones.
The distinctive Gemfire Ring is offered in multiple editions, including Autumn Winds ($175), carved from Peruvian amethyst, and Spring Dawning ($295), crafted from heavily striated Brazilian emerald. Summer Flame, the very ring worn in the blockbuster series, features citrine crystals from Patagonia; its rich brown and amber luminescence is indeed reminiscent of fire.
Hanging from a 20-inch chain, the Amethyst Starburst ($250) is a bold pendant formed from a thin slice of an amethyst stalactite, and, like all products from Hespera, no two have the exact same colors or grains. It might be paired with the cuff-style Tempest Ring ($95), consisting of a rich, dark-hued chunk of amethyst that has been cut into a teardrop shape and partially plated in gold.
For the home, Hespera offers sets of agate coasters ($125) in a variety of brilliant colors, as well as striking gemstone bookends and paperweights. Taking the nerdiness out of gemstone collecting are Ruyak's edgy 5-inch-diameter skulls, which are carved from Madagascar rose quartz or iridescent black Norwegian labradorite ($495) by master lapidarists in Hong Kong.
The prices of the pieces in Hespera's main collection are surprisingly approachable. Ruyak also offers a limited-production artisanal line and creates one-of-a-kind pieces for a celebrity clientele. Priced in the thousands, these premium pieces incorporate the finest specimens of gemstones and are handcrafted by the designer himself.
"Our demographic consists of powerful women—not because of their jobs or level of authority—but all women who embrace who they are in every facet," says Ruyak. Further describing the typical Hespera customer, he explains, "She's someone with confidence who says, 'This is who I am … you can take it or leave it.' "
Hespera Jewelry Co., 240.463.2305. hesperadesigns.com