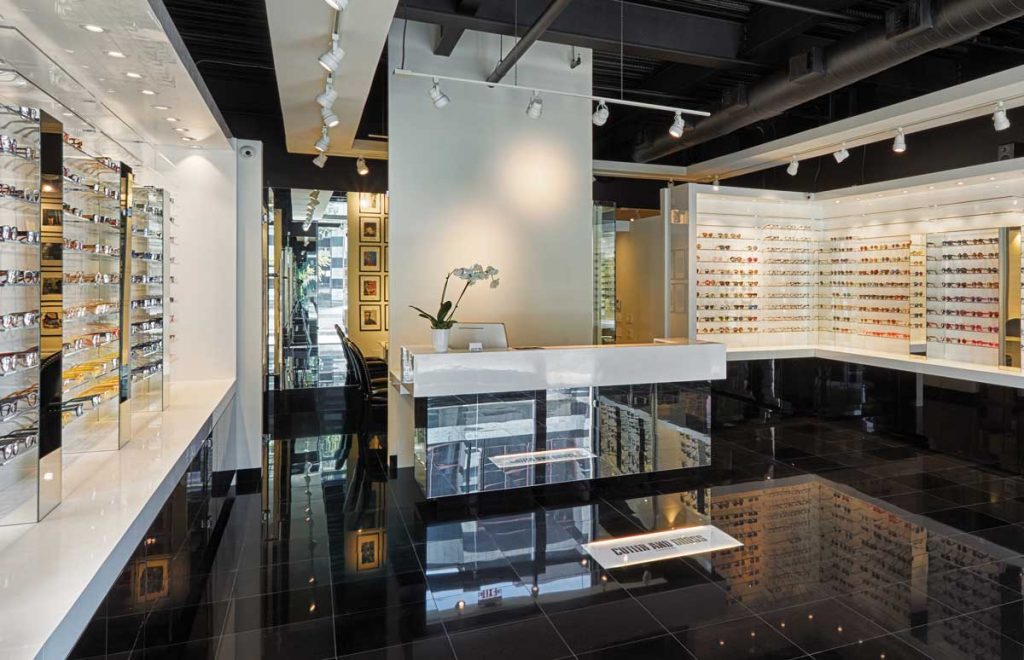 A-list London-based eyeglass retailer, Cutler and Gross opens on Melrose Avenue in West Hollywood.
By Joseph LeMoyne, adapted from Fashionably Framed in the May 2106 issue of Performances Magazine
At some point, eyeglasses were transformed from a crutch—something that mitigated a physical imperfection—into a fashion statement, which is why every iconic brand from Versace to Tommy Bahama licenses its name to eyeglass manufacturers.
Nobody takes the fashion of framing more seriously than Cutler and Gross, a London-based company whose A-list clients include Michelle Obama and the always-bespectacled Sir Elton John.
Cutler and Gross' new L.A. boutique recently landed on a fashion-forward stretch of Melrose Avenue in West Hollywood. The store's facade, outlined in a sleek white frame of its own, shares a building near the Pacific Design Center with trendy apparel purveyor Alice + Olivia, L'Agent lingerie and nightspot E.P. & L.P.
This is the second stateside location for the high-end eyeglass retailer; the first was New York. With shades an essential accessory in L.A., it's a market no manufacturer of sunglasses can resist.
"The shopping experience at each store is driven by our highly skilled optical staff, their keen attention to detail and their passion for matching the right frames for each person," says design director Marie Wilkinson. In addition to sunglasses off the rack, any optical prescription can be filled with considerable style.
The 1,350-square-foot store exudes a sexy minimalist vibe, with a dark unfinished ceiling overhead and glossy black stone underfoot. In contrast, brightly illuminated white display racks showcase approximately 2,000 frames.
"The inspiration was drawn from the blueprint for our latest store openings in the U.K., whereby the monochrome interiors allow the vast selection of colors—more than 400 to date—to sing out," says Wilkinson.
A rear hallway is lined with photos of celebrity clients: David and Victoria Beckham, Bono, Madonna, and Martin Scorsese in his signature frames, a distinctive product introduced by Cutler and Gross in the 1990s.
Cutler and Gross designs all of its glasses in London; each frame then undergoes 42 steps of craftsmanship in the company's factory in Italy.
In this era of excessively pervasive branding, the company admirably resists the urge to display any visible logos on its products; Wilkinson insists that her company's acetate-and-metal frames are easily recognizable without them.
Sunglasses include the Italian Quarter model ($500), a contemporary take on the timeless aviator style featuring a keyhole bridge, graceful curves and thin temples of dark-mustard acetate to complement its brown lenses. A more classic version wraps fine Italian hand-stitched leather around the upper rims and temples. Available in many colors, this model ($650) is particularly handsome in light blue leather paired with dark gray Carl Zeiss lenses.
Inspired by midcentury glamour are colorful glasses ($565) reserved for attention-seekers or those starring in the latest Zoolander flick, with a particularly strong statement made when neon-yellow laminate is applied to the broad frames. The Ray ($595), a collaboration with London-based designer Holly Fulton, is offered in several bold colors and with a black-on-crystal striping effect that emulates eyelashes.
Cutler and Gross' bespoke service allows customers to modify any of the company's current and vintage models or to opt for an entirely original pair of custom frames, an investment beginning at $4,000. Between placing one's order and delivery, 26 pairs of hands will have touched the precious spectacles and elevated the eyewear to art.
The new Day at the Races collection was inspired by the vibrant graphics appearing on silk horse-racing jackets, and the model names mimic those of thoroughbreds. The Captain Melrose ($650) features a modern palladium bridge and rims wrapped in various colors of snakeskin; Persian Queen borrows vintage hinges and pin components from Cutler and Gross' archives, presented in bold block colors such as spearmint or nutmeg.
Wilkinson says of her company's clients, "They are as discerning about the provenance of their eyewear as the food they eat, the clothes they wear and their vacation destinations." Cutler and Gross glasses are built to last, she adds. "The styling allows the frames to transcend fashion trends."
Cutler and Gross, 8505 Melrose Ave., West Hollywood, 424.777.0496. cutlerandgross.com