The Second City's Twist Your Dickens Brings Holiday Hilarity To The Kirk Douglas Theatre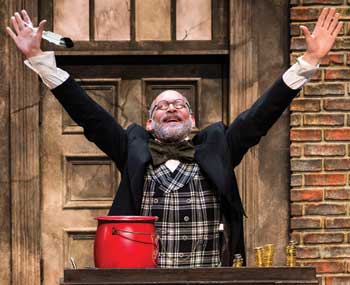 Move over, Rudolph, Santa and your little elves. There's another cast of holiday characters coming to Los Angeles, ready to spread good cheer and a hefty dose of laughter in A Christmas Carol: Twist Your Dickens! at the Kirk Douglas Theater. You owe it to yourself not to miss this upcoming event in Los Angeles!
The Second City's Twist Your Dickens annual satire on the classic story A Christmas Carol returns to the stage at Culver City's Kirk Douglas Theatre Dec. 8-29. Look for surprise celebrity guests—past stars have included Ben McKenzie and Jason Alexander—who will join comedy troupe members in their memorable interactive portrayal of Charles Dickens' well-loved tale and its merry band.
The play is penned by Second City alums Peter Gwinn and Bobby Mort, both formerly of The Colbert Report. And don't miss the festivities in the theater lobby, featuring aptly named cocktails including Tiny Tim Tinis and Scroogedrivers, natch. Cheers to that.
Tickets $20 (reg. $57 and $65). Offer available Dec. 19 and Dec. 26.
Call 213.628.2772 or visit centertheatregroup.org/tickets/Christmas-Carol and
use code SECONDCITY.
Kirk Douglas Theatre, 9820 Washington Blvd., Culver City, 213.628.2772. centertheatregroup.org