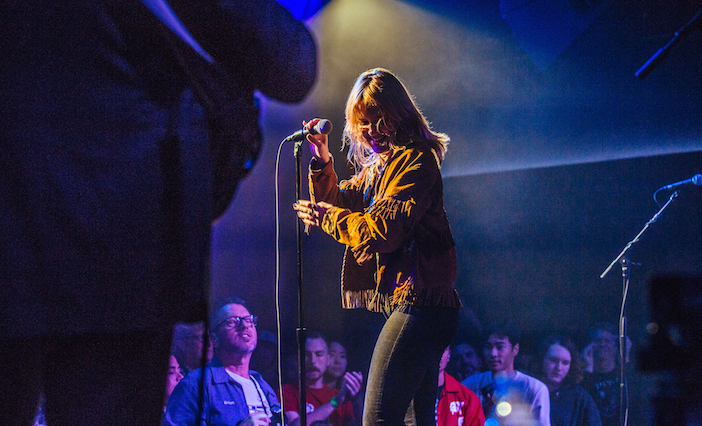 In Los Angeles, dinner and a show can take on many meanings. Whether you're craving a midcentury jazz lounge in Los Feliz, an electronic dance party at a food hall downtown or mariachi music at a Torrance mezcaleria, this city can satiate even the biggest appetite for the perfect evening out.
By Rebecca Padres, adapted from WHERE Los Angeles magazine
1. Bandera
Fine food and live jazz can be enjoyed every night at Brentwood's Bandera. This neighborhood spot is ideal for the grown-up crowd. As the jazz ensemble plays, tuck into a roasted-lamb sandwich or Dover sole, and sip a dark 'n' stormy or a glass of red off the extensive wine menu. Walk-ins are welcome; however hats, tank tops and athletic attire are not.
11700 Wilshire Blvd., L.A., 310.477.3524. banderarestaurants.com
2. Blue Palms Brewhouse
Hollywood's Blue Palms Brewhouse is a convenient option for dinner and drinks before a show at one of L.A.'s premier concert venues—the historic Fonda Theatre, adjacent. Create a base with hearty dishes like lobster mac 'n' cheese or a prime-rib French dip, and wash them down with one of 25 craft beers on draft. Arriving early is recommended, as tables fill up quickly before shows.
6124 Hollywood Blvd., L.A., 323.464.2337. bluepalmsbrewhouse.com
3. Clifton's Republic
An utterly unique multi-bar complex in downtown L.A., Clifton's suits many moods. On Friday and Saturday nights, jazz and swing bands take up residence in the Brookdale Ballroom, where dancers don their best retro ensembles. For dinner, queue up at the restored 1930s cafeteria for a vast selection of New American fare, then order a craft cocktail at the Monarch, Gothic Bar or Tiki-themed Pacific Seas. Reservations are encouraged, and weekends draw lines after 9 p.m.
648 S. Broadway, downtown, 213.627.1673. cliftonsla.com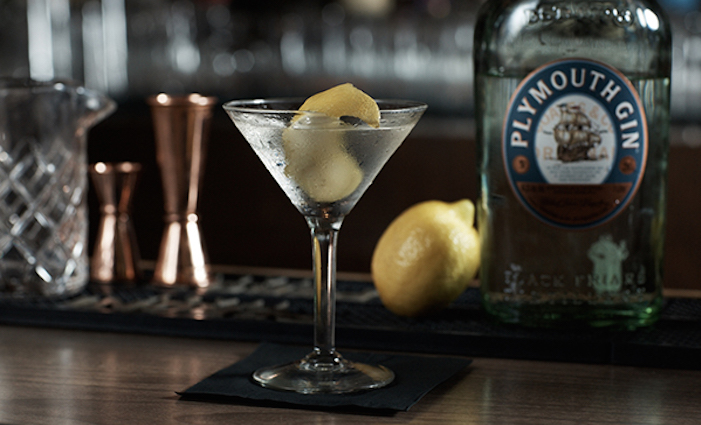 4. The Dresden
Los Feliz's midcentury-style steakhouse, the Dresden, is home to jazz duo Marty and Elayne, who've been entertaining crowds in the lounge since 1982. The local legends play Tuesday through Saturday nights starting at 9 p.m., with various musical acts on Sundays and Mondays. The 1960s-era lounge offers a limited menu of Continental dishes, while the dining room serves classics like filet mignon. A mainstay on this lively
stretch of Vermont Avenue, the Dresden attracts crowds on the weekends; it's also been featured in films and TV shows, including Swingers and Mad Men.
1760 N. Vermont Ave., L.A., 323.665.4294. thedresden.com
5. The Escondite
The Escondite, a rustic tavern in downtown L.A., features free live rock music nightly and some of the city's most creative burgers. Try the Fat Albert: a beef patty with melted provolone and bacon, topped with a glazed-doughnut bun. Or opt for the Elvis, a burger dressed with peanut butter, bacon and banana. Pair with craft whiskey from the bar (there's free parking after 6 p.m. for your designated driver), and dance it off to the sounds of a live band. Set times vary, so be sure to check the online calendar.
410 Boyd St., downtown, 213.626.1800. theescondite.com
6. Grand Central Market
Grand Central Market is the culinary heartbeat of Los Angeles. At 100 years old, the massive food hall attracts locals and tourists from across the sprawl, and not just for its delightful collection of global cuisine. The Grand Central Fridays series rings in the weekend with eclectic dance sets from Dublab DJs starting at 7 p.m. on the Broadway side of the market. Sunday Jazz Nights bring a rotation of acts to the Hill Street Platform, also starting at 7 p.m. Admission to Grand Central Market is always free, and there's no dress code.
317 S. Broadway, downtown, 213.624.2378. grandcentralmarket.com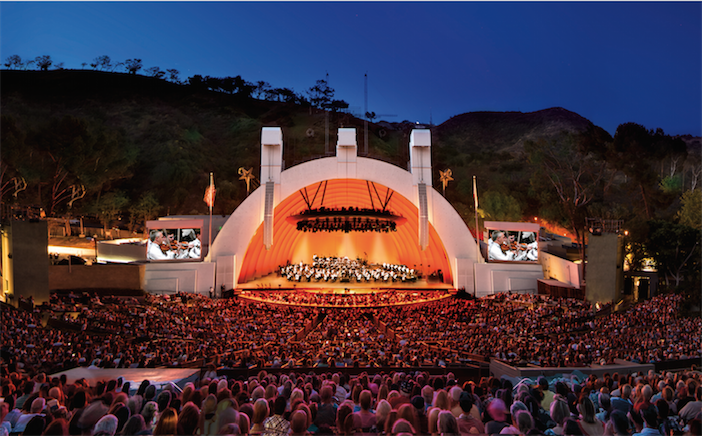 7. The Hollywood Bowl
The Hollywood Bowl's official season begins in June, but lease events this April include performances by Mexican pop icons Gloria Trevi and Alejandra Guzmán, followed by the Korea Times Music Festival. Culinary options—curated by chef Suzanne Goin and Caroline Styne of Lucques and A.O.C.—abound at the iconic outdoor music venue, including two sit-down bistros, food trucks, prepackaged picnic boxes and table service for box-seat ticket holders. However, the Bowl is most adored for allowing picnic baskets at events. Check the concert calendar to confirm details.
2301 N. Highland Ave., L.A., 323.850.2000. hollywoodbowl.com
8. Lodge Room and Checker Hall
In buzzy Highland Park, 1920s Masonic lodge-turned-music venue Lodge Room provides a stage for established indie acts and newcomers alike. Seating is general admission, and tickets can be purchased at the box office or online. Before the show, fuel up at the gorgeous Checker Hall restaurant, adjacent, which offers a full bar and Mediterranean-inspired menu of small plates, salads and mains including hanger steak, seared salmon and falafel.
104 N. Ave. 56, L.A., 323.509.7416. checkerhall.com and lodgeroomhlp.com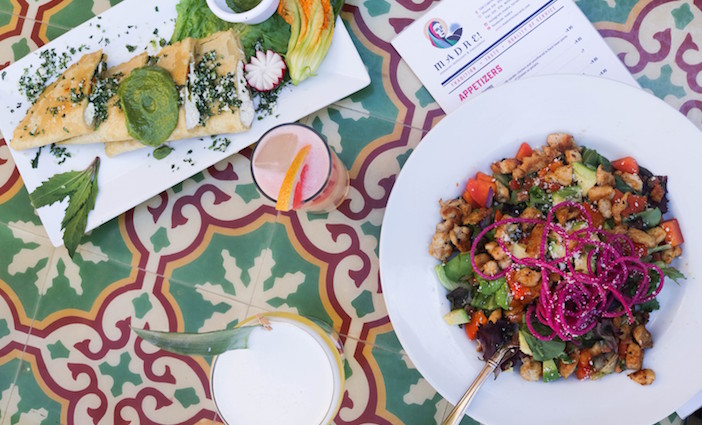 9. Madre
One of the South Bay's newer culinary additions, Madre serves Oaxacan cuisine with live mariachi music by Voz Bohemia every Thursday from 8-11 p.m. Choose from a selection of traditional mole dishes, along with tlayudas, tamales and entrées like goat barbacoa and fajitas. The mezcaleria serves more than 20 varieties of the smoky spirit and dozens of tequilas, both of which can be mixed into craft cocktails.
1261 Carrillo Ave., Suite 100, Torrance, 310.974.8005. madrerestaurants.com
10. Perch
Every night of the week, relax with live music and modern European cuisine (e.g., buffalo frog legs, curated charcuterie platters and rabbit ravioli) high above downtown at Perch. In the historic Pershing Square Building, the rooftop lounge and bistro features jazz performances from 7-10 p.m. Monday through Sunday, with DJ sets starting at 10 p.m. on the weekends. Tables fill up here quickly, making reservations a must.
448 S. Hill St., downtown, 213.802.1770. perchla.com
11. Rockwell Table & Stage
A few doors from the Dresden, Rockwell Table & Stage hosts a variety of performances, including Broadway sing-alongs, burlesque shows and musical parodies. The menu offers burgers, flatbreads and salads, and drink specials are on rotation at the full bar. This April, enjoy a comedy-driven night with The Unauthorized Musical Parody of Jurassic Park, Thursday through Saturday starting at 8 p.m., and a brunch show on Sundays at noon. Tickets can be purchased online; most performances require a two-drink minimum.
1714 N. Vermont Ave., L.A., 323.661.6163. rockwell-la.com
12. Vibrato Grill & Jazz
Tucked away in the hills of Beverly Glen is Vibrato Grill & Jazz, Grammy-winning musician Herb Alpert's classic jazz club and steakhouse. Tuesday through Sunday evenings bring notable acts like Billy Valentine and Melissa Morgan; local up-and-comers are in the rotation, as well. The fine-dining menu includes surf-and-turf entrées and caviar and shrimp-cocktail appetizers, plus a full bar. Reservations are highly recommended, and a cover may be charged. Note: Shorts, T-shirts and flip-flops are not permitted.
2930 N. Beverly Glen Circle, L.A., 310.474.9400. vibratogrilljazz.com
Lodge Room in Highland Park photo by Alice Baxley. Hollywood Bowl photo courtesy of the Los Angeles Philharmonic. Madre photo courtesy of White Oak Communication.
[et_bloom_inline optin_id=optin_11]