The Best Steak in Los Angeles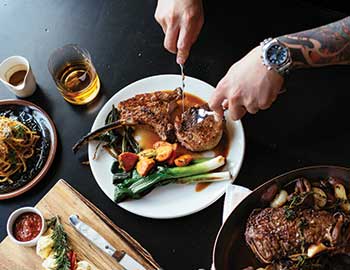 Hang on to your forks and knives: There's a steakhouse explosion rocking L.A. Read on to find out about the best steak in Los Angeles.
Whether you like your steak well-done or on the rare side, there are chophouses all over town offering whatever cut you desire, cooked just the way you want it. Here's what's cooking at some of the hottest new spots to hit L.A.'s sizzling steak scene.
The Palm
The Palm was a legend in West Hollywood for nearly 40 years, hosting Hollywood movers and shakers and immortalizing around 2,000 of them in caricatures on its walls. Also legendary was the classic steakhouse menu: Think surf 'n' turf with Nova Scotia premium lobster and prime New York strip. That location closed last year, but another Palm recently debuted in Beverly Hills, where there's an L.A. mural just waiting for caricatures of new customers and old friends.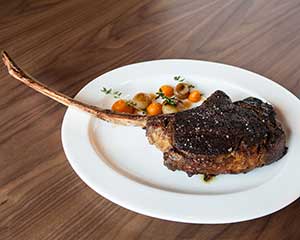 The Arthur J
Mid-century design meets steak at Chef-owner David LeFevre's highly anticipated Manhattan Beach eatery. The modern steakhouse serves LeFevre's riffs on retro steakhouse favorites in addition to dishes inspired by his roots, travels and the best artisanal ingredients. Expect an extensive selection of wet and dry-aged USDA Prime and Certified Angus Beef prepared on the kitchen's massive wood-fired grill, along with entrees like pot roast made with braised Wagyu short ribs, baby carrots, new potato and cippolini onion; housemade Emmental Popovers and Parker House Rolls; and appetizers and sides like chilled jumbo shrimp cocktail and Swedish meatballs. Dinner nightly.
L'Assiette Steak Frites
Wait until the sun goes down to check out the new late-night menu at Jacques Fiorentino and Mary Anne Reyes' brasserie-inspired restaurant on Melrose Avenue. To bring home an authentic French flavor, L'Assiette Steak Frites uses the culotte cut—a rarity in most U.S. steakhouses, it features minimal marbling—and keeps the steak evenly cooked and juicy with a four-hour sous-vide process. The meat is quickly seared and sliced before it hits the plate, where it's paired with beef-tallow Kennebec pommes frites and the restaurant's secret house sauce.
Still Cooking…
Le Relais de l'Entrecôte is adding to its international roster with a new location planned for 8755 Melrose Ave. in West Hollywood. A huge place with indoor and outdoor seating, it will draw inspiration from its French flagship, serving steak frites with a secret-recipe buttery herb sauce.
Fogo de Chão
In downtown L.A., Brazilian steakhouse Fogo de Chão has opened its latest location. Gaucho chefs expertly grill 16 churrasco cuts of meat that are dramatically presented on swords, and tableside service keeps running until you turn the green circle over to red—and then back again. Known for its long-established restaurant on North La Cienega Boulevard in Beverly Hills, the chain's new 8,000-square-foot all-you-can-eater has quickly gained a local following.
Hutchinson Cocktails and Grill
Also on La Cienega, restaurateur brothers Ian and Justin Hopper have mixed their family heritage into what may be L.A.'s only upscale Indonesian steakhouse, Hutchinson. You'll find top cuts of dry-aged American and Japanese beef, though Indonesian curry, coconut rice and caramelized baby bok choy with short rib make up house-favorite Beef Rendang. Every second Monday of the month, gather your friends for rijsttafel, or "rice table," a selection of 12 to 25 dishes anchored by family-style rice.
Pistola
The second restaurant from Gusto's chef Vic Casanova, Pistola is a modern tribute to the traditional Italian steakhouse. Inspired by The Godfather and designed by Cliff Fong, it's a smart spot on stylish West 3rd Street. The menu features big glasses of red along with excellent steaks, chops, pasta and seafood. The head of the gang might try the dry-aged 18-ounce Delmonico.
Michael Mina's Bourbon Steak
Located in the Americana at Brand, Michael Mina's Bourbon Steak gives shoppers and visitors a contemporary twist on the traditional American steakhouse. Alongside the starring attraction there's a patisserie, a shellfish cart and tableside Japanese whiskey service. In the piano bar you can try a Lucky Lindy cocktail with lamb ragout toast, then return for the monthly curated "beverage experience."
Nick's Manhattan Beach
Just before the new year, Nick's Manhattan Beach opened in the former Chez Soi space in the Metlox center, and like the SoCal chain's other locations in Laguna Beach, Long Beach and San Clemente, the downtown Manhattan Beach location offers classic American fare. There's plenty of steak on the menu, but filling breakfasts and brunch stand out, too. Liquid assets include the signature Nick's Bloody Mary, complete with a blue-cheese olive.
Spear Steakhouse
The minimal, smart, dark-wood stylings of Spear Steakhouse in the former Le Ka space will draw you to the heart of downtown L.A. Its steaks are served with roasted bone marrow and a side of crustacean butter, mushroom bordelaise or housemade Worcestershire, and chef Greg Paul keeps pescatarians happy with a sea of oyster and fish choices.
Ocean Prime
As the name suggests, Ocean Prime in Beverly Hills gives you the best of land and sea in its supper-club atmosphere. Whether you choose seafood, sushi, steak or something from the raw bar, it's all brought to the plate by executive chef Matt Briggs. Alternatively, spend a decadent moment at the bar with a scotch and a surf 'n' turf appetizer of scallops and short ribs.
Steak & Whisky
Rustic meets modern at Steak & Whisky, which just opened in downtown Hermosa Beach. The fifth joint from chef/partner Tin Vuong and partner Jed Sanford of Blackhouse Hospitality Management (sister restaurants Abigaile and Día de Campo are steps away), it applies a blend of cultural influences to American classics like traditional porterhouse and dry-aged beef. A thoughtful touch: 10 whiskey lockers allow patrons to store their drink of choice.
Baltaire
Also brand-new is Baltaire on San Vicente Boulevard. Helmed by executive chef Travis Strickland, the sophisticated Brentwood restaurant offers plenty of prime steaks, wines by the glass, old-school charm and sun-or-star dining on its 2,500-square-foot terrace—perhaps best enjoyed with the Baltaire Julep cocktail in hand.