Los Angeles Valentine's Day Dining Guide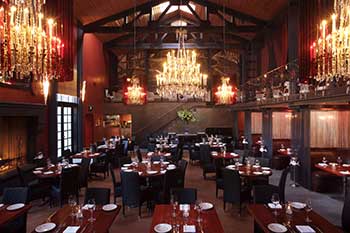 If you're looking for the perfect place to spend Valentine's Day in Los Angeles check out dining options all over the city in our restaurant guide. Find dinner romance and fun in LA for VD day.
Edited by Christina Xenos
Peninsula Beverly Hills
Treat your lover to a variety of Valentine's Day experiences at the Peninsula Beverly Hills. Wine and dine under the stars with a four-course menu at The Roof Garden restaurant ($89/pp) and enjoy tunes from a strolling guitarist. Downstairs at The Belvedere dine on Executive Chef David Codney's extravagant five course tasting menu ($150/pp), accompanied by the live music of resident pianist Antonio Castillo de la Gala. Couples wanting to go all out can reserve one of twelve private poolside cabanas and enjoy a bottle of champagne, strolling guitarist and a decadent feast ($385/couple).
Terranea
Spend your weekend hearing the waves crash against the Palos Verdes peninsula while you dine on a variety of Valentine's Day offerings at Terranea. Reserve a breezy table at mar'sel to dine on a special prix-fixe menu ($160/pp) created by Chef de Cuisine Charles Olalia. Head to Nelson's for a dinner for two ($99/pp) with beer pairings from Golden Road Brewery, Sierra Nevada and Stone Brewery. Dine on an a la carte menu of Mediterranean fare from Chef de Cuisine David Tarrin at Catalina Kitchen; or savor Asian delicacies from Chef de Cuisine Bruce Nguyen at Bashi.
Culina, Modern Italian
Chef Mette Williams blends nuance with accessibility in her special Valentine's Day menu with desserts from Pastry Chef Federico Fernandez. Highlights from the four-course menu include scallop tartare, celery root remoulade, bresaola, black truffle; roasted rabbit ragu, crispy speck; Dover sole, braised purple kale with guanciale, caramelized salsify, preserved citrus; bone-in short rib, polenta with melted lardo, horseradish gremolata; and more. $98/pp.
Mélisse
Celebrate your special night with a nine-course prix-fixe menu from Chef/Owner Josiah Citrin. Highlights include Egg Caviar with soft poached egg, lemon crème fraiche and American caviar; Rosemary Scented Sunchoke Soup with confit duck and sunchoke chips; and Sonoma Lamb with Brussels sprouts, capers, raisins and rosemary. $275/pp.
Bucato
The Culver City spot serves expertly made pastas and offerings from land an sea. Toast your love over specials like foie gras agnolotti burro fuso with black winter truffles; whole grilled orata with winter citrus, fennel and mint; and rib eye cap with cippolini agrodolce and wild arugula.
Love & Salt
If the name of the new Manhattan Beach culinary hot spot isn't enough to get one in the Valentine's Day mood, couples can order from Chef Michael Fiorelli's "Labor of Love" specials, featuring items that take a little extra love to prepare like pane bianco, warm house made bread filled with roasted garlic and parmesan; ricotta agnolotti, parmesan broth, wilted escarole, little rabbit meatballs; in addition to a special "Bloody Valentine" cocktail with muddled blood orange, mint, gin, St. Germain, simple syrup, and orange bitters.
La Boheme
One of West Hollywood's most iconic restaurants, renowned for its stunning architecture and dramatic diningroom that boasts a roaring fireplace, massive statues, chandeliers, semi-private booths and also a romantic outdoor patio, is the perfect setting for a romantic Valentine's Day dinner. Enjoy a special thee-course prix-fixe menu with selections like ono crudo, roasted quail with mole sauce, filled of beef with lobster mashed potatoes and more. $79/pp.
Acabar
Celebrate your love in a sexy ambiance with both a four-course romanic feast and continue the night with a party in the lounge. Chef Kevin Luzande offers a four course feast ($125/pp), then follow the Moroccan tiles into the lounge after dinner for DJ tunes and sexy contortionist stylings of Aya Serpent ($20/pp, free with dinner or lounge reservations).
Petrossian
Treat your Valentine to the ultimate caviar feast by supplementing Petrossian's four-course prix-fixe menu with caviar ranging from 30 grams of Royal Transmontanus to 50 grams of Tsar Imperial Ossetra. Highlights of the menu include smoked asparagus spear with caviar, sea salt, and olive oil; duck with Verve coffee granola, maple, kumquats, clove, duck jus and caramelized onions; and white chocolate and passion fruit with vanilla oat, passion fruit gelée, and white chocolate mousse. The exclusive four-course prix-fixe menu also includes a bubbly glass of Lanson Black Label Brut.
Rustic Canyon
At Santa Monica's farm-to-table restaurant, enjoy a six-course meal, meant for sharing. Pick six dishes from 16 options by Executive Chef Jeremy Fox, with highlights including XX-Shucked Peas with white chocolate, "chocolate" mint, and macadamia; prime steak tartare with oyster, caviar, and egg yolk; chicken scaloppini with polenta, burrata, and strawberry and pine nut sofrito; and Hawaiian swordfish with artichoke, caper, and salsa verde. $95/pp, $45/pp wine pairings.
The Little Door Santa Monica
Set the scene for romance at this intimate, candlelight beach adjacent hideaway. Dine on a three-course, Casanova menu created by Chef T Nicolas Peter, featuring black truffle farro risotto and phyllo and almond baked brie, followed by entrees of roasted chicken breast stuffed with morel mushrooms and grilled filet Mignon with roasted bone marrow. Cap off the evening with cream cheese-filled heart-shaped red velvet cake, rose petal ice cream and pistachio profiteroles and a glass of The Little Door Santa Monica's signature "Love Potion." $175/pp.
The Langham Huntington, Pasadena
Whether you want to go all our with a steak house dinner or celebrate your love more casually over jazz and cocktails, you can do it all at The Langham. Enjoy a four-course tasting menu at The Terrace ($65/pp, $95/pp with wine pairings). At The Royce Wood-Fired Steakhouse, dine on a four-course prix-fixe dinner ($125/pp, $165/pp with wine pairings) that includes highlights like grilled lobster salad, truffle risotto, wood-grilled Moyer filet, poached wild salmon and more. Also enjoy bar bites in the Lobby Lounge and live jazz and drinks in The Tap Room.
Hornblower Valentine's Day Dinner Cruise
Find romance between the sea and sky with a special Valentine's Day dinner cruise aboard a Hornblower yacht. You'll enjoy spectacular bay views with wonderful food to choose from and music for dancing.
Queen Mary
Feb. 14. For a romantic spot with stunning ocean and skyline views, hop aboard the ship that defines elegance and class in her heyday. Enjoy delicious cuisine at Sir Winston's including lobster bisque and surf and turf of lobster and filet with asparagus, herb-roasted potatoes and truffle demi. 5:30-10 p.m. $125/pp.
Union
Treat your Valentine to menu specials perfect for couples to share like a half dozen oysters; beef stracotto with two; and blood orange chocolate meringue tart.
Livello
Treat your Valentine to a four-course dinner from Chef Roger Thomas. Highlights of the menu include seared scallops with yellow bell pepper puree, hon shimeji mushrooms and crisp parsley; white asparagus with roasted heirloom tomatoes and basil oil; cavatelli with mascarpone, black truffle, sherry and prosciutto; spinach and ricotta cannelloni with pecorino fonduta and black truffle; prime filet mignon wth brie center, root vegetables and bordelaise demiglace; and more. $70/pp
Beverly Hills Hotel
Those wanting to get an early start on the weekend can celebrate in the iconic Polo Lounge with a special Valentine's Eve dinner, featuring selections like Maui onion soup with braised short rib and gruyere gratinee, Stonington diver scallops, prime beef Wellington, artichoke ravioli with morel mushrooms and more. On Valentine's Day lovers can dine on all those selections and more with an expanded menu that includes additions of lightly smoked Hawaiian amberjack, Kurobuta pork with creamy Anson Mills polenta, almond-crusted Dover sole and more. $165/pp.
Coin de Rue
Parisian-style bistro pop-up in Beverly Hills is a partnership from Executive Chef David Féau is partnering with AdVantage Partners' Adam Fleischman. Dine on a four-course prix-fixe menu that includes highlights like vegan onion soup; cabbage and sea urchin soft scrambled eggs with turmeric crab bisque; monkfish bouillabaisse; roast duck Apicius; and more. $55/pp, $25/pp wine pairings. Feb. 12-14; 19-21; 26-28. Call 310.943.9650 for reservations.
Barbershop Ristorante
Chef Walter el Nagar pops up especially to cook a special Valentine's weekend menu at Flake in Venice. The five-course prix-fixe menu brings together Italian cooking techniques with global ingredients. Hihglights include skinny capon (red beet, potatoes, salsa verde, ridgeback prawns and mussels), rossini 2015 (beef, foie gras, madeira and black truffle), kiss my tongue (veal, oyster, onions and horseradish) and more. $85/pp.
Four Seasons Westlake Village
Spend a romantic evening at ONYX and dine on a menu that includes selections like Spring kale soup, assorted sushi and sashimi, bone-in rib eye for two and roasted black cod.
Scarpetta
Dine on an indulgent four-course menu that features selections like big eye tuna tartare; dry-aged sirloin beef with smoked potato puree; duck and foie gras ravioli; spiced duck breast; and vanilla caramel budino. $125/pp, $50/pp wine pairings.
Butchers & Barbers
Dine on a five-course menu that includes highlights like hamachi crude, roasted foie gras, roasted short rib, braised rabbit and more. $95/pp.
The Beverly Hilton
Dine at the home of the Golden Globes, where Hollywood glam meets the prestige of Beverly Hills. At CIRCA 55 restaurant, you can dine on a la carte service with the option of a five-course prix-fixe menu (78/pp). Highlights include beet cannelloni with short rib, vegetable puttanesca, filet Mignon and more.
Bouchon Bakery Cafe
Feast on French Bistro fare with Bouchon Bakery Cafe's three-course menu. Highlights like Swiss cheese fondue, oysters on the half shell, seared sea scallops and braised short rib. $55/pp.
Chaya Downtown
Celebrate over a three-course prix-fixe dinner with selections like Chaya's acclaimed tuna tartare or terrine de Foie Gras with strawberry chutney and toasted brioche, miso-marinated Peruvian sea ball, grilled lamb chop and more.
Chaya Venice
Toast your lover over a three-course meal that is full of highlights like a platter for two with selections such as Chaya's classic tuna tartare, seared wagyu and spicy lobster roll; Angus filet Mignon with black truffle sauce and sautéed half Maine lobster; Tokyo sushi platter and more. $85/pp.
Republique
At this cozy La Brea Ave. spot, let Chef Walter Manzke wow you over a special four-course "His & Her" menu. $125/pp.
Nick + Stef's Steakhouse
Celebrate over top steakhouse fare on a three or four course menu that includes highlights like roasted beet salad; house made ricotta cheese with pistachio crumble; pan-seared diver scallops; oak-grilled filet Mignon and more. $78/pp for three courses; $90/pp for four courses.
Spaghettini & The Dave Koz Lounge
The new Beverly Hills hot spot is the perfect destination for couples looking for dinner and a show. Dine on an à la carte menu full of indulgent pastas, salads, land, and sea options while you enjoy live music in the in-house Dave Koz Lounge, during two shows: vocalist and trumpeter Ilya Serov at 7 p.m., and Grammy nominated bassist Nathan East at 10 p.m. Reservations required.
Lucques
Grab a seat close to the fire and celebrate over a five-course dinner full of highlights like buckwheat blini with American caviar, pan-roasted wild striped bass, grilled veal chops with chanterelles and more.
Terrine
Snag a spot on the new restaurant's romantic patio to enjoy dishes to share like dishes like celery heart, artichoke heart, heart of palm, romaine hearts with colatura, and parmesan; halibut cheeks with braised beef cheek ragout; and glazed chocolate cake with seas salt caramel frosting and English toffee. $65/pp.
a.o.c.
Wine lovers will delight in a special four-course dinner featuring specials like pea pancakes, dungeness crab and lemon cream; oven-roasted manila clams, sherry and green garlic; spanish fried chicken, romesco aïoli and chile-cumin butter; arctic char, fingerlings, crème fraîche and meyer lemon salsa; duck confit, black rice, red mustard and candied kumquats; wood-grilled lamb chops, artichokes and salsa verde; among many other selections. $100/pp.
Tavern
Toast your love in the glass-roofed atrium over a special four-course dinner that includes Maine lobster salad, wild mushroom risotto, seared sea scallops, wood-grilled rack of lamb and more. $95/pp
Cliff's Edge
Cuddle up on the restaurant's romantic outdoor patio and enjoy a complementary glass of bubbly while you dine on a special prix-fixe menu offering scallops with ancient grains, New York steak with potato, leeks and black truffles; and more. $85/pp,
Kendall's Brasserie and Bar
Take a romantic trip to France where you can dine on a three or four course menu that include highlights like lobster linguini, prime rib, duck leg confit and more. $60/pp for three courses; $75/pp for four courses.
Café Pinot
Stroll through the fountains in the front lawn of the L.A. Central Library before dining in a garden setting at Cafe Pinot. Lovers can indulge in a three or four course menu that features selections like ricotta gnudis, veal breast, crispy rabbit leg and more. $60/pp for three courses; $75/pp for four courses.
Ray's & Stark Bar
Treat your Valentine to world class art at LACMA before relaxing over a three or four course feast. Highlights include beef heart tartare, sweetbreads, oyster fricassee and more. $60/pp for three courses; $75/pp for four courses.
The Raymond 1886
Celebrate in Pasadena over a four-course prix-fixe menu from Executive Chef Time Guiltinan featuring selections like sashimi, Yucatan corn soup, roasted Jidori chicken, roasted artichoke ravioli, Colombia River salmon and more.
Strand House
Celebrate your love over ocean views over a special four-course menu from Executive Chef Greg Hozinsky. Highlights include a seafood tower for two, followed by spot prawn "scampi" with black garlic; for mains lovers can choose from a whole roasted loupe de mer or chateaubriand and top it off with strawberries and champagne or a chocolate soufflé.
Ocean Prime Beverly Hills
In addition to the regular menu of expertly prepared selections from land and sea, dine on specials like surf and turf, miso black cod and butterscotch pot du creme.
Cecconi's
Celebrate you love while you dine on sharable specials from Chef Alessio Biangini that include hamachi crudo with preserved citrus, cucumber and cilantro; chateaubriand  filet; whole baked sea bream; and more.
Fishing with Dynamite
Celebrate over special the "Love Boat," a chilled seafood platter with six oysters, two Peruvian Scallops, four shrimp cocktail, 1/2 pound king crab; steamed black cod in a Thai red curry; whole Atlantic lobster and more.
The Bazaar by José Andrés
Dine on all your favorites on the à la carte dinner menu with additional Valentine's Day specials on champagne, caviar, oysters and foie gras. The Patisserie will also be offering a special bonbon tasting menu accompanied by a bottle of champagne.
Tres by José Andrés
Celebrate over a Sweet Little Soulmates brunch that includes bottomless mimosas, one entree selection, brunch buffet and a box of Valentine's Day bonbons to take home. $69/pp.
Wolfgang Puck at Hotel Bel-Air
Wow your lover with a four-course prix-fixe menu that includes selections like Japanese hamachi sashimi with shaved market vegetables, maro blood orange ponzu and young shisho; Snake River Farms 'Waygu' style New York sirloin with maitake mushrooms, braised swiss chard and smoked potato puree; and grapefruit givre with lemon olive oil cake, lemon cream and grapefruit sorbet. $175/pp
Pistola
The Italian steakhouse is celebrating its first Valentine's Day with a three-course prix-fixe dinner courtesy of Executive Chef Vic Casanova. Highlights include big eye tuna tartare; American Wagyu flat iron; squid ink agnolotti with scallop, shrimp, lobster and sea urchin burro fuso; wild striped bass; and risotto with roasted beets, scallions and goat cheese.
Gracias Madre
Dine on a four-course vegan prix-fixe menu from Executive Chef Chandra Gilbert, with a specialty cocktail from Beverage Director Jason Eisner. Highlights of the menu include Sopa de Betabel (roasted be love farm beets, ancho oil, cashew crème,
burnt orange pecan dust), Ensalada Higo Asada (roasted fig, hazelnut, cashew truffle cheese, arugula), Lentejas Estilo Querétaro En Croix (braised lentils, roasted root vegetables, grilled pineapple, plantain beet ribbons, micro cilantro, pastry) and more. $50/pp.
Manhattan Beach Post
Celebrate over Valentine's Day specials like classic coq au vin for two, Neuske's bacon, heirloom carrots, hen of the wood mushrooms; Maine lobster ravioli; and seared foie gras.
Wildcraft, Culver City
Dine on a special five-course dinner that features highlights like cocoa tagliatelle with wild boar ragout; lobster risotto; and herb-basted pine flatiron steak with bacon confit potatoes. $50/pp.
Día de Campo
The Baja surf lodge-inspired eatery in Hermosa Beach offers reimagined Mexican specialties and celebrates Valentine's Day with live music and a four-course dinner. Highlights of the menu include wood-grilled octopus; scallops with parsnip puree; short rib empanada with corn salsa; and more. $55/pp.
Oliverio Beverly Hills
Celebrate over a four-course dinner. Executive Chef Mirko Paderno offers highlights like Mediterranean octopus with garbanzo beans and taggiasca olives; cauliflower soufflé with parmesan fondue and winter truffle; potato gnocchi with braised lamb ragu; cavatelli pasta with spicy langoustine sugo; Mediterranean sea bass with candied tomato, zucchini, lemon and white wine; and veal osso bucco Milanese style. Served with chocolate pave for dessert, as well as coffee and limoncello. $78/pp.
Fundamental
Celebrate over a six-course Valentine's Day tasting menu that features selections like wild snapper with pomelo, kohlrabi & cucumber ponzu; tortellini w/ house ricotta filling, peas, morels, whipped creme fraiche; and prime rib w with oxtail jam, soft grits & charred lettuce puree.
Bourbon Steak Los Angeles at The Americana at Brand
Executive Chef Kyle Johnson is celebrating Valentine's Day with a three-course set menu and wine pairings at Michael Mina's modern American steakhouse. Menu highlights include seared bay scallops with black truffles; bone-in rib eye; and lobster pot pie with brandied lobster truffle cream. $75/pp, $25/pp wine pairings.
Malibu Pier Restaurant & Bar
Enjoy Valentine's Day on the Malibu Pier with champagne, caviar and a three-course meal courtesy of Executive Chef Jason Fullilove. $45/pp; $25/pp wine pairings; Champagne & caviar first course additional $25/pp.
Hutchinson Cocktails & Grill
The new Indonesian Steakhouse is celebrating its first Valentine's with a five-course prix-fixe menu. Dine on special selections like cherry gazpacho; surf & turf satay with Maine lobster and beef filet and Dungeness crab salad. $95/pp, $45/pp drink pairings.
Goldie's 
Celebrate your love over a four-course prix-fixe menu that includes specials like lobster pasta; veal tartar; a meat or fish entree and more, including a complementary glass of champagne. $75/pp.
The Horn
Dine on a special Valentine's Day prix-fixe menu that includes highlights like olive oil poached sole, braised oxtail and molten chocolate cake. $75/pp, $150/couple.
Hamasaku
Dine on a five-course menu that includes a chefs market sushi selection. Other highlights are Maine "lovster" sashimi, Wagyu tenderloin and chocolate matcha lava cake. $75/pp.
Tipple & Brine
Treat your lover to a special three-course menu full of aphrodisiacs from Executive Chef Mike Williams. Highlights include oysters, seared foie gras with Canadian bacon, sea bass with cauliflower cream, pan-seared flat iron steak and more. $60/pp.
Herringbone L.A.
Head to chic Mondrian Los Angeles to dine on a special menu served on the restaurant's expansive outdoor patio. Dive into the three-course menu filled with highlights like wild Mexican prawns, black cod with shrimp dumplings, prime filet Mignon and house made cavatelli with eggplant and mustard greens. $75/pp
Blue Plate Oysterette West Hollywood & Santa Monica
In addition to Blue Plate Oysterette's fresh seafood menu, which includes everyone's favorite aphrodisiac—oysters—in various mouthwatering iterations, Chef Paolo Bendez'u will be preparing a handful of shareable specials for couple to take advantage of on their romantic night out. Dine on surf & turf with a 12 oz. blackened NY steak, butter poached lobster tail & parsnip puree; lobster tagliatelle, hand-cut pasta, arugula, cherry tomatoes, in a shellfish sauce;and king crab legs with drawn butter, arugula salad, corn and French fries.
Magnolia House
Cuddle up over a shareable five-course tasting menu featuring selections like puffer petite oysters, Wagyu rib cap steak, marinated black cod; and more. $125/couple.
Osawa
Celebrate over a bubbling cauldron of Shabu Shabu selections including rib eye, king salmon with spicy miso broth, Wagyu beef from Saga and more, including a complementary glass of champagne for the occasion; and more.
MAKE Restaurant
Celebrate a healthy Valentine's Day at Matthew Kenney's eponymous plant-based restaurant. The 10-course menu features dishes including celeraic tagliatelle with black truffle puree, walnut crunch, and oxalis; beets + berries with meyer lemon and wild cress; smoked maitake with shaved carrots, satsuma puree and chervil; and chocolate layer cake. Also enjoy a complementary glass of Cava or a kombucha cocktail while wine or juice pairings can be added for an additional fee. $75/pp.
Cast, Viceroy Santa Monica
Indulge in Chef Tony DiSalvo's intimate shared plates menu featuring delectable dishes like Kushi oysters with mignonette and cocktail sauce (+ $25 caviar supplement); chai tea poached lobster; black sea bass with Manila clams and chorizo; chocolate layer cake with chili ganache and salted caramel ice cream; and bananas foster crepes with bourbon ice cream. five courses starting at $125/couple, seven courses starting at $150, and nine courses starting at $175/couple.
Firefly
At Studio City's beloved date night destination, lovebirds can sit patio-side, and slip into the mood of the evening with an aphrodisiac-driven three-course prix-fixe menu, complete with a complimentary amuse of champagne to start, and ending with a mini fortune cookie petit fours with adoring messages tucked inside. $100/pp.
Vertical Wine Bistro
Celebrate over a four-course menu from Chef Laurent Quenioux. Highlights include  include endive and orange salad, seared scallops with sweet potato puree, lamb loin with potato gnocchi, filet Mignon and more. Stop by early to enjoy the new raw bar that is serving up oysters only from 3-6 p.m. $70/pp, $95/pp with wine pairings.
Saddle Peak Lodge
Take a leisurely drive to Malibu Canyon to enjoy a special four-course menu from Chef Chris Kufek. Highlights include Beau Soleil oysters with champagne gelée; oxtail ravioli with burgundy tomato sauce; grilled elk tenderloin; jumbo shrimp scampi with wild arugula; and desserts like banana huckleberry bread budding and macerated strawberry olive oil cake. $125/pp.
BOA Steakhouse Sunset
West Hollywood's modern steakhouse features special dishes, including oysters, an indulgent take on surf and turf (with 12 oz. center cut filet, ½ Maine lobster and king crab legs), and red velvet-inspired dessert.
Fig & Olive Melrose Place
Celebrate beneath the olive trees on a special three-course prix-fixe dinner. Highlights include roasted butternut squash cappuccino with prosciutto, ricotta, fig, and olive crostini; Chilean sea bass with spaghetti of zucchini, carrot, sundried tomato, lemon, celery root purée emulsion, and Coratina olive oil; roasted leg of lamb with herbs de Provence; and more. $79/pp.
Sushi Roku
Sushi Roku Hollywood offers a sushi-lover's dream—a five course prix-fixe menu that includes oysters, uni, truffles and more. $45/pp
Rascal
Celebrate the single life or your special someone at this neighborhood hotspot on La Brea Ave., where Executive Chef Andy Lee does not discriminate against your conscious coupling or non-coupling. Dine on specials like blistered asparagus and eggs, ricotta gnocchi; fettuccini with Arrabbiata sauce, pork sausage, olive tapenade and grated Parmesan.
The Rockefeller
The New York-inspired gastropub is offering a four-course prix-fixe dinner at both of its South Bay locations, courtesy of new Executive Chef Cody Diegel. Menu highlights include duck confit ravioli; lobster risotto; grilled filet Mignon; Moroccan braised lamb shoulder; and ricotta-filled endive spear with black truffles. $48/pp.
41 Ocean
Tucked away in a private courtyard along Santa Monica's Ocean Avenue, 41 Ocean invites both members and non-members to enjoy live music alongside a four-course prix-fixe dinner courtesy of Executive Chef Jimmy Martinez. Dine on highlights like oysters three ways (Rockefeller, yuzu mignonette, smoked), crispy skin branzino in a ginger-lobster broth; petite filet with seared foie gras; and truffle beef carpaccio. $100/pp.
Church Key
Celebrate over a special Valentine's Day tasting menu that features dishes like kaffir lime-cured hamachi, Ososky's potato pierogies, Dungeness crab-stuffed crepe, tapioca-crusted tai snapper and grilled beef rib cap. $110/pp, $45/wine pairing.
smoke.oil.salt.
Take a trip to Valencia, Spain to dine on special menu items like wood-fired cabbage with steak, boquerones and piquillo sauce; Sipia: cuttlefish with lentils and Iberico ham; and La Tarta: an almond Santiago tart served with homemade lime granita and almond ice cream.
Milo & Olive
If you're in search of a more casual dining option (with no reservations too), stop by the neighborhood spot for wood-fired pizzas and homemade pastas, alongside Valentine's Day à la carte specials, such as winter citrus and butter lettuce salad with toasted pistachios and warm goat cheese crostini; winter truffle and Parmesan risotto with roasted hen of the wood mushrooms and early English peas; osso buco with creamy herbed polenta, alongside wood-fired baby carrots and braising jus; and more.
East Borough
Dine on a four-course Valentine's Day tasting menu with wine pairings that highlights traditional Vietnamese dishes with French influence. Specials include lime-cured tilapia, salt cod beignets, Shaken beef, a whole fried fish and more. $45/pp.
The Pikey
Cozy up at the Hollywood gastropub over specials like grilled oysters with sunchokes and sea beans, "Lady and the Tramp" spaghetti and meatballs, spatchcock "love bird" with wild mushrooms and marsala, lobster ravioli and more. You can also choose to jump start your Vday with a half dozen oysters and a bottle of prosecco for brunch on special for $25.
aestus Restaurant 
Stop by the new downtown Santa Monica spot to enjoy a prix-fixe menu created by Chef Alex Ageneau. Wine pairings will be served with each course and selected by Owner/sommelier Kevin O'Connor.
The Hungry Cat Hollywood
Head to the heart of Hollywood to dine on a three-course dinner from Chef David Lentz. Highlights of the menu include dungeness crab & shrimp salad; ½ maine lobster, oxtail ragout; wild striped bass; dark chocolate tart; and more. $85/pp.
The Hungry Cat Santa Monica Canyon
Travel to the ocean to dine on a three-course feast that features selections like ora king salmon crudo; black bass with carrot puree; braised pork cheeks with Anson mills grits; grilled Maine lobster; and more.
Church & State
Head to the heart of downtown's Arts District to enjoy a four-course prix-fixe menu created by Executive Chef Tony Esnault. Chef has selected ingredients known for their aphrodisiac qualities and woven them into dishes like Huitres Glacee's (chilled Misty Point oysters, mignonette, caviar supplement $15), Risotto de Homard et Courge (Maine lobster and butternut squash risotto), Halibut Mariné aux Agrumes (slowly cooked halibut, fennel, celery, citrus emulsion) and Choux d'Amour Choco-Framboise (pâte á choux, chocolate cream, raspberry). $85/pp.
Piccolo Venice
Located just steps away from the beach in Venice, this romantic dining destination will be serving two special prix fixe menus for the weekend created by Executive Chef Bobo Ivan. Celebrate over a six-course "In Bobo We Trust" tasting menu ($110/pp) that includes fresh black winter truffles; or an eight-course "In Bobo We Trust: Lazy Lover Edition" tasting menu, with wine pairings $500/per couple) that includes fresh black Périgord truffle, foie gras and caviar.
Nest at WP24
Located on the 24th floor of The Ritz-Carlton, Los Angeles, Nest offers Asian-inspired cuisine along with sweeping panoramic views of downtown LA. On Valentine's Day weekend when you dine at Nest, show your Metrolink or Metro ticket and receive a complimentary chocolate dessert.
Tanzy
Celebrate over a three-course menu that includes a half bottle of wine. Highlights includes Liberty Valley crispy duck leg with creamy yellow polenta, chanterelle mushrooms and truffle vinaigrette; pan-seared day boat scallops "gratin", peekytoe crab, new crop potatoes, savoy spinach and butternut squash; and dark chocolate tart, cocoa nib, candied hazelnuts, praline crunch, blood orange gastrique. $89/pp.
Celestino Ristorante & Bar
Head to Pasadena to celebrate over a four-course feast that includes steamed lobster salad in a sweet pea sauce and melon; heart-shaped ravioli with red beets in a house-made goat cheese sauce; filet of sea bass served over on a bed of Peruvian mashed potatoes, with celery and black truffles; and more.
Catch
At Catch in Santa Monica guests can enjoy seaside views over a three-course, prix-fixe menu from Managing Chef Robert Kirchhoff. Highlights include Maine lobster salad with mango, papaya, citrus fruits, and mint; filet of beef with wild mushrooms, rosemary fingerling potatoes, and bordelaise sauce; and passion fruit chiffon cake with crème fraiche ice cream. $90/pp.
Preux & Proper
Chef Mike Ruiz brings the Big Easy to downtown with a special four-course prix-fixe Valentine's menu that showcases a fusion of NOLA favorites with seasonal California fresh ingredients. Highlights include roasted cauliflower; shrimp 'n' grits, pork belly roll and more.
Stella Barra Pizzeria-Hollywood
Dine on a three-course tasting menu with wine pairing that features highlights like local burrata with spicy tomato jam; pizza selection; and black tuxedo cake. $35/pp.
Sonoma Wine Garden
Dine on a three-course wine-paired dinner that includes highlights like diver scallops; braised short ribs; burrata salad; and French onion soup. $90/pp.
L'Assiette Steak Frites
The West Hollywood brasserie serves its signature dish, steak frites, in addition to indulgent menu additions like truffled steak frites and steak Rossini with foie gras and black truffles with beef tallow pommes frites.
TART
Celebrate over a a romantic four-course meal from Executive Chef Keith Shutta including lamb meatballs with smoked tomato, fresh ricotta cheese and fried bread; grilled pork belly with poached shrimp, artichoke and black garlic puree; seared scallops with creamed corn, bacon relish, and popcorn; and buttermilk panna cotta with balsamic-marinated strawberries and a cookie crumble. $40/pp.
Tortilla Republic
Celebrate over a passion-packed fiesta of flavors at the modern Mexican restaurant. Dine on a colorful prix fixe menu sprinkled with playful Valentine's details like the "Love at First Bite" strawberry margarita bite, roasted heart beet salad, red pear ceviche tostada, tequila-rubbed NY Steak and passion fruit crème brûlée. $69/pp.
Cardamom
Dine on a four-course dinner that includes a complementary glass of Pilau Rice, Raita and homemade Garlic Naan. Highlights of the menu include mixed tandoori platter, saag paneer, carrot pudding with homemade ice cream and more.
Plan Check Kitchen + Bar
The modern American eatery will offer Valentine's Day at all three locations (Sawtelle, Fairfax and downtown). Highlights include 5 Onion Burger with roasted onion spread, pickled onion, onion sprouts, fried onions, schmaltz onion, and melty Swiss; Super Spicy Chicken Sandwich with housemade habanero cheese, fried Jidori chicken, habanero mayo, and spicy pickles; Wine Lover Truffle Burger with housemade truffle cheese, truffle aioli, soy truffle baste, red wine reduction, grilled portabella mushroom and watercress; and more.
Soleto
The Southern Italian trattoria offers a romantic shared dinner for two that includes Italian flatbreads with prosciutto and burrata; sirloin a la Puglia or seared shrimp with charred cauliflower; and more including endless Kir Royales for $15/pp. $40/pp.