Explore the New Clifton's Cafeteria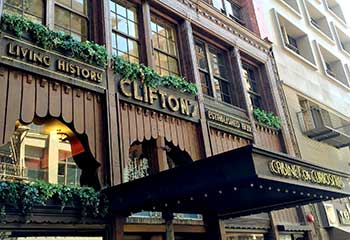 After a four-year-long closure and renovation Clifton's Cafeteria reopens Oct. 1 on Broadway in downtown L.A.
By Christina Xenos
Downtown Los Angeles' iconic cafeteria is back. The original Clifton's opened as Clifton's Brookdale in 1935 in a building that was constructed in 1904, now one of the oldest on Broadway. It closed in 2011 and owner Andrew Meieran has been spearheading its multi-million-dollar renovation ever since. Now you can enjoy the woodland ambiance of the first-floor dining room, revamped upscale cafeteria-style fare (think salads, carving stations, pizza and Clifton's signature Jello) from Jason Fullilove who used the restaurant's original recipe cards as inspiration for the new menu, and the second-floor Monarch Bar that sits under a 40-foot tree. Eventually, the 47,000-square-foot space will house five new bars and restaurants throughout multiple floors in the building. The opening date for Clifton's was slated for Sept. 22, but according to their facebook page, they are working around the clock to finally reopen their doors.
Take a closer look at the new Clifton's Cafeteria
[Best_Wordpress_Gallery id="66″ gal_title="cliftons"]
648 South Broadway, downtown, 213.627.1673. cliftonsla.com