Indulge in Eats from Roy Choi at Pot in Koreatown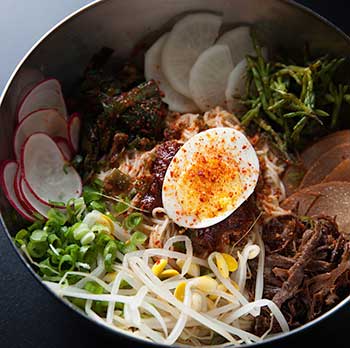 Dine on creative Korean eats from Chef Roy Choi at Pot inside the Line Hotel in Koreatown. It's a cultural dining experience the whole family will enjoy in LA!
Pot, Roy Choi's restaurant inside Koreatown's hip new Line Hotel, dishes up stick-to-your-bones eats such as galbi (Korean marinated and barbecued short ribs); salt-brined and fried croaker; and an everything-but-the-kitchen-sink hot pot filled with ramen, Spam, sausage, fish and rice cakes, corned beef hash and chili paste. But the family-style menu shouldn't deter tables for two: Hot pots come in individual, small, medium and large sizes. For drinks, unusual cocktails might combine soju and natto (fermented soybeans), and the lobby café stays open late to satisfy the munchies with decadent treats including a Ritz candy bar made of cornflakes, saltines, chocolate and pecans with a butter toffee Ritz cracker crust.
3515 Wilshire Blvd., Koreatown, 213.368.3030. eatatpot.com