Dine Well at The Larchmont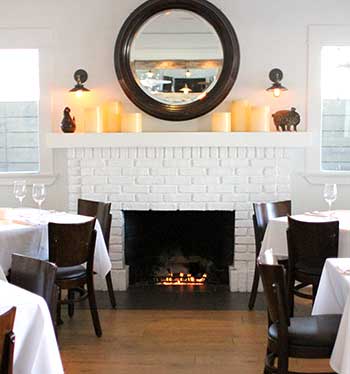 The Larchmont, set in a hundred-year-old Craftsman-style bungalow, boasts elevated sustainably sourced fare.
By Christina Xenos
There are few restaurants in Los Angeles where you can dine and feel right at home. The Larchmont, set in a hundred-year-old Craftsman-style house, has the advantage. The two-story space glows with soft light and bustles with neighborhood regulars and curious culinarians who are relaxed in the main dining room or casual patio. Walk in and you're beckoned by Carrara marble-topped bar an menu of seasonal crafted cocktails.
The concept has gone through a few incarnations (you may remember the Larchmont Grill for example) before March 2013 when owners Mathew Cape and Spoon Singh took over and focused the restaurant's concept and feel from an ordinary to a more extraordinary experience complete with market-driven menus and a new pedigreed chef.
Executive Chef Kevin Kathman honed his skills with dining heavyweight Thomas Keller at The French Laundry before hitting Michelin-starred kitchens throughout Europe and eventually breaking out on his own before moving to Los Angeles. For The Larchmont, Chef Kathman is aiming to push the envelope of neighborhood dining and create beautiful food inspired by seasonal produce.
"I want to give people the experience of a restaurant you might eat at once a year or once in your life, yet at the same time keeping it approachable."
Here's a closer look at the menu at The Larchmont:
[Best_Wordpress_Gallery id="25″ gal_title="The Larchmont"]
Currently, The Larchmont serves dinner Mon.-Sat. 6-11 p.m., and lunch Mon.-Fri. 11:30 a.m.-2:30 p.m. Starting May 2, look forward to hitting the bungalow for a decadent, local and sustainably sourced brunch. The menu features highlights like deviled eggs with smoked whitefish, caviar and Meyer lemon; butter-poached king crab with béarnaise, crispy potato and poached eggs; and The Stoner with peanut butter crunch French toast, maple bacon and roasted banana—with an option to add foie gras. Also enjoy special mimosas featuring Ojai's iconic pixies from Singh's farm will toast the restaurant's two-year anniversary.
5750 Melrose Ave., L.A., 323.464.4277. thelarchmont.com