Artistic Dining in Los Angeles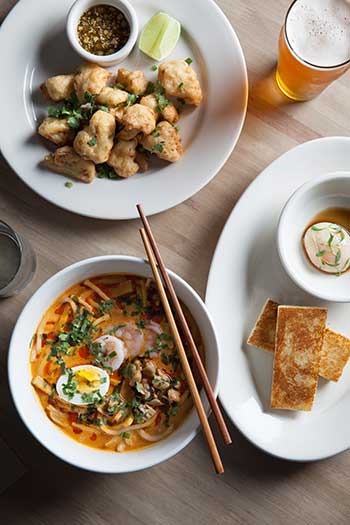 Culture is best consumed on a full stomach. Explore some of L.A.'s best arts-convenient dining opportunities, both classic and new to the scene.
Culinary artistry can stand on its own, but dining in Los Angeles offers remarkable opportunities to combine memorable dining with world-class performing or visual arts. Every concert hall, museum and theater is within close proximity of exceptional cuisine. Here we explore some of the city's best arts-convenient dining opportunities, both classic and new to the scene.
The Broad—one of L.A.'s most eagerly awaited museums—sits almost next door to Frank Gehry's now-iconic Walt Disney Concert Hall. Even the most dismissive critics of L.A. would have to admit this pair of architectural/cultural achievements is extraordinary.
Disney Hall has Patina, where chef Paul Lee creates exquisite tasting menus served in an elegant setting. Adjacent to the Broad's olive-tree-shaded plaza is forthcoming Otium, due open this month with a kitchen overseen by former French Laundry chef de cuisine Timothy Hollingsworth. The cuisine—think heirloom-tomato tart with caramelized onions and burrata, or spot prawns with Spanish chorizo, piquillo peppers and caper emulsion—balances rusticity and sophistication, while the vibe is fine dining without the fuss. With the Music Center's multiple stages just up the block and MOCA across the street, Otium is a perfect complement to whatever art you crave.
Also located amid this impressive collection of cultural institutions is Vespaio, a project of veteran restaurateur Agostino Sciandri (Ago, Toscanova). Located in the Emerson, the exclusive residential tower designed by Miami-based Arquitectonica, Vespaio offers a California-influenced Italian menu that includes citrus-marinated tuna with fennel, and sautéed veal kidney with lentils and mushrooms. The restaurant's expansive patio, reflecting a design inspired by midcentury men's fashion and Italian yacht culture, is a welcome
addition to Bunker Hill. And newly renovated Nick & Stef's Steakhouse now sports a contemporary take on a mid-century modern aesthetic with a menu centering around USDA prime onsite 28-day dry-aged selections in addition to eye-popping options such as a Tomahawk Rib Chop or Prime Fiorentine T-Bone that are carefully grilled over oak and mesquite. You can also savor Wagyu selections and expanded seafood items like a raw bar with $3 oysters, seafood cocktails and shellfish platters.
Beverly Hills' Wallis Annenberg Center for the Performing Arts is another venue that doubles as an architectural landmark, and while there's no full-service restaurant inside, an easy stroll presents multiple possibilities. Just a block down Cañon Drive is Wolfgang's Steakhouse, whose founder was headwaiter at Brooklyn's legendary Peter Luger Steak House. Enough said.
Next door, in what looks to be a gourmet market is just that but much more. Wally's Beverly Hills offers a selection of more than 2000 bottles of wine—100 available by the glass—along with a menu from Chef David Feau. The dining destination also offers the city's largest selections of truffles, which Feau incorporates into his own dishes (foie gras with truffle torchon, soft scrambled truffle eggs and truffle risotto), or on anything on the menu.
Two blocks farther is Spago, home to L.A.'s most famous Wolfgang, Wolfgang Puck. There, in a refined indoor-outdoor setting, the celebrity chef applies French technique to Hong Kong-style steamed fish and offers a veal Wiener Schnitzel from his native Austria as part of a special prix-fixe pretheater menu.
The Broad Stage at the Santa Monica College Performing Arts Center—another philanthropic contribution by Eli and Edythe Broad—is close to some of Southern California's best restaurants. Just three blocks away is Cassia, the new restaurant helmed by talented young chef Bryant Ng; next door to Cassia is Esters wine shop and bar from co-owner & Wine Director Kathryn Coker (a veteran of Rustic Canyon) and her husband, Tug, who join Josh Loeb and Zoe Nathan—the team behind beloved dining destinations Rustic Canyon, Milo & Olive, Huckleberry and Cassia; and less than two blocks away is Mélisse, which combines exquisite modern French cuisine with an approachability that suits Santa Monica's coastal setting.
In summary, even if your significant other is simply not into Puccini or Pissarro, the excellent neighboring dining opportunities will surely generate some interest!
—Adapted from Artistic Dining, by Roger Grody, in the October 2015 issue of Where Los Angeles magazine.