The Art of Charcuterie at Cafe Pinot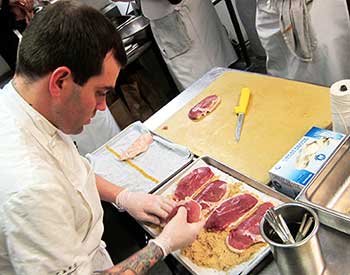 Learn to prepare a variety of meats during the Art of Charcuterie class series at Cafe Pinot.
By Christina Xenos
Restaurants around Los Angeles have been beefing up their charcuterie selection as of late, and now you can up your meaty game with a new series of charcuterie classes at Cafe Pinot.
Spend your Saturday at one of downtown Los Angeles' only freestanding restaurants to get a first-hand look at this nose-to-tail cooking trend with a one-of-a-kind educational experience.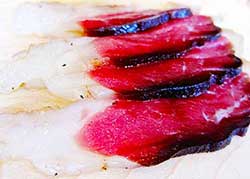 Executive Chef Joe Vasiloff is the perfect teacher. He's had years of experience crafting and perfecting the art, starting when he would watch his grandmother break down whole pigs on their family farm in Alabama. Now, Vasiloff shares his expertise and knowledge on the practice with detailed courses that delve into the time-honored method of curing and preserving meats.
The new hands-on learning series kicked off this month with a study of duck prosciutto and duck rillette. During the two-hour chef-guided lesson, Vasiloff guided a small group of foodies in preparing duck breasts for prosciutto and curing and breaking down confit duck legs to make rillettes. Each person in the class left with a jar of rillettes and was able to sample expertly cured slices of both the rillettes and prosciutto, along with some stealthy paired cheeses and wines during a post-class reception.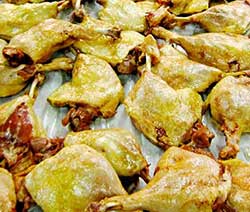 The series continues on March 7, with Pork Terrines: Smoked Pork Cheek and Country Pork Pate, and on April 11, with Summer Style Sausages: Rabbit & Chicken Liver, Beef Heart & Squab. Each class is followed by a 45-minute reception where you can taste a sampling of the featured charcuterie, domestic cheese and wine.
You can take each class individually or as a complete series. Classes are $75/per person, per class.
All you have to do is fill out the online reservation form here, and return it to artofcharcuterie@patinagroup.com.
Café Pinot, 700 W. 5th St., downtown, 213.239.6500. patinagroup.com/CafePinot