6 New Ways To Eat Vegan in Los Angeles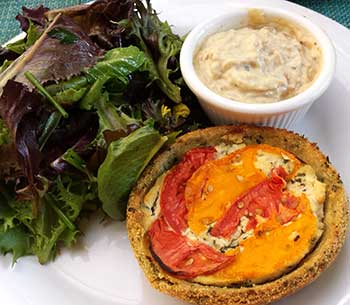 Plant-based fare is en vogue in L.A. to the highest degree. Check out where you should be eating vegan in Los Angeles. Discover why going vegan can be both tasty and trendy when it comes to what's happening in LA's food scene.
By Christina Xenos
Four Seasons Los Angeles Cabana Grill
Luxe rooftop surroundings are the perfect pairing with plant-based plates at Four Seasons Hotel Los Angeles at Beverly Hills. The hotel partnered with Spork Foods, an organic vegan cooking school and food company, to collaborate on new menu choices that will please event the pickiest palate. Start simple with maple wood-smoked mushroom skewers served with a sundried tomato-cashew dipping sauce, and then move into the ever-indulgent battered avocado tacos served with house-pickled purple onions and ranchero black beans; those leaning vegan and gluten free can sink their teeth into the tomato and herb tart with almond "ricotta" filling, herb salad and roasted Gilroy garlic dressing.
The Gadarene Swine
Indulge in chef Phillip Frankland Lee's (Scratch|Bar) avant-garde new-vegan cuisine at his recently opened Studio City outpost, The Gadarene Swine. The plant-based a la carte menu isn't a fallacy at all; it features signatures like roasted mushrooms with burnt sweet potato, crispy lollipop kale and "vegetables in a box" (made out of potato). You can also opt for a four-course tasting menu available at the chef's counter where you'll get a bird's-eye view of Lee preparing your meal. Also find full beer and wine lists, and homemade mead.
SunCafe
Once a tiny cafe for those in-the-know, SunCafe has recently moved up Ventura Blvd. and tripled their space, including a multi-level outdoor patio. The expansion doesn't stop there, however; in addition to SunCafe's stellar plant-based fare, you can also enjoy offerings from their new eclectic beer and wine list. The vegan—with many raw options as well—menu is peppered with indulgent comfort food staples like mac 'n' cheese, zucchini lasagna and pad thai, in addition to a selection of pizzas that can arrive gluten free. SunCafe also carries over their blended to order shakes including flavors like Sweet Kale (kale, banana, cashew, agave) and Mint Shamrock (spinach, banana, cacao, cashew, agave).
Crossroads
Crossroads raised the bar on Los Angeles vegan fare, serving up conscious cuisine and culinary-driven cocktails paired with a luxurious atmosphere. Recently, the West Hollywood hotspot launched Sunday brunch, which offers selections like their signature Benedict with herb chickpea panisse, sautéed kale, shittake bacon and tomato hollandaise; along with "chicken" and waffles, gluten free (or full) French toast and a variety of cold plates and sandwiches. In addition to all the dining options, don't pass up the Bloody Mary cart where you can pick stack your drink with a multitude of garnishes like a dehydrated tomato wheel, roasted balsamic ciopollini onion, cornichon stuffed olive or almond milk truffle dill cheese.
Gracias Madre
The first Southern California outpost of the all-organic vegan Mexican concept—from the team behind beloved Cafe Gratitude—took conscious eaters by storm when it opened it's doors in West Hollywood in January. After almost a year, the perennially packed dining destination has rolled out brunch (think chimichangas with smoked tomato sauce, gluten free French toast, breakfast tortas, and potato & "chorizo" hash) and a weekday happy hour with specials on select cocktails, margaritas, wines and beers ($5-$8).
Bar Ama
When chef Josef Centeno's foray into Tex-Mex started out downtown spot's menu leaned toward the meaty end of the spectrum. But two years in, those who practice eating plant-based can indulge in plenty of plates. Kick off your ordering frenzy with the restaurant's gooey and creamy queso, made with cashew cheese. The array of options continues with stars like mole eggplant, cauliflower and cilantro pesto, and a variety of enchiladas. Pair them all with stellar crafted cocktails, expansive selection of tequilas and mescals, craft beers and wines.