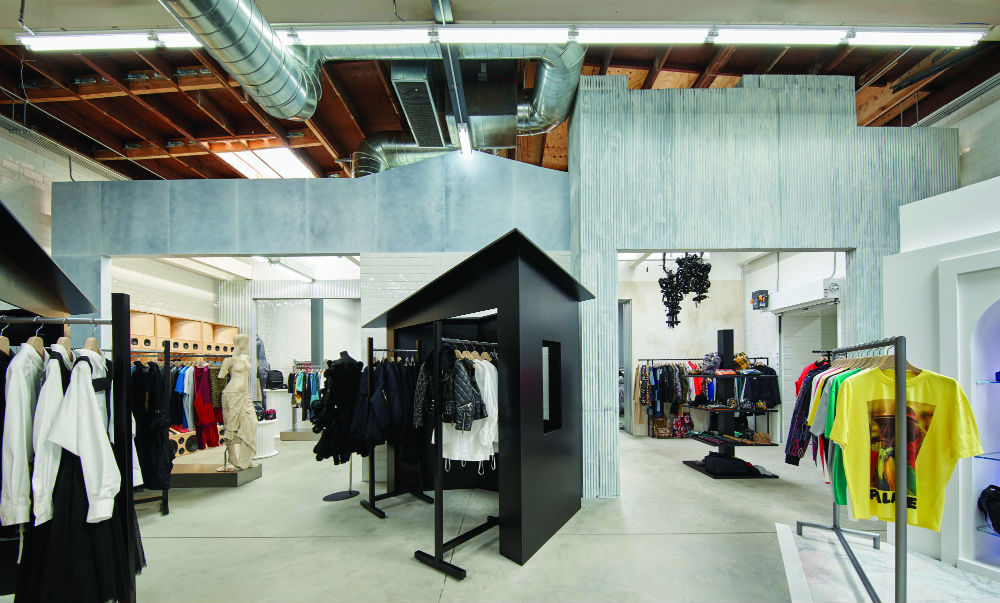 The City of Angels' architectural gems are getting a second, stylish life.
By Danielle Directo-Meston.
Fashion and architecture are no strange bedfellows, and Los Angeles is a haven for both. Despite what stereotypes will have everyone believe, the City of Angels is not a desert filled with beige strip malls and athleisure enthusiasts. In fact, L.A. actually boasts a Mediterranean climate, and its dynamic design landscape is home to the Frank Gehry-designed Walt Disney Concert Hall; the modernist manses of Richard Neutra; and a downtown district dotted with art deco landmarks—many of which are becoming home to the style world's most innovative names.
L.A. may not hold the same pedigree as Paris, Florence, Italy, or other international style metropolises with dozens of centuries of history under their belts—but it does have a reputation for being a West Coast wonderland of reinvention (not to mention it's a mecca of midcentury-modern design). Given that European luxury labels like Saint Laurent, Dior and Burberry have all staged star-studded runway shows in some of our city's most famous places (the Hollywood Palladium, a Calabasas wildlife preserve and the Griffith Observatory, respectively), our sprawling cultural destination has clearly solidified its status as a capital of fashion-world-approved cool.
When it comes to buying fashion in our city, forward-thinking retailers aren't necessarily making their L.A. debuts in sleek, newly constructed buildings. Instead, they're looking to the past and reinvigorating some of our most beloved architectural treasures—including many in downtown.
"L.A. is so underrated when it comes to its history," especially when compared to major cities in Asia and Europe that are thousands of years old, says Brigham Yen, a downtown-based realtor and blogger behind DTLA Rising. "Because of the suburbanization of L.A., people only focus on the youngest part of the city, the Westside," and they often overlook culturally rich downtown, he says.
The CliffsNotes of L.A.'s historical narrative goes like this: L.A. was officially founded by colonial Spaniards in 1781; long before that, the Tongva and Chumash tribes made the land their homes. Though the exact location of the very first pueblo is long-lost, local historians agree that modern-day Chinatown was the epicenter of L.A. when Mexico ruled California from 1821 to 1848. Following the Golden State's unionization, many of the buildings erected in the late 1870s during California's Wild West days through World War II rose up in what we know as the Historic Core of downtown. Fast-forward to today, and many of those buildings that were influenced by Spanish, Moorish, Italian Renaissance, Egyptian and Byzantine architecture are now considered architectural classics.
Yen explains that, when compared with other cities, "Architecturally, L.A. compares very favorably [because]people have such low expectations." "When people come here, there's a little bit of shock," he says, adding that most visitors don't expect to see the same styles of architecture in L.A. as they would in San Francisco.
"So many of us [millennials] now are really just interested and appreciate the history of these beautiful, historic structures," says Yen. Whether they're locals or tourists, today's shoppers are seeking authenticity—and that's something that L.A.'s storied edifices can offer.
Perhaps that's why Visvim, one of Japan's coolest exports, has settled into one of L.A.'s most recognizable locations—at least, from the inside. The Tokyo-born brand set up shop last summer inside the iconic Bradbury Building, which is the oldest commercial structure still standing in the city center, according to the L.A. Conservancy. Located in the Historic Core, the 1893-built gem's bricked interiors, sun-drenched Victorian courtyard and ornate wrought-iron railings might be familiar to film fanatics as the futuristic apartments in the 1982 sci-fi classic Blade Runner.
Visvim founder and designer Hiroki Nakamura is himself a newly minted California transplant and even drew inspiration from his new home state's majestic national parks for a recent capsule collection with online menswear retailer Mr Porter. At his 3,000-square-foot L.A. boutique (named Visvim Exposition), the gallery-esque space isn't shy about its Americana influences. There's a vintage Airstream trailer that displays the brand's exclusive collection of quilted patchwork jackets and indigo-dyed denim pieces, as well as an olive green army tent that showcases utilitarian menswear staples inspired by the trailblazing Native American soldiers of WWII. There's also a pair of larger-than-life moccasins that somehow blends in seamlessly with the store's Japanese decor (which includes a carp streamer and a bonsai tree).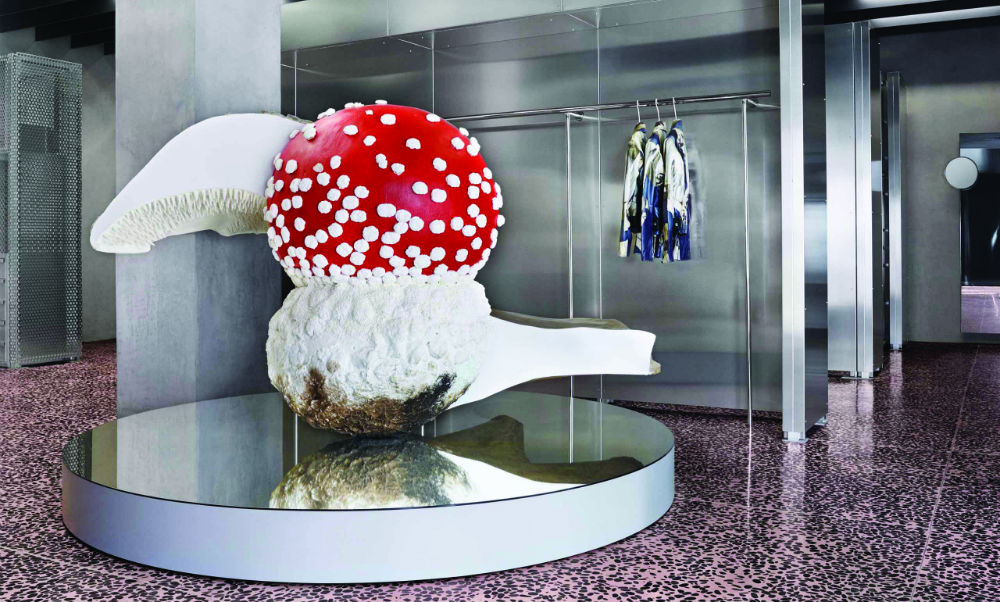 Farther south on Broadway, at the intersection of 9th Street, slow but steady redevelopment in recent years has revitalized the Historic Core's long-dormant shopping scene. A vibrant retail district from the '20s through the '40s (before suburban sprawl and freeways drew L.A. dwellers out of DTLA), the corridor's transformation picked up speed five years ago with the arrival of Ace Hotel, which renovated and restored the former United Artists Building and its attached theater. Down the street is the Eastern Columbia Building, an art deco jewel that opened in 1930 and that's now home to Berlin-bred eyewear brand Mykita and Swedish label Acne Studios—the latter of which was recruited by real estate firm Tungsten Property (the Ace's co-owner) to join Broadway's retail revival.
"The buildings back in the day were just built better; they used materials that would never make economic sense today," says Yen of the movie palaces of Broadway. "They have marble, really intricately carved plaster, terra cotta—the amount of attention to detail that went into these buildings is not available in today's craftsmanship. I think a lot of these [modern-day] companies are really smart because if you're really trying to sell your products and convey quality, then what better way to do that than also be in a building that's also [considered] high-quality."
That explains why so many traditional mall brands are now looking to cash in on what today's marketers might call the "experiential" quality of historic spaces, including on Broadway. Case in point: Shopping for Korean beauty products and bohemian wardrobe staples at Urban Outfitters inside the Rialto Theatre (which opened in 2013) is a decidedly different experience than browsing at the hip retailer's store at the Americana at Brand in Glendale.
The same goes for COS, H&M's minimalist-chic label that took over the 1927-built Olympic Theatre for its third L.A. store two years ago, followed by another location at Westfield Century City last year. For COS, "L.A. has always been a city of huge importance, and the architecture, art and design scene here are all points of inspiration for our creative team," which was influenced by L.A. buildings designed by architect Frank Lloyd Wright, as well as the Eames House, says managing director Marie Honda.
The Sweden-based company was "committed to maintaining and restoring the original features of its buildings, and with this store, we undertook the restoration of the iconic 'Olympic' sign, using photographs from when the theater was first opened," says Honda. "[We also] preserved some of its original charms whilst also giving it a new lease of life with a modern COS store interior."
Also new to Broadway is Nike-owned Jordan Brand's nearly 25,000-square-foot experimental flagship Jumpman LA, which turned a 1928-built landmark into a two-story athletic training ground—complete with a state-of-the-art performance testing lab, a clothing customization bar and even a regulation-size rooftop basketball court. That's not all: A massive Apple flagship is headed to the Tower Theatre nearby, and rumors are swirling that the tech giant plans to completely encase the building in glass. (We'll believe it when we see it, as the Silicon Valley company is known for its secrecy.)
Over in the Arts District is Dover Street Market, yet another noteworthy DTLA arrival. The legendary multi-brand designer boutique debuted its first West Coast outpost last fall, but the showstopper isn't the 15,000-square-foot space's history or its stark white exterior—it's the inside that devotees of interior and fashion design will find mind-blowing.
Dubbed DSMLA, the store takes up two side-by-side industrial warehouses just steps from where the historic (and now demolished) Sixth Street Bridge once stood. It's only the second U.S. outpost for the avant-garde concept retailer, which was designed by co-founder and Comme des Garçons designer Rei Kawakubo—a pioneering experimental fashion force in her own right.
When dreaming up the L.A. store, the Tokyo- and Paris-based Kawakubo—who has referenced renowned Swiss architect Le Corbusier as an influence in the past—was guided by the concept of an "ongoing atmosphere of beautiful chaos." It's the same approach that's steered the designs of her five other carefully curated Dover Street Markets in London (where the first location opened), New York, Tokyo, Beijing and Singapore.
Shoppers can zigzag their way from a corner devoted entirely to Gucci on one end of the store to a streetwear-happy section on the opposite side that's stocked with logo hoodies from Off-White, tees and sweaters from Nike, and sneakers from Converse. Spanning across one floor and with no street-facing windows, the store is defined by "two massive white translateral huts" that contain fitting rooms, cash wraps and concept spaces, the retailer says in a statement. Surrounding the "huts" are shops-in-shop for Chanel Fine Jewelry; luxury labels including Balenciaga, Marc Jacobs and Vetements; rising designers like Marine Serre and Melitta Baumeister; and streetwear brands like Palace and Noah, among others.
It all may seem like a disjointed labyrinth at first, but a glossy printed floor guide lays out a deliberate floor plan designed to impress stylish visitors at every turn. Dividing walls made of corrugated sheet metal and chain-link fencing punctuate the space, while white ceramic subway tiling and chic marble flooring are a nod to L.A.'s "light and openness." Should exhausted, well-heeled guests need to kick up their feet, the in-store Rose Bakery boasts a menu of sweet and savory scones, melted-cheddar and chutney sandwiches, and espresso sips from Demitasse Coffee Roasters.
Not all of the action is happening in downtown these days, though. Superfans of Dover Street Market are likely well acquainted with Opening Ceremony, the designer concept boutique that made its L.A. debut over 10 years ago in West Hollywood. Founded in New York by friends Carol Lim and Humberto Leon (who met as undergraduates at UC Berkeley), the bicoastal brand has become a vanguard of cult-cool style: It was an early champion of designer labels like Alexander Wang, Rodarte and Proenza Schouler (they're now all regulars in the closets of fashion folks), and it now boasts its own in-house collection.
The two-story shop pays homage to its co-founders' Southern California upbringings in the form of a mini-mall—one that stocks a mix of cult-favorite designers and laid-back staples that fit right in with the store's playful-yet-luxurious aesthetic. You might find esteemed labels like Kenzo (where Lim and Leon are also creative directors), Raf Simons and Jacquemus commingling with slip-ons from Vans, chic socks and cheeky tchotchkes.
True to its creative, against-the-grain spirit, the brand eschewed trendy Melrose Avenue for a low-key space not far from the buzzing shopping stretch. That space? None other than the former dance studio of silent-film superstar Charlie Chaplin—and now, a decade later, many more are discovering that L.A.'s the perfect stage to march to the beat of their own fashion drum.