Orange Is The New Black Panel Recap From Paleyfest 2014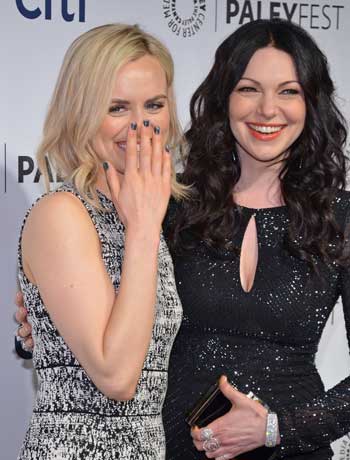 Did you miss your chance to see the cast of hit show Orange Is The New Black in action at Paleyfest 2014? Get all the details of the panel discussion in our recap below.
By Christina Xenos
On March 14, fans of the hit Netflix original series, Orange Is The New Black flocked to Paleyfest at the Dolby Theatre inside Hollywood & Highland Center to fawn over their favorite characters, discuss the inaugural season, and get the scoop on Season 2, which premieres on June 6.
Paleyfest—now in full swing through March 28—is a two week celebration that gives you inside access to the stars and creators of you favorite TV shows through panel discussions and more.
Rounding out the panel for OITNB were Jenji Kohan, Creator & Executive Producer; Taylor Schilling, "Piper Chapman"; Jason Biggs, "Larry Bloom"; Laura Prepon,"Alex Vause"; Natasha Lyonne, "Nicky Nichols"; Kate Mulgrew, "Galina 'Red' Reznikov"; Danielle Brooks, "Tasha 'Taystee' Jefferson"; Uzo Aduba, "Suzanne 'Crazy Eyes' Warren"; Taryn Manning, "Tiffany 'Pennsatucky' Doggett"; Yael Stone, "Lorna Morello"; Laverne Cox, "Sophia Burset"; Michael Harney, "Sam Healy"; Lorraine Toussaint, "Vee"; and an appearance was also made by Lea DeLaria who plays "Big Boo" on the show and joined the cast on stage mid-panel.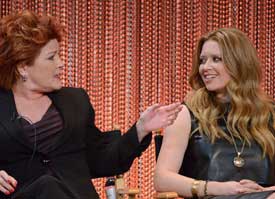 And it was from DeLaria that one of the biggest revelations of the evening came. When discussing the overall success of the show and the issues it succeeds in bringing to the mainstream, DeLaria noted that before the show people used to chase her down the street calling her a dyke, and now they chase her down to tell her how much they love Orange Is The New Black.
This was in sharp contrast to Jason Bigg's experience. When asked how people responded to him being on the show, he said in a moment of self deprecation that they still call him "Pie Fucker," from his role in American Pie.
For over an hour-and-a-half, the cast bantered about the amazing chemistry they have with one another, how the show gives a voice to those who don't have one, how everyone is bringing their A-Game to the set, and how if they had to choose one person to be their prison wife, they'd all choose to be polyamorous.
The cast also gave a few hints on what we could expect in Season 2. First and foremost, Lorraine Toussaint's character "Vee" will be introduced. Vee is supposedly a "streetwise drug maven who runs children" and will supposedly shake everything up on the show. She says she plays a character who "plays and enjoys the game" and has a "great deal of fun" while she's doing it. The cast also had a great deal of fun working with her. "The times I got to work with her, it felt like an Oprah masterclass," said Brooks.
We will also get to learn more about Stone's character, Lorna Morello; Brooks' "Tasha 'Taystee' Jefferson"; Samira Wiley's Poussey Washington; Barbara Rosenblat's Miss Rosa and more.
Paleyfest 2014 continues through March 28. Find the full lineup in our Paleyfest coverage.