Rattlestick Playwrights Theater Presents: Slipping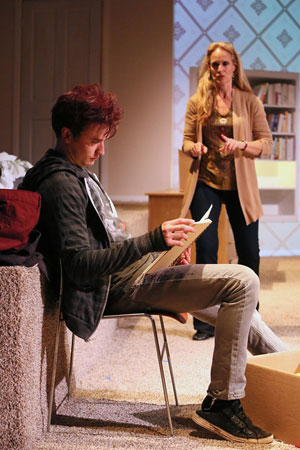 Considered one of off-Broadway's most respected companies, OBIE Award-winning Rattlestick presents its first Los Angeles production of Slipping, which runs through May 5, at the Lillian Theater in Hollywood.
The play follows the emotional trajectory of 17-year-old Eli, after the violent suicide of his beloved father. After Eli moves with his mother for a fresh start in Iowa, he is befriended by a boy at school, which exposes Eli again to the possibility of closeness and the danger of being swallowed by it.
"It is a play about love, and how it is so hard for so many of us to face it, to stare it in the face, to know what to do with it," writes playwright, Larry Kramer in the play's foreword. "Especially when we are young, but not only then."
Slipping, which was originally workshopped and developed at London's Royal Court Theatre and Rattlestick, received its world premiere at Chicago's The Side Project, directed by Adam Webster. For its New York premiere at Rattlestick Playwrights Theater under the direction of Kirsten Kelly it featured MacLeod Andrews, Adam Driver (currently starring in HBO's Girls), Meg Gibson, and Seth Numrich. The critically acclaimed, sold-out New York production was named one of the top ten plays of 2009 by The Advocate.
The Los Angeles cast of Slipping includes MacLeod Andrews (Slipping in New York, Too Much Memory at piece by piece/Rising Phoenix Rep); Maxwell Hamilton (professional stage debut, UCLA productions of  RENT and Neon Boneyard); Seth Numrich (Golden Boy, War Horse, The Merchant of Venice on Broadway, Iphigenia at Signature, the New York production of Slipping); Wendy vanden Heuvel (Resurrection Blues by Arthur Miller at the Guthrie Theater, Counting The Ways/Talk To Me Like the Rain… at the Magic Theatre, A Movie Star Has to Star in Black and White at Signature). For the final two weeks actor Wyatt Fenner (The Whale, Misalliance, Next Fall) will take over the lead role of Eli.
$34. Thurs.-Sun, through May 5. Lillian Theatre, 1076 Lillian Way, L.A. rattlestick.org