Planet Dailies and Mixology101 Serve California Fare, Expertly Mixed Cocktails at LA Farmers Market
Perched in a second-floor space boasting views of the Los Angeles Farmers Market and The Grove, Planet Dailies and its cocktail counterpart Mixology101 serve those seeking classic fare with a fresh spin and expertly mixed drinks.
By Christina Xenos
The concept, from Planet Hollywood, but this spin-off is sleek and modern, one that fits in well with the laid-back Farmers Market vibe. Planet Dailies boasts a modern interior dotted with television screens. They serve classic fare with a fresh, California twist at lunch and dinner, including ingredients sourced from a variety of independent California ranches and farms. Appetizers include selections like caprese sliders; Tex-Mex egg rolls; and crab and lobster cakes; while entree options include spinach and peaches salad with grilled chicken, strawberries and bleu cheese; sweet and sour pork with snap peas and pineapple; shrimp far diavolo pasta with a spicy rosa sauce. Rounding out the menu are the Dailies burger with Angus beef and California cheddar; and ham and fig, and roasted eggplant with spinach pizzas.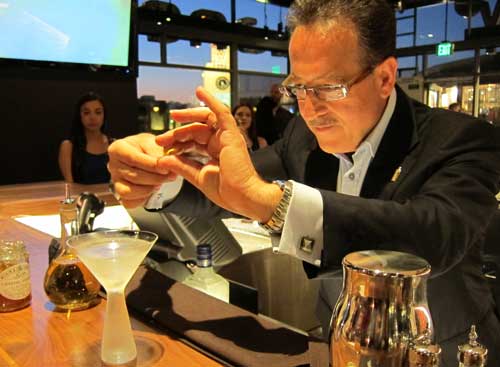 Across the way Mixology101 is an imbibers oasis featuring a selection of inventive, handcrafted cocktails from internationally-renowned mixologist, "The Maestro" Salvatore Calabrese's (Playboy Club London). "Breakfast Martini" (gin, contra, fresh lemon, spoon of marmalade) and Joseph Brooke's (The Edison) Farmers Market Martini homage to the location and the blue-green gas which was the cornerstone of the Gilmore Family fortune.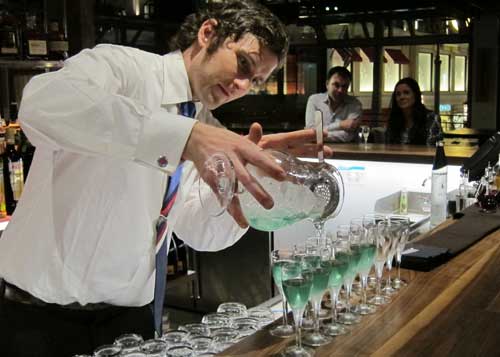 View our full photo album from Planet Dailies and Mixology101:
[nggallery id=89]
Planet Dailies and Mixology101, LA Farmers Market, 6333 West 3rd St, Suite O20, L.A. planetdailies.com, Mixology101LA.com