Della x Saguaro Hotel Pool Party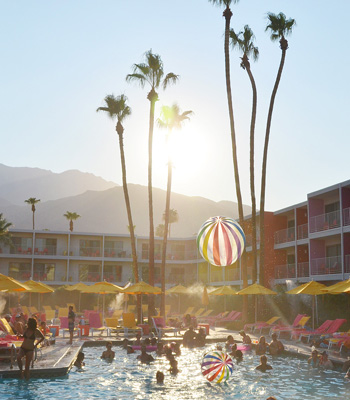 As 4th Of July Hit Los Angeles the stylish headed to Palm Springs for the Saguaro Hotel's 4th of July Pool Party.
By Kelly Bone
The blazing sun of Palms Spring was no match for the heat of the Della x Saguaro Hotel's 4th of July Pool Party. Angelenos escaping the city danced to DJs, live performers in Della's summer fashions under the palm tree dappled light of the summer.
The event was spearheaded by Della founder, Tina Tangalakis, who runs a socially responsible fashion line out of Hohoe, Ghana in West Africa. Guests of the hotel received limited edition red, white and blue star studded headbands by Della. Tina and her Los Angeles team hung out poolside, chatting with guests, sipping Maya tequila margaritas and sharing fish tacos from Iron Chef Jose Garces's restaurant El Jefe.
DJs HM Sound System, Random Citizens, Midnight Therapy kept the tempo. The pool paused for singer Bianca Leonor whose crystal clear voice captivated the entire deck. The party, originally panned as a two day event, continued for the entire four day weekend. The event was so successful, Della and The Saguaro Hotel plan to keep these fashion fueled parties going all year.
Check out photos from the soiree in our gallery:
[nggallery id=228]