Paley Center For Media Offers Evenings with "Being Human," "Fringe," and "Suits"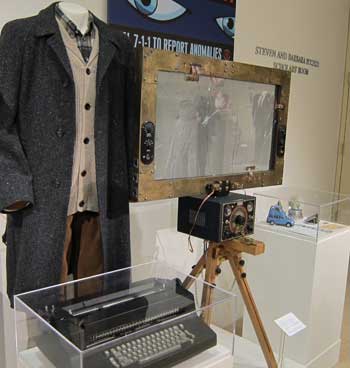 The Paley Center for Media in Beverly Hills offers three public programs in January including An Evening with Syfy's "Being Human," "Fringe" Benefits (honoring FOX's sci-fi drama "Fringe") and An Evening with "Suits."
Each event will honor the respective series with a special preview screening and panel discussion with members of the series cast and creative teams. The "Fringe" celebration on Jan. 9, will also feature an exclusive gallery exhibit and reception.
An Evening with Syfy's "Being Human" Season Three Premiere Screening & Panel
Jan. 8. Syfy's hit re-imagining of the popular British series follows three twenty-something Bostonians as they navigate the demands of contemporary urban life, which in their case is a bit harder due to certain existential complications: one's a ghost, one's a vampire, and one's a werewolf. See the season three premiere screening of "Being Human" followed by a panel discussion and Q&A with the show's cast and Executive Producer. Scheduled to appear are Scheduled to Appear Anna Fricke, Executive Producer & Showrunner; Sam Witwer, "Aidan"; Meaghan Rath, "Sally"; Sam Huntington, "Josh"; and Kristen Hager, "Nora". $10 members/$15 general admission. 7 p.m. Tickets: paleycenter.org
This event will be live streamed starting at approximately 7:50 pm PT, on Jan. 8. Find it HERE.
"Fringe" Benefits Special Gallery Exhibit, Screening, Panel & Reception
Jan 9. Following five seasons, "Fringe," the series that blended mind-bending storylines, ambitious artistry and powerful character drama, concludes its run Jan. 18 on FOX. The Paley Center for Media bids farewell to it with "Fringe" Benefits, an exclusive fan art and screening event. See a special exhibition of posters commemorating the series' most memorable moments selected by "Fringe" fans worldwide and presented by Gallery1988. Join the Paley Center for an advance screening of the series' third-to-last episode, followed by an on-stage conversation with available members of the cast and creative team, including series co-creator and Executive Producer J.J. Abrams. $15 members/$20 general admission. 7:30 p.m. Tickets: paleycenter.org
An Evening with "Suits" Mid-season Premiere Screening & Panel
Jan 14. The evening features a screening of the season two mid-season premiere episode, followed by a panel discussion and Q&A with members of "Suits," cast and creative team of. "Suits" is the stylish, irreverent USA Network legal drama that has perfected a beguiling mix of slippery ethics and a snappy sense of fun. And no, a law school degree is not required. Scheduled to Appear: Aaron Korsh, Creator and Executive Producer; Patrick J. Adams, "Mike Ross"; Gabriel Macht, "Harvey Specter"; Gina Torres, "Jessica Pearson"; Rick Hoffman, "Louis Litt"; Meghan Markle, "Rachel Zane"; and Sarah Rafferty, "Donna Paulsen". $10 memebers/$15 general admission. Tickets: paleycenter.org
While you're at the Paley Center for Media, make sure to catch "Television Out of the Box," which is an interactive exhibit that brings 60 years of notable television culture to you.
Paley Center for Media, 465 North Beverly Dr., Beverly Hills. paleycenter.org