Pacific Standard Time: Art as an Appetizer at Playa and Rivera
Los Angeles cuisine and art collide during this tasty Pacific Standard Time series at John Sedlar's Playa and Rivera.
By Christina Xenos
Dubbed the only event where you can literally eat Pacific Standard Time, Art as an Appetizer is a collaboration with chef John Sedlar, artist Ron Cooper, and mixologist Julian Cox who worked together to create a one-of-a-kind menu inspired by Pacific Standard Time works of art, through Mar. 31.
The food is served on a plate showing the image of the art that inspired it and cocktails are lively interpretations of their namesake art.
Appetizer
Fish Platter: A crudo assortment of fresh and smoked seafood with kumquats, fresno chiles, lime, red seaweed, copita of chichicapa mezacal.
Inspired by Beatrice Wood's "Fish Platter" featured in the Beatrice Wood: Career Woman-Drawings, Paintings, Vessels, and Objects exhibition at the Santa Monica Museum of Art.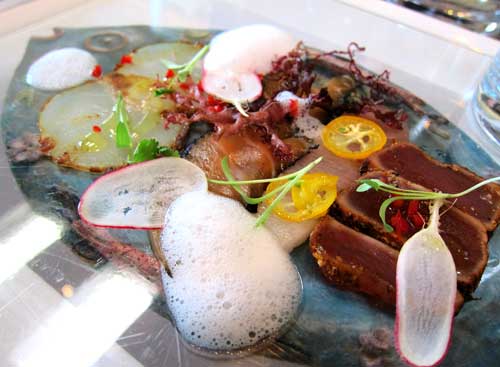 Main Course
Los Angeles County Museum of Art on Fire: Fire-grilled breast of chicken with cobb salad quemado, goat cheese, incendiary salsa.
Inspired by Ed Ruscha's 1965-1968 "Los Angeles County Museum of Art on Fire" featured in the Crosscurrents in LA Painting and Sculpture 1950-1970 exhibition at The Getty Center.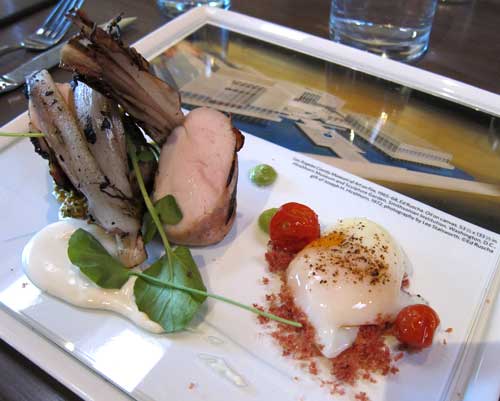 Dessert
Beach Trash Burning: Sorbet splashes of roasted pineapple mescal, poblano chile lime, hibiscus pomegranate.
Inspired by Carlos Almaraz's 1982 "Beach Trash Burning" in the Mapping Another LA: Chicano Art Movement exhibition at the Fowler Museum, UCLA.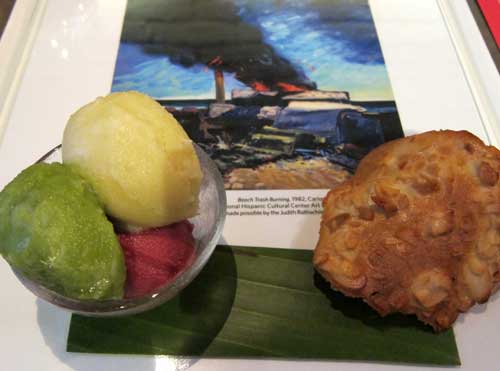 Ball Drop: Single village mezcal, london dry gin, freshlime yuzu tincture, cayenne.
Inspired by Ron Cooper's 1969 piece "Ball Drop" featured at the Collection of the University Art Museum Art Video Archive at Cal State Long Beach University.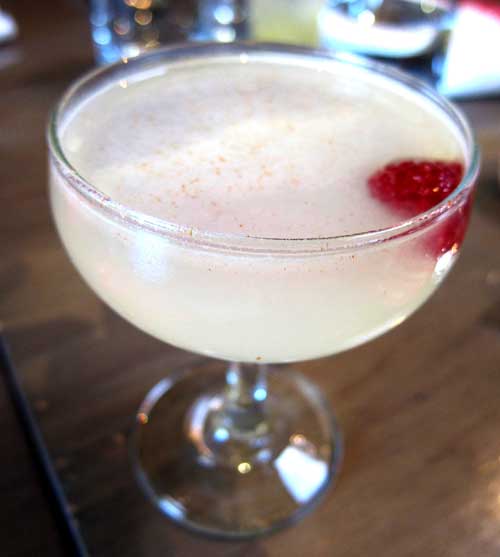 ʻ47 Chevy in Wilmington, CA: Micro climate mezcal, agave nectar, st. vincent orgeat, passion fruit, fresh lemon, lavendar air.
Inspired by Oscar Castillo's 1972 piece "47 Chevy in Wilmington, CA" featured in the Icons of the Invisible: Oscar Castillo at the Fowler Museum, UCLA.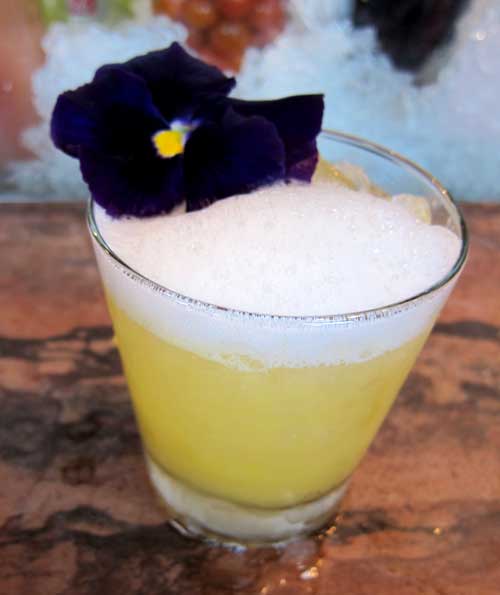 Untitled: chichicapa, cocchi vermouth di torino, olorosso, grapefruit peel.
Inspired by Larry Bell's 1964 piece "Untitled" featured in the Phenomenal: California Light, Space, Surface exhibition at the Museum of Contemporary Art, San Diego.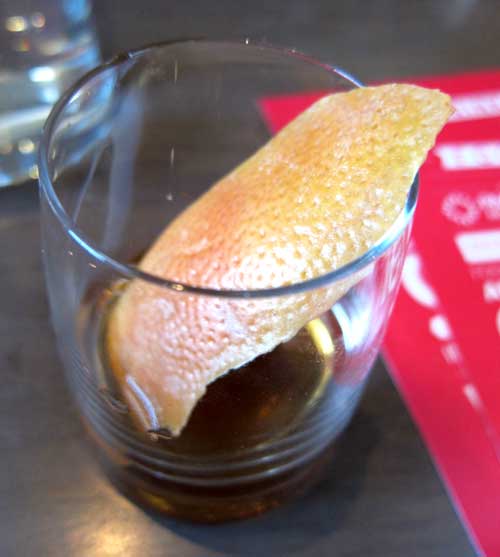 Ask for it at Playa and Rivera by showing Pacific Standard Time museum proof of admission or mentioning the "Pacific Standard Time Secret Menu". The menu is available during dinner only and is listed at $34 for three courses, $12 cockatils at Playa and $44 dinner, $12 cocktails at Rivera although each course is available individually as well. Playa Restaurant, 7360 Beverly Blvd., L.A., playarivera.com; Rivera Restaurant, 1050 South Flower St., downtown, riverarestaurant.com Find all up-to-date info on these menus and more here: pacificstandardtime.org/artasanapp
In addition to the secret menus, A selection of popular LA food trucks have come on board with the event to participate in meet-ups over three Saturdays featuring special dishes inspired by the artwork from Pacific Standard Time.
Feb. 25
Exhibit: Beatrice Wood: Career Woman-Drawings, Paintings, Vessels, and Objects
Santa Monica Museum of Art/Bergamot Station, 2525 Michigan Ave., Santa Monica
Trucks located along Michigan Avenue
Global Soul
Pnut Butter Truck
Tailgate Truck
Smokin Willies Truck
Asian Cravings
Mar. 3.
Exhibit: L.A. Raw: Abject Expressionism in Los Angeles, 1945-1980, From Rico Lebrun to Paul McCarthy Pasadena Museum of California Art, 490 East Union Street, Pasadena
Trucks located at lot along Union Street
Border Grill
Casablanca Truck
Go Chew
Flat Iron Truck
Gourmet Genie