One Pico Offers Market Driven Seaside Dining in Santa Monica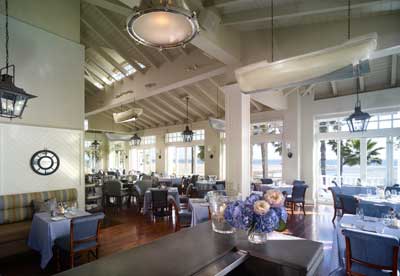 One Pico restaurant in Santa Monica offers seasonal cuisine steps from the Pacific Ocean.
By Christina Xenos
Tucked away where Pico Blvd. meets the beach in Santa Monica, the Pacific Ocean laps the shore on the steps of Shutters on the Beach hotel. The hotel is always a luxurious choice to spend a few days, but for those who crave a seaside dining experience and can't stay the night, One Pico Restaurant offers unparalleled views with top cuisine.
When you step inside One Pico's airy dining room, it meets you with windowed walls offering expansive ocean views. The menu is helmed by chef Sven Mede, managing chef of the By the Blue Sea restaurant group, who just overhauled lunch and dinner selections to showcase his seasonal finds from the Santa Monica Farmers Market. Savor dishes that highlight fresh ingredients like asparagus, tomatoes and English peas and pair them with seafood, meat and poultry selections. For a better idea, feast on the photos below.