Ona Spa In West Hollywood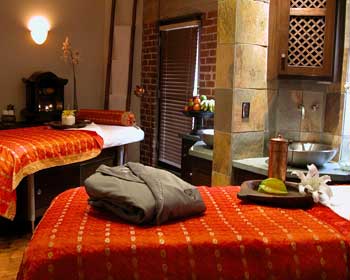 Packed with cutting-edge technology, Ona Spa offers everything from Botox to high-tech lasers and oxygen treatments, in addition to acupuncture and reiki.
Perched atop Privé Salon in West Hollywood, Ona Spa is not much larger than your first apartment. Still, it packs in all the cutting-edge technology you'd expect from a celebrity-frequented medispa, from Botox to high-tech lasers and oxygen treatments. What's more, it also pulls from the best of ancient Eastern traditions, including acupuncture, cupping and reiki, to create unique, personalized approaches to a variety of skin and health woes. If you're looking for something fun to do in LA, this is a relaxing activity that will settle the nerves as well as rejuvenate your spirit. It's a cool thing to do in LA that also does wonders for the spirit!
I opted for the spa's signature East-West Facial, which uses a multiprong approach to tackle one of the most unwelcome side effects of stress on skin: accelerated aging. After filling out a thorough health questionnaire in the Balinese-style waiting room, I met my esthetician, Golee Kheshti, who used a deft hand to deliver a variety of the latest peels, high-frequency tools, thorough extractions and bacteria-busting blue light tailored to treat my acne and fine lines. Next, licensed acupuncturist and clinical herbalist Sherrie Matthews led me to a separate treatment room, where she wielded a variety of tools including crystals, multiple tiny acupuncture needles, Chinese herbal masks and jade stone rollers in an effort to increase my circulation and skin firmness. Along the way, Matthews tailored my surprisingly painless acupuncture treatment to open my chakras and treat the less visible manifestations of stress, which included "deficient spleen qi." (Who knew?) Finally, Matthews applied 24-karat "ear seeds" at acupressure points in my ears, and gifted me with a packet of essential-oil-infused bath salts to continue the destressing process at home. I arrived a borderline skeptic of some of these treatments, but emerged a believer—especially as my energy felt subtly improved and my skin still looked increasingly clear and luminous in the days that followed.
7373 Beverly Boulevard, L.A., 323.931.4442. onaspa.com