Repent Over Cocktails at Confession in Hollywood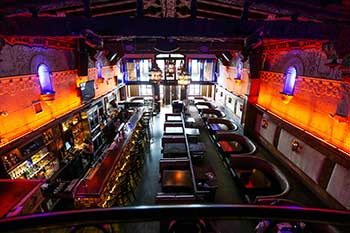 Hit Confession, Hollywood's hottest new lounge for cocktails and DJ beats inside the Pig 'N Whistle.
By Christina Xenos
Confessions and cocktails go hand-in-hand—at least at Confession, Hollywood's hottest new club. The nightlife destination is an amalgamation of experiences set in a main bar, back bar and patio and VIP loft—all in an iconic space.
The newest venture from nightlife heavyweights and founders of Sunset Entertainment Group, Chris Breed and Alan Hajjar (White Lotus, Green Door, the Sunset Room) along with prominent promoter Robert Kennedy (Greystone Manor, AV and 1Oak LA) takes over and builds on the Pig 'N Whistle with a cutting-edge spin.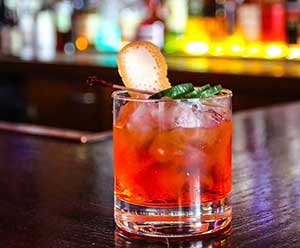 You'll find the entrance to the exclusive dining and drinking playground off McCadden Place. Head into the back bar for a carefully crafted cocktail menu from Frederic Vial (Mozza, Ysabel) along with food (think crispy potato nachos, truffle macaroni and cheese, bacon-wrapped shrimp served over spaghetti with zucchini and a butter-lemon-caper sauce), or move down a candle-lit hallway into what was earlier in the night, the iconic Pig 'N Whistle. After the tavern's guests go home, the front doors are shut and the space transforms into the main floor of Confession.
While you'll still enjoy the same historic tiles and carved wood ceilings, you'll be in a chic lounge that boasts some of the best DJ beats on the boulevard. Ascend the spiral staircase to have an intimate VIP experience while watching the DJ work the crowd, or duck into an actual Catholic confessional-turned-photobooth for a selfie session.
Confession is open Monday, Friday, and Saturday nights from 9 p.m.-1 a.m. Dinner reservations with table reservations available. 1666 McCadden Place, Hollywood. confessionla.com