Pregame at These Bars, Restaurants Near Los Angeles' Best Music Venues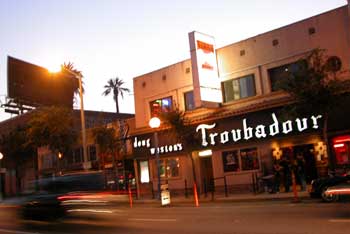 Fuel up preshow—and keep the party going late into the night—at these bars and restaurants conveniently located within earshot of Los Angeles' best music venues.
By Katherine Kims
Mid-City
The Wiltern
3790 Wilshire Blvd., 213. 388.1400
Beer Belly
Fill up on local craft brews, then soak up that booze with comfort-food bites. 532 S. Western Ave., 213.387.2337.
BCD Tofu
Soondubu—spicy tofu hot pot—is a K-town tradition. Twenty-four-hour service at this no-frills chain means filling up before or after (even post-midnight) the show. 3575 Wilshire Blvd., 213.382.6677.
POT
At this Roi Choi spot inside the new Line Hotel, cocktails are made with not-so-ordinary ingredients such as uni and kimchi. Line Hotel, 3515 Wilshire Blvd., 213.381.7411.
Lock & Key
Hidden behind a wall of locks and keys (hence the name), this speakeasy den boasts an open-til-2 a.m. kitchen. 239 S. Vermont Ave., 213.389.5625.
El Rey Theatre
5515 Wilshire Blvd., 323.936.6400
Genwa
Top-notch grill-yourself meats and banchan (side dishes) make this Korean BBQ spot one of the best, while smokeless grills are preshow friendly. 5115 Wilshire Blvd., 323.549.0760.
Stark Bar
Wine by the 3-, 6- and 12-ounce pours means more to tipple at this alfresco museum bar. (Don't miss live jazz on Friday nights.) LACMA, 5905 Wilshire Blvd., 323.857.6180.
République
Walter Manzke cooks up traditional brasserie fare at the most-anticipated restaurant to open this year. Prepare to wine and dine … and don't forget dessert. 624 S. La Brea Ave., 310.362.6115.
Downtown
Nokia Theatre at L.A. Live
777 Chick Hearn Court, 213.763.6030
Seven Grand
This DTLA bar has all the elements of a boys club—a lengthy whiskey selection (the largest on the West Coast), taxidermy, billiard tables … you get the idea. 515 W. 7th St., second floor, 213.614.0737.
Cole's
Dig into a French dip sandwich inside an old railway station, then grab a drink in the back bar, the Varnish. 118 E. 6th St., 213.622.4090; 213.622.9999.
Ace Hotel
Grab a stool at the lobby bar or ascend to the rooftop for sunset or postshow cocktails. The ground floor restaurant, L.A. Chapter, offers an eclectic menu with Mediterranean flair. 929 S. Broadway, 213.623.3233.
Figueroa Hotel
The poolside, outdoor bar oozes romance at this Moroccan-themed, old-school hotel. 939 S. Figueroa St., 213.627.8971.
Caña Rum Bar
Take a trip to Old Havana at this members-only bar lounge specializing in rum. Light up a stogie from the cigar menu on the outdoor patio. 714 W. Olympic Blvd., 213.745.7090.
Walt Disney Concert Hall
111 S. Grand Ave., 323.850.2000
Kendall's
Stop into this French brasserie pre- or postshow for Green Hour (daily 3-5 p.m., 8-10 p.m.), when cocktails highlight the myth-shrouded absinthe. 135 N. Grand Ave., 213.972.7322.
Patina
Experience fine dining at its best right inside the Gehry-designed music venue. Paleo and gluten-free diners can opt for the $45 four-course menu. 141 S. Grand Ave., 213.972.3331.
Ebanos Crossing
Tequila is the name of the game at this sultry, Angel's Flight-adjacent watering hole. 200 S. Hill St., 213.935.8829.
Hollywood
The Fonda Theatre
6126 Hollywood Blvd., 323.464.6269
Rooftop Bar
One of the city's best-kept secrets (and best vantage points) is the rooftop bar atop the five-story theater. 6126 Hollywood Blvd., 323.464.6269.
The Know Where Bar
This low-key bar is what neighborhood bars are made of: vinyl records, friendly barkeep, unfussy drinks (beer, wine, sangria) and art deco-inspired charm. 5634 Hollywood Blvd., 323.871.4108.
Littlefork
Come for cocktails and stay for New England favorites (clams casino, chowder, lobster roll) and a to-die-for apple cider donut. 1600 Wilcox Ave., 323.465.3675.
No Vacancy
Enter the era of Old Hollywood at this restored Victorian mansion where a secret door and tightrope act are just the start. 1727 N. Hudson Ave., 323.465.1902.
The Hollywood Palladium
6215 Sunset Blvd., 323. 962.7600
Hungry Cat, Hollywood
Dive into oysters (half-price on Mondays) at this seafood destination that also has one of the best burgers—stuffed with blue cheese, bacon, avocado and fried egg—around. 1535 Vine St., 323.462.2155.
Stella Barra Pizzeria
Order a cocktail or a craft beer on tap. Hungry? You can't go wrong with any of the handcrafted pizzas. 6372 Sunset Blvd., 323.301.4001.
Sassafras
Tip your hat to the South with barrel-aged whiskey cocktails in a Savannah setting (an actual Georgian mansion that was shipped and reconstructed inside the Vine Street site). 1233 N. Vine St., 323.467.2800.
Piano Bar
The live music is an attraction itself at this friendly, casual bar off Hollywood Boulevard. 6429 Selma Ave., 323.466.2750.
West Hollywood
House of Blues
8430 Sunset Blvd., 323.848.5100
Eveleigh
A bucolic setting right on the Sunset Strip (think: farmhouse with a city view) sets the scene for seasonal plates and stiff drinks. 8752 W. Sunset Blvd., 424.239.1630
Chateau Marmont
The draw is the celeb spotting, but the idyllic patio has staying power. There's also a lobby bar and restaurant for a nightcap and food around the clock. 8221 W. Sunset Blvd., 323.656.1010
The Standard
People watch as you sip your drink poolside at this Sunset Strip mainstay. 8300 W. Sunset Blvd., 323.650.9090.
Sky Bar
Mondrian's rooftop bar is the place for cocktails with a view to impress out-of-towners (or a date). Mondrian L.A. Hotel, 8440 W. Sunset Blvd., 323.650.8999.
The Troubadour
9081 Santa Monica Blvd., 310.276.1158
Dan Tana's
This Hollywood hangout has been serving up red-sauce classics for 50 years. 9071 Santa Monica Blvd., 310.275.9444.
Gracias Madre
L.A.'s newest hot spot combines vegan and Mexican fare. Add tequila—try a flight of mescal—and a dreamy outdoor patio for a meal to remember. 8905 Melrose Ave., 323.978.2170.
The Church Key
An eclectic menu of dim sum, American, Southern and Mediterranean dishes suits indecisive diners and groups. 8730 W. Sunset Blvd., 424.249.3700.
AOC
Dine on Cal-Med plates on the beautiful patio, or make your way to the bar for biodynamic and organic wines and cocktails made with local, farmers market ingredients. 8700 W. 3rd St., 310.859.9859.